Post by Graveyardbride on Dec 20, 2014 4:12:23 GMT -5
December 19, 1959: The Walker Family Murders
Don McLeod of Osprey, Florida, arose before the sun on the morning of Sunday, December 20, 1959, hooked the horse trailer to his truck, backed his horse inside and headed to the nearby home of Cliff Walker, his friend and co-worker. Both men worked on the 100,000-acre Palmer Ranch in Sarasota County and had made plans to go hog-hunting. Cliff was an early riser and even though it was only 5:30, McLeod expected to smell coffee brewing as he approached the house, but this time, the small white frame dwelling was totally dark. Believing he had finally caught ol' Cliff in bed, he knocked loudly on the door, intending to tease his friend for sleeping late.
When there was no answer, McLeod initially thought that perhaps the family had gone to visit Cliff's father, who had been ill lately. But Cliff was a man of his word and would have let him know if he couldn't keep their hunting date. Furthermore, both Cliff's Jeep and the family car were in the yard although the automobile wasn't in the location where it was usually parked. His next thought was that the pilot light on the gas heater had gone out and the house had filled with deadly fumes. The front door was locked and he noticed a cut tree and some Christmas gifts on the porch, which was strange. The back screen door was latched, so he peered through the windows and was able to discern a single dim light. Someone was in there, but why was no one answering his knocks? Realizing something was wrong, he used his pocket knife to slit a hole in the screen door and unlatch it. As he entered the kitchen, he switched on the light and the first thing he saw was Christine Walker's bare feet. She was lying on the floor. "That damn gas heater got them!" he exclaimed to himself.
The young woman lay in the doorway to the livingroom and he quickly moved toward her, hoping she was still alive and that once he got her outside, she would revive. But as he bent down and saw the blood, it became obvious the lady was beyond help. In a corner of the livingroom, Cliff lay on his back with little 3-year-old Jimmie curled up beside him. There were dark stains beneath each of the three bodies, so much blood that it had soaked into the bare wood floor. Someone had murdered his friend and his family! Suddenly he realized the killer could still be in the house and rushed outside, welcoming the chilly air on his face.
Initially, he got into his truck, then remembered the horse and trailer and decided he would make better time in Cliff's Jeep. As he approached the vehicle, he noticed the windows were down and the .22 rifle Cliff had used the day before was in the cab. There was also cattle feed stacked in the back, something Cliff would have stored in the barn as soon as he got home.
McLeod drove as rapidly as possible to the IGA where there was a pay phone, however, he didn't have a dime and continued driving until he came upon a woman just opening a nearby restaurant. "Ma'am, have you got a phone?" he asked. "There's some people who have been hurt and I want to call the law." There was no telephone in the restaurant, but the lady gave him a dime, so he could call the Sarasota police. But when he told the officer on the line something had happened in Osprey, he was instructed to call the county sheriff. Frustrated, he shouted, "Don't you hang up on me because I don't have any more money! They're all dead!"

* * *
The day before, Christine Myers Walker had a full day planned. There was a newly-cut tree on the porch which had to be brought inside and decorated, but it would have to wait. She had to shop for groceries and Cliff had been wanting to trade in the family car for a later model and insisted they stop by the car lot to see what was available. Additionally, they still had to finalize plans to visit their families in their hometown of Arcadia for Christmas.
She had been just 19 when she married Cliff and five years later, she was the mother of two toddlers living in an isolated ranch house which was still sparsely furnished. The $222 ($1,790 in today's currency) per month Cliff earned covered little beyond the basics. Sometimes when she looked at their framed marriage certificate hanging on the livingroom wall, she felt sad and lonely, but for the most part, she kept those feelings to herself. After all, she and Cliff had a lot of family members and friends who were always stopping by or coming over for cookouts and other get-togethers. Still, her sister had made a somewhat better marriage financially, but in a recent letter, Christine confided to her mother that even though her sister had "a lot more clothes than I have ... she still hasn't got what I've got. I've got a husband and a happy home." But those nagging thoughts that plague all women who marry young – that had she waited, she could have done better – still surfaced occasionally. She had been an attractive, vivacious girl in high school, where she was a drum majorette, and Cliff wasn't the only man who wanted to marry her. She often spoke of her teenage years and to this day, her royal blue majorette's uniform was carefully wrapped and stored in a cedar chest.
It was true that many of the other women in the community had more money and better wardrobes, but Christine was often described as "well-built" and when she walked down the street, men noticed. In her teen years, she had been a flirtatious girl who flaunted her figure by wearing short shorts and tight, low-cut tops and there were those who said she still dressed much too provocatively for a married woman. Most people attributed such catty remarks to jealousy. Others knew there were men who didn't like being teased and it was better for women to err on the side of caution.
For their shopping trip that day, Christine chose a sheer red and white print dress and high heels. Their first stop was the IGA where Christine mentioned to Thelma Tills, the store manager, that she was upset with Cliff because he had gotten into a fight on Thursday, however, she declined to reveal the details. The day before, when her mother-in-law had stopped by for a visit, Christine told her, "Your son like to got killed yesterday," but when she saw Cliff approaching, clammed up and said nothing more about the incident.
From the IGA, the Walkers drove to Altman Chevrolet in Sarasota where they test drove a Hudson Jet and looked at a green and white Chevy sedan. After leaving the car lot, they purchased candy, cookies and drinks for the children and a carton of Kools for Cliff.
Those who saw the family that Saturday recalled Jimmie was sporting a green cowboy hat and Debbie – who would turn 2 the following month – was wearing a little blue plaid dress. Christine had taken her young daughter to the beauty parlor the previous day and had her hair curled, after which she wrote her mother a letter, saying: "Mother we will be over Christmas eve night, so I will be so glad when it comes so I can see you again. ... I bought Deborah a pretty red and white dress for Christmas. Boy she sure does look nice in it."
Once their shopping was done, Christine and Cliff visited Don and Lucy McLeod. The men took their guns and went out for a short hunting trip, then loaded the Jeep with cattle feed for Cliff to take to his house.
* * *
When Sheriff Ross Boyer arrived at the Walker home that morning, his deputies were already at the scene. According to an article in the
Sarasota Herald
the following day, everyone was "visibly shaken by what they saw." Boyer had an aversion to blood and wasn't prepared for what awaited him inside. The bodies of Cliff, Christine and their son were all lying in the livingroom area and it appeared they had died from gunshot wounds to the head. Mrs. Walker had also been badly beaten and there were signs of rape. Just when he thought things couldn't get worse, Boyer walked into the bathroom – which someone had been in the process of painting – and there in the tub lay the tiny body of Debbie Walker in a few inches of bloody water. There was a gunshot wound in the top of the little girl's skull, but for some reason, the killer decided to drown the child after shooting her.
The killer was without mercy. It stood to reason he had dealt with Cliff as soon as he walked into the house, shooting him in the face between the bridge of the nose and the corner of the right eye, in front of his children. Three-year-old Jimmie, who had still been eating a lollipop his parents bought him that day, had been shot three times in the head. Blood smears on the floor indicated the first shot to the right cheek did not kill the toddler and he had managed to crawl to his father's side before the fiend put two more bullets in the top of his head at close range. Boyer surmised the perpetrator used his last bullet on Debroah and when she did not die immediately, took her into the bathroom, used a sock to block the drain and ran about 4 inches of water so that he could hold her face-down in the tub until she went limp. If he did use his last cartridge on Debbie, this would mean Christine was already dead when Cliff and the children arrived.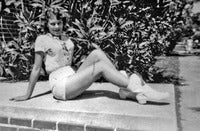 But whatever the sequence of events, Christine Walker (above) had fought her attacker fiercely and one of her blood-smeared high heels, found on the porch, indicated she had used the heel of the shoe on the assailant during the fight. Even though she apparently made it out the door at one point, the killer managed to get her back inside the house, threw her onto Jimmie's bed and shot her twice in the head before, or after, raping her. She was obviously still fighting when she was shot because the first bullet wound was superficial. The second shot was into the top of her skull. Additionally, the killer pulled a quilt over the blood-stained pillow on Jimmie's bed and used another quilt to wipe the blood from Christine's legs before dragging her across the floor toward the livingroom.
With the help of family and friends, investigators determined the only items missing from the house were the Walkers' framed marriage license, Cliff's pocketknife – which had a fruit tree design – a few dollars and Christine's majorette uniform.
After the evidence was collected and the scene photographed and reviewed, Sheriff Boyer came up with a timeline. He believed Christine, driving the family car, arrived at the house around 4:05 and the reason the car was parked in a different location was because another vehicle was parked in her usual spot. It took a few minutes for her to hang her handbag in the kitchen and put away the groceries – which she likely did as her visitor looked on, indicating she knew the man well enough to invite him in. There is no evidence she considered herself in danger because she took the time to set a Christmas card Lucy McLeod had given her on top of the refrigerator. It was Boyer's opinion that the perpetrator was a man who fancied Christine and because he was likely drinking, made an amorous pass at her, which she resisted. The situation quickly turned ugly and when Christine fought back, he punched her in the face. It was during this time that Christine ran out the door and her assailant grabbed her again, this time on the front porch, hence the bloody shoe on the porch.
Because all four victims died within close proximity to each other, there is a possibility the perpetrator was in the process of raping Christine when Cliff and the children arrived and Cliff walked in during the assault. As aforementioned, there is also the possibility Christine was already dead when her husband and children arrived. The only usable print was from the bathtub faucet and if it were a palm print, it would have been useless in identifying the killer.
* * *
Because he had found the bodies, Don McLeod was the first suspect on Boyer's list. When asked if he would submit to a lie detector examination, he quickly acquiesced, saying, "Put the sum-bitch on me." He was cleared. Other suspects, including the man who read the Walkers' meter every month, were interrogated, polygraphed and cleared.
The 'Lover.'
The most promising suspect was Curtis McCall, whom gossips claimed was Christine Walker's lover. McCall's cousin, Harland McCall, told the sheriff he knew "for a fact that Curtis and Christine were having an affair." He revealed that two weeks prior to the murders, Christine showed up at his mother's home looking for Curtis – described as a "no-good, trouble-making sort of person" – during a time when her husband was participating in a rodeo in Wauchula. Although McCall, age 21, had a history of fighting and violent outbursts and owned a .22-caliber gun, when questioned by Sheriff Boyer, he denied ever having dated Christine Walker, before or after her marriage, and claimed he had sold the handgun, but could not remember to whom. During three polygraph examinations, McCall was so nervous the tests were deemed inconclusive. However, there were strong indications he was lying when asked: "Have you withheld any information from the law enforcement officers about the Walker murder?"
A few months after the murders, three women discovered some bloody clothing – including two shirts, a skirt and blouse, pants and a handkerchief – in a shed near the Walker home. The items belonged to Cliff and Christine Walker and it was assumed the killer used the clothing to wipe the blood off himself. The fact the articles of clothing were found in a location near the scene bolstered suspicions that the perpetrator was someone familiar with the area – a local man.
Another reason some suspected a local killer was because he murdered two young children. At ages 2 and 3, in all probability, the toddlers would not have been able to identify a stranger, thus, there would have been no reason to kill them. However, there was a possibility Jimmie, who had turned 3 the previous August and could talk, would have been capable of revealing the identity of a man he knew.

The Dirty Old Man.
Another promising suspect was Wilbur Tooker, a 65-year-old retired railroad worker, who lived approximately a mile southwest of the Walker home and the family's closest neighbor. Christine's mother told investigators her daughter dreaded Tooker's visits and had once confided to her sister that the only way to stop the dirty old man was "with a bullet." Apparently, the man had attempted to kiss Christine and propositioned her more than once. This prompted Cliff to threaten to kill Tooker and warn him if he came around the house again, he would be sorry. But the old lecher had an airtight alibi for the afternoon and evening of December 19.

The Weird Cousin.
When he attended the funeral of his cousin Cliff Walker and his family, Elbert Walker wailed and became so distraught he fainted twice. Family members were sure he was faking his grief and described him as "wild" and a man who got "rowdy and belligerent" when drinking. Cliff's brother told investigators Elbert was "the type of person who would commit a crime of this nature." Elbert was investigated and questioned at length, but when he was strapped to the polygraph machine, he passed. However, in 1987, Lieutenant Max Skeens, a polygraph expert, declared old polygraph results were essentially worthless. Then in 2006, Elbert Walker submitted a sample for DNA testing and his DNA did not match that in the semen stain on Christine Walker's panties.
In Cold Blood Killers.
From the beginning, many suspected the killers who murdered four members of the Clutter family, November 15, 1959, in Holcomb, Kansas, also killed the Walker family in Florida. On December 30, 1959, Richard Hickock and Perry Smith were arrested in Las Vegas and after seeing their pictures in the paper, many recalled having seen the two men in Florida around the time of the Walker killings. One witness who saw the pair in Tallahassee – 335 miles north of Osprey – three days after the murders recalled one of them had a scratch on his face. It was also learned the pair had checked out of a Miami Beach motel Saturday, December 19, and were believed to have purchased items at a Sarasota department store. Additionally, when the Clutter murderers were arrested, a pocketknife with a fruit tree design, children's socks and a toddler's greasy undershirt were retrieved from the stolen car they were driving.
When questioned about the murders in Florida, both Hickock and Smith denied they were involved and both passed polygraph tests. Furthermore, by this time, the two knew they were facing the hangman's noose for the Kansas murders, so if they had killed the Walker family, they had nothing to lose by admitting their guilt.
Nevertheless, in 2004, Sarasota County detectives submitted Christine Walker's underwear for DNA testing and four years later, a full DNA profile was obtained. Detective Kimberly McGath subsequently requested the bodies of Hickock and Smith be exhumed to check their DNA against the semen sample. Kyle Smith, deputy director of the Kansas Bureau of Investigation, explained, "Our interest is providing closure to the Walker family. Obviously, where these perpetrators are dead, it's not going to result in any prosecution. Obviously, there's a lot of historical interest as well."
On December 18, 2012, Richard Hickock and Perry Smith were exhumed from their graves at Mount Muncie Cemetery in Leavenworth County, Kansas, and DNA was obtained from both. In August 2013, the results were finally complete and neither man's DNA was a match. But DNA deteriorates over the years and many still believe the
In Cold Blood
killers were likely involved in the Walker family massacre.
As with all high profile cases, law enforcement received numerous calls and tips. For months after the murders, it wasn't at all unusual for a woman to call and say she suspected her husband, boyfriend, ex-husband, neighbor, or some other male.
By far, one of the most interesting calls came 35 years after the murders. In August 1994, a woman who refused to identify herself called the Sarasota County Sheriff's Office and indicated she was a bartender in Stroudsburg, Pennsylvania. She claimed a regular customer came into the bar one night, struck up a conversation and began weeping. When she asked why he was crying, the man admitted he had "killed some people in Osprey, Florida," when he was younger. The caller identified the customer as a man in his 60s and said she believed him to be a "gun buff" who worked odd jobs around town. She also claimed during their conversation the customer mentioned the name "Walker." The lady promised to call again with additional information, but so far as is known, never did. At the time of the call, McCall would have been 56-years-old.
Author:
Graveyardbride.
Sources:
Detective Kimberly McGath, Sarasota County Sheriff's Office; Shannon MacFarland,
The Herald-Tribune
, December 9, 2012; Merab-Michal Favorite and Drew Winchester,
The Bradenton Times
, September 2013;
The Sarasota Journal
, December 15, 1961; Andrew Scott,
The Pocono News
, March 19, 2010; Associated Press, August 13, 2013; Matthew Doig,
The Sarasota Herald-Tribune
, April 9, 2006; and
In Cold Blood
by Truman Capote.
See also:
"The Clutter Family Murders":
whatliesbeyond.boards.net/thread/578/november-1959-clutter-family-murders