Post by Graveyardbride on Jun 3, 2019 0:28:24 GMT -5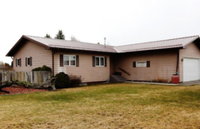 Montana Sued for Licensing Satanic Panic Shrink
A woman in Kalispell, Montana, has filed a lawsuit against a psychiatrist alleging he prescribed a medication that left her with an incurable physical ailment. This of course, wouldn't be particularly newsworthy were the psychiatrist someone other than Dr. Bennett G. Braun, the infamous shrink who once convinced several patients they had been the victims of Satanic ritual abuse. Though he was sued by 11 different patients, Braun, now 78, never admitted any wrongdoing.
In 2014, Ciara Rehbein, 33, consulted Braun at his office (above), located at 114 Rocky Mountain Lane in Butte, on referral for anxiety and post-concussive syndrome following a serious motorcycle accident. However, in addition to traumatic brain injury (post-concussive syndrome), Braun diagnosed an extensive list of serious conditions, including bipolar 2, acute stress and panic disorders, along with agoraphobia and alcoholism in remission. He prescribed Geodon (ziprasidone), a medication known as an atypical antipsychotic, primarily used to treat the symptoms of schizophrenia and sometimes for the symptoms of bipolar disorder, but there is no evidence Rehbein had either. As with most medications, Geodon has side effects and among the more serious are unusual, uncontrollable facial and body movements.
After taking the medication a while, Rehbein began experiencing movements in her face she could not control. "I tried to talk to him about that," she said during an interview late last year. "He said, 'That's just a little dyskinesia.'" (Tardive dyskinesia is a disorder characterized by repetitive, involuntary and purposeless movements caused by prolonged use of neuroleptic drugs like Geodon.)
Nevertheless, Braun agreed to try something else and prescribed Seroquel (quetiapine fumarate), another drug implicated as a potential cause of tardive dyskinesia. While on Seroquel, Rehbein's involuntary facial movements worsened and tension in her neck restricted head movement. She had been under Braun's care almost a year when she developed difficulty walking and controlling her tongue and torso, and by the time she consulted a neurologist, she claimed she had no reflexes. "He (the neurologist) was shocked I could stand there with the Seroquel I was being prescribed and Geodon way over what I should've been taking," she asserted.
Now, according to Rehbein, she faces a lifetime of Botox injections to her neck and shoulders so that her muscles will behave in a normal manner. She said her current doctor has confirmed her condition is irreversible. As a consequence, Rehbein has sued Braun for negligence, lack of informed consent and failure to warn. The complaint also accuses the Montana Board of Medical Examiners of negligence for licensing Braun. Unfortunately for Rehbein, Montana is one of 32 states that allows physicians to practice medicine without medical malpractice insurance and Braun has no insurance.
Suspended in Illinois.
In October 1999, Braun, then a licensed psychiatrist in the state of Illinois, was suspended from the practice of medicine for two years, followed by a minimum five-year probationary period precluding the treatment of patients diagnosed as having multiple personality or dissociative identity disorders. The Department of Professional Regulation's disciplinary action came a year after the agency filed a nine-count complaint alleging Braun negligently treated Patricia Burgus, who became his patient in 1986. He also treated her sons. Though the state had considered permanent revocation of Braun's license to practice medicine, at the time of his suspension, he was around 60-years-old and it was generally believed he would have retired by 2006 when he became eligible to apply for an unrestricted license.
The findings that led to Braun's suspension were incredible, with some psychiatric patients claiming they had been convinced they had ritually-abused family members and eaten them in the name of Satan.

Satanic Ritual Abuse.
It was in 1984 that Dr. Bennett Braun, a well-respected Chicago psychiatrist, assembled 450 of his colleagues to discuss Satanic ritual abuse, believed to be the work of a clandestine network of devil-worshipers. Braun was so certain these groups existed and performed vile acts in the devil's name that he spoke of death threats. "It seemed bizarre at the time, of course," recalled Dr. Marlene Hunter, a Canadian psychiatrist among the 450 who attended the conference. "But it was like a lifeline for those of us who'd been struggling . . . with nobody to turn to for help."
The idea would launch an all-out movement with Braun – catapulted to expert status in recovered/repressed memories – as its self-appointed spokesman. Wielding the clout of his employer, a branch of the prestigious Rush-Presbyterian-St. Luke's Medical Center, he appeared on
20/20
and
Geraldo
, earning the praise of peers and even activist Gloria Steinem, whose
Ms. Magazine
featured a cover story concerning the far-reaching effects of Satanic ritual abuse.
Within a short time, Satanic panics were popping up all over the United States. Children were being sexually-abused in the name of Satan, forced to watch animals mutilated and killed and some even swore they saw human beings sacrificed to the devil. Teenagers, influenced by Heavy Metal music, Dungeons & Dragons and violent video games, were being recruited by Satanic organizations. And for some reason, people who provided child daycare services were particularly drawn to the dark arts and involved their charges in all sorts of hellish rituals in the service of their evil god.
The Devil in Texas.
The devil was particularly active in Texas and on January 5, 1992, when 17-year-old Kelly Wilson disappeared in the small town of Gilmer, a town of less than 5,000 in the pine forests of northeast Texas, there were whispers she had been done in by a Satanic cult. Sergeant James York Brown, a capable and dedicated officer with the Gilmer Police Department, was assigned to the investigation. Then in what might be called a Texas version of the Salem witch trials, children questioned by social workers began relating tales of Satanic ritual sexual abuse. Before long, some were claiming they had witnessed the sacrifice of Kelly Wilson and named the location where the infernal incident took place.
The local district attorney wanted nothing to do with the witch-hunt and like Pontius Pilate, washed his hands of the matter, so Scott Lyford of Galveston was appointed special prosecutor. As the investigation progressed, eight individuals – men and women – were charged with aggravated sexual assault. Sgt. Brown, however, had doubts about the children's testimony – which seemed to be coerced – or that a Satanic cult was operating in the area and took his concerns to Lyford. The prosecutor wasn't interested in what Brown had to say and instructed him to keep his nose out of the investigation. Then when investigators failed to find any evidence of Satanic sacrifice, or anything else, at the location where the children claimed they witnessed the hellish sacrifice, Lyford declared the absence of evidence indicated they were dealing with "master Satanists." A month later, in January 1994, a grand jury, under Lyford's direction, indicted Sgt. Brown and seven members of the Kerr family (whom some have described as "dysfunctional" and "backwoods") for the murder of Kelly Wilson.
During the Satanic ritual abuse scare, numerous criminal investigations based on little or no evidence were taking place all over the country. But even before Sgt. James Brown was indicted for murder in Texas, people were beginning to express doubts. In 1992, the FBI announced there was scant physical evidence of widespread Satanic ritual abuse and even some of Dr. Braun's own colleagues admitted memories induced by hypnosis were sometimes unreliable.
By the end of 1996, Sgt. Brown and all members of the Kerr family had been cleared of all charges. The disappearance of Kelly Wilson remains unsolved.
Braun Applies to Practice in Montana.
Seventeen years ago, when Braun applied for a license to practice medicine in Montana, he reported voluntarily surrendering his hospital privileges in Illinois and claimed several lawsuits had forced him to cease prescribing and/or dispensing drugs during his previous practice.
Both Braun and at least one of his references suggested his problems with the women who sued him stemmed from a smear campaign by a specific organization, the False Memory Syndrome Foundation (FMSF), based in Philadelphia. The nonprofit foundation questions recovered memory therapy, which gained popularity in the 1980s and 90s, and the Illinois-Wisconsin chapter devotes an entire web page to Braun. Pamela Freyd, executive director of FMSF, has emphasized the Foundation did not contribute financially to any of the Illinois lawsuits, insisting the nonprofit's only interest in Braun is sharing information concerning the allegations against him in such lawsuits.

Braun's application included letters of recommendation from doctors in prestigious positions who minimized his previous problems by claiming he ceased practicing in Illinois because he could no longer carry medical malpractice insurance. At least one of those recommending him suggested Braun was victimized by his former patients. "Unfortunately, Dr. Braun's commitment saw him take on many extremely … disturbed patients (who others would refuse to treat) and a couple sued him. This in no way takes away from the gains made by the overwhelming majority of patients," wrote Colin Cameron, M.D., the then acting clinical director of the mood disorders program at Canada's Royal Ottawa Hospital.
Additionally, according to Braun's application, his insurance company settled out of court against his wishes. He also indicated the amounts of the settlements his insurance carrier paid were considerably less that what is believed.
What he failed to mention was that multiple women alleged Dr. Braun, through hypnosis and high dosages of mind-altering drugs, convinced them they were high priestesses in a global Satanic cult that molested children and ate human flesh. Frontline did an episode about Braun's brand of therapy in Illinois that featured one former patient screaming and moaning while surrounded by a team of medical personnel. One of these women, the aforementioned Patricia Burgus, believed she had engaged in devil-worship rituals, cannibalism and baby-killing. She also came to believe she had gained a great deal of weight from eating thousands of people. According to court documents, while under Braun's care, on one occasion, Burgus brought meat from her parents' picnic and Braun sent it to the lab to be tested for human remains. She also attempted to kill herself twice. She filed suit against Braun in the late 1990s and settled for $10.6 million, which, at the time, was the largest settlement of its kind in the state of Illinois. The award was paid by Rush-Presbyterian-St. Luke's, Braun's employer.

Another former female patient reported she had a tubal ligation while under Braun's care because the psychiatrist convinced her she was a "breeder" for a Satanic cult, although it was later proven she had never given birth. This patient's lawsuit was settled for $7.5 million in 2004 and was still pending when Braun sought licensure in Montana.
Yet another former patient had an abortion after Braun made her believe her baby would be sacrificed to Satan.
Once patients began to realize they had been duped by the psychiatrists and psychologists they had paid to help them, the lawsuits commenced.
Richard Ofshe, professor emeritus at the University of California-Berkeley, said using recovered memory therapy, patients have been led "to fantasize they had spent parts of their childhood as participants in Satanic cults killing and eating babies. It's a fantasy cultivated by the practitioner. Ofshe is the author of the 1996 book,
Making Monsters: False Memories, Psychotherapy and Sexual Hysteria
, wherein he notes most such patients are women.
Montana Lawsuit Continues.
According to Rehbein's complaint, Braun violated the terms of his probation in Illinois. Nevertheless, based on his application to practice medicine in Montana, it appears he had cleared up his problems in Illinois by 2002. "Dr. Braun's Illinois license was active when he applied in Montana. His Illinois license was automatically reinstated in 2001 after a two-year suspension, and he was compliant with the Illinois board's order," confirmed Erin Loranger, public information officer for Montana's Department of Labor and Industry.
Despite Rehbein's allegations, the state is arguing the Board has sovereign immunity, protecting the government and its employees, even in cases of negligence. Accordingly, during an April hearing, the Board of Medical Examiners asked that District Judge Kurt Krueger dismiss this portion of the Plaintiff's lawsuit. Rehbein's attorneys, however, argued that in the eyes of potential patients, licensing a doctor is similar to a hospital's credentialing of medical professionals. Krueger denied the Defendant's motion to dismiss, saying Plaintiff "made factual allegations against the Board which the court must consider.
The next step isn't necessarily a jury trial. Krueger noted the Board was not able to explain during the April hearing how it reviewed Braun's application for a license or if the Board "even reviewed or investigated Dr. Bennett Braun's application." Accordingly, he is allowing additional discovery and the state could revisit the issue at a later date.
Dr. Braun's former office on Rocky Mountain Road is currently for sale.
Author:
Graveyardbride.
Sources:
Susan Dunlap,
The Montana Standard
, May 29, 2019, and May 5, 2019; Mac Overton,
The Gilmer Mirror
;
Bloom v. Braun, Appellate Court of Illinois
, November 1, 2000; Linda Donavan,
The Chicago Tribune
, October 8, 1999; Martha Irvine, The Associated Press, March 7, 1999; Cynthia Hanson,"Dangerous Therapy: The Story of Patricia Burgus and Multiple Personality Disorder,"
Chicago Magazine
, June 1998; Ron Grossman,
The Chicago Tribune
, June 7, 1994; and
The Physician's Desk Reference
(PDR.net).