Post by Joanna on Mar 19, 2019 1:54:18 GMT -5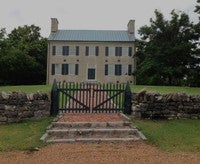 Author Seeks Ghost Stories from Sumner County, Tennessee
An upcoming haunted history book series will include a Gallatin woman's work detailing some of the county's history through its ghost stories. Donna Hartley Lucas is a history buff, so she and her husband, a Civil War historian, were drawn to Gallatin because, she said, they were "fascinated and captivated by the history of the area." She explained that while researching the region's history, they came across many supernatural stories and started the Gallatin Ghost Walk, an annual tradition of 15 years, in order to "tell the history of Sumner County through its ghost stories," an "entertaining and informative way" to learn about the county's history.
Though she hadn't considered writing a book, she was experienced at relating the region's history through paranormal sightings and this landed her a contract with The History Press and Arcadia Publishing to chronicle the haunted tales of Sumner County's history. She quickly agreed to submit a proposal to the publishers to "expand awareness of our area's diverse and colorful history beyond the limits of our own geographical parameters," she said in a news release.
The series will include stories from other parts of the country, including Savannah, Georgia, and Long Island, New York. Hartley Lucas' book,
Haunted Sumner County
, is slated for release in mid-2020.
'Rich and full' of hauntings and history.
Hartley Lucas has started writing what is essentially an expansion of the Gallatin Ghost Walk's stories, along with others; however, she admitted there are "things I don't know about out there." Accordingly, she is asking anyone with any ghost stories or information about a historic home or other location in the county to contact her. She is particularly interested in paranormal experiences from northern Sumner County.
"There's just so much, we can't tell it all on the Ghost Walk," she said, "but maybe we can in this book. Sumner County is one of the most haunted and mysterious places in the South and I look forward to being able to share that with a wider audience."
Goal to 'emphasize our unique history.'
In excess of 3,500 people have taken the Gallatin Ghost Walk tour – replete with costumes appropriate to the time period – over the past 15 years. "Our main goal is to be authentic and tell the history," she explained, referencing experiences in which people have encountered the supernatural.
She also highlighted Cragfont (above)* in Castalian Springs, which she described as "one of the most astonishing" historic sites in the county. The local paranormal team, the Tennessee Wraith Chasers, investigated the mansion – built in 1802 by Gen. James Winchester – for the first time in late September, live on the Travel Channel. The ghost-hunters have also held non-televised investigations during which they investigated The Palace Theater in Downtown Gallatin and Historic Rose Mont.
"Our focus in the Ghost Walk has always been to emphasize our unique history here," Hartley Lucas added. "I don't know of an area that has more paranormal activity per square mile than Sumner County. ... It's rich and its unique and its diverse."
If you have a Sumner County ghost story to share, you may contact Donna Hartley Lucas at (615) 512-5299 or
donnahartleylucas@icloud.com
Source:
Kelly Fisher,
The Tennessean
, March 12, 2019.
*
Mystery Location No. 60: July 16, 2017