Post by Graveyardbride on Jan 18, 2019 16:34:48 GMT -5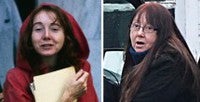 Manson Family: One in New York, Another Recommended for Parole
Lynette "Squeaky" Fromme (above), one of Charles Manson's "girls," is currently a resident of Marcy, a town of approximately 9,000 in Upstate New York. Her other claim to infamy is she is the only woman who ever attempted to kill a president of the United States. Though Fromme wasn't charged in the Tate-LaBianca murders, according to Vincent Bugliosi, she was Manson's "main gal in the Family." Any time Manson left the ranch, Squeaky "was in charge," the prosecutor turned author said.
In her memoir,
Reflexion
, published last year, Fromme recounted how Manson engaged in sexual activity with her and another woman in the cult. "He once asked us each to sit in a chair and watch him make love to the other," she wrote. "Beyond initial discomfort, I saw moving artwork and dance, tenderness and surrender."
Fromme avidly followed Manson's trial and carved an "X" onto her forehead as he had done. In April 1971, she laced a hamburger with LSD and offered it to Barbara Hoyt, a witness in the Tate trial, to prevent her testifying. For this stunt, she was sentenced to 90 days in jail. Then on September 5, 1975, she attempted to shoot President Gerald Ford with a Colt .45 outside the state house in Sacramento. However, she failed to chamber a round and when she pulled the trigger, nothing happened. During her trial, she begged prosecutors to allow Manson to attend and generally made a nuisance of herself. On some days, she had to be physically carried into the courtroom because she refused to walk. She was sentenced to life in prison and served 34 years before her release in 2009.
Fromme, now 70, is currently living at 6772 Benton Road with 68-year-old Robert S. "Bobbie" Valdner, in a house one reporter said looked like "an old metal Quonset hut from the World War II era." Valdner is a convicted murderer who pled guilty to manslaughter in 1988 for the shooting death of his brother-in-law. An admirer of Manson, Valdner and Fromme began exchanging letters in 1992. One acquaintance said of Valder, "He's got a wild past – and a collection of books on Manson and murders. At Christmas, he decorates his tree with lighted skulls. He's a weight-lifting fanatic and has a large collection of knives and swords." He has a "Born Again Pagan" bumper sticker on his SUV, but whether "Pagan" refers to his religion or the motorcycle club is anybody's guess. Valdner also keeps a baseball bat for protection and recently informed two
New York Post
reporters he's "not afraid to use it."
Ted Heller, an assistant prosecutor who worked on Fromme's case, is convinced the woman is as dangerous as ever. "When I heard Fromme was released on parole, I was shocked," he admitted. "Whoever made that decision is the equivalent of a village idiot." Fromme has never expressed remorse for her crimes.
Though some dog-owning neighbors speak well of fellow dog-freak Fromme, all one has to do is look at her hair – once again dyed red as it was when she was Charlie's girl – and the man with whom she's living to know nothing has changed.

Meanwhile, on the other side of the country in California, another Manson follower, Robert "Bobby" Beausoleil, who is still serving time, has been recommended for parole. Beausoleil has now served 50 years for the 1969 murder of musician Gary Hinman. Like Fromme, he wasn't involved in the Tate-LaBianca murders, but the prosecution contended Hinman was tortured for three days, something Beausoleil has always denied. He also denied that Manson stopped by and sliced off Hinman's ear, claiming the Los Angeles Police and Los Angeles County Sheriff's Office were in competition and both wanted to "get" Manson.

Beausoleil , now 71, has been denied parole 18 times and it's now up to Gavin Newsom, California's newly-elected governor, to decide if the killer will be released. However, Kay Hinman Martley, Gary Hinman's cousin, wants Beausoleil to remain incarcerated. "I constantly have hope that they'll do the right thing and keep these people in prison and now my hopes have to go with the governor." She added she plans to reach out to Newsam and tell him "this man does not belong outside the walls of prison."
Sources:
Maureen Callahan,
The New York Post
, January 17, 2019; Greg Norman, Fox News, January 18, 2019; Louis Casiano, Fox News, January 4, 2019; A.L. Barcach, "Jailhouse Interview: Bobby Beausoleil,"
Oui Magazine
, November 1981; and William Farr,
The Los Angeles Herald-Examiner
, February 24, 1973.