Post by Graveyardbride on Oct 25, 2018 11:45:40 GMT -5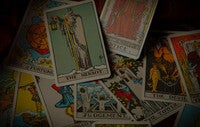 Ontario Psychic Charged with Pretending to Practice Witchcraft
MILTON, Ontario, Canada – A psychic has been charged with pretending to practice witchcraft for allegedly bilking upwards of 20 clients out of more than $100,000 in cash and jewelry, a score police say she achieved by telling highly vulnerable customers she needed to "cleanse" their property of "evil spirits" in order to cure their ailments. Police arrested 32-year-old Dorie Stevenson last week on charges of extortion, fraud exceeding $5,000 and pretending to tell fortunes for a fraudulent purpose.
The Halton Regional Police Service launched an investigation into Stevenson, the proprietor of Milton Psychic, in May on the word of one victim who alleged the psychic had swindled the customer out of more than $60,000. The number of professed victims is now greater than 20, Detective Constable Sarah McCullagh said Monday, adding that Stevenson, who uses the pseudonym Madeena, is believed to have taken these patrons for sums as large as $85,000. "She'd be preying on their embarrassment to not come forward to the police, because people were too embarrassed that they'd given that amount of money to someone," McCullagh said.
It is believed Stevenson tended to target desperate clients who approached her in a state of severe vulnerability. Some were ill or in debt; others were lamenting the end of a romantic relationship. McCullagh alleged that Stevenson extorted these people by warning "bad things will happen to them or their family members" if they didn't hand over money or jewelry she claimed she could bless for them. Stevenson's alleged victims agreed to these transactions on the understanding she would return their property once the bills or ornament had been purified. Customers allege Stevenson fostered their trust by giving back small portions of their money, only to stop answering phone calls as soon as they began to ask for the full amount.
Stevenson did not respond to phone and email messages concerning her arrest. Police released her from custody shortly after she was arrested last Thursday and she is expected to make her first court appearance in November.
Milton Psychic, located at 391 Ontario Street, S. in Milton, is registered in Stevenson's name, according to McCullagh, and police believe she has worked out of the small brick house since 2013. Milton Psychic's
website
describes Madeena as a "superior reader, healer and advisor of all psychics" and advertises a range of services that include palm, crystal ball, tarot card and rune stone reading, in addition to intangible exercises such as evaluations of a client's aura, energy or past life. Customers can pay $75 for one reading or $130 for two. "I am aware that you could have had false hopes and promises made to you that has [sic] led you into a deeper path of confusion," an introductory note on the website reads. "Once you have experienced a reading with me, you will know that you have found and experienced the truest gift and guidance you have been searching for."
Stevenson's arrest could mark one of the very last times a Canadian is arrested for the deceitful practice of witchcraft. Bill C-51 – legislation that would, among other amendments to outdated sections of the Criminal Code, repeal a ban on fraudulently pretending to practice different forms of witchcraft, introduced by Justin Trudeau's Liberal government – is currently in its third reading before the Senate, signifying it is on the verge of becoming law.
McCullagh said Halton police considered not pressing the witchcraft charge on this basis, but opted to proceed because Bill C-51 has yet to be enacted. She indicated the force doesn't want Stevenson's arrest to be viewed as a condemnation of the pagan or Wiccan religions, but merely of the fraud they say Stevenson executed. "It's not illegal to tell someone's fortune. It's not illegal to go to a psychic," McCullagh explained. "But when somebody is using this in order to commit a fraud, that is the criminal offence."
According to McCullagh, the majority of alleged victims police have heard from came forward in the days after Stevenson's arrest and they're hoping more will get in touch. In the meantime, the force is urging people seeking to have their fortunes to visit only psychics who are "reputable," and those susceptible to emotional or financial scams should avoid psychics, mediums and fortunetellers. stay away entirely if they might be emotionally or financially susceptible to a possible scam. "Also, if you are told there is a curse on you, don't believe them," McCullagh added. "Go there for entertainment purposes only. Do not take everything they say to heart."
Source:
Nick Faris,
The National Post
, October 22, 2018.