Post by Graveyardbride on Feb 25, 2018 16:15:54 GMT -5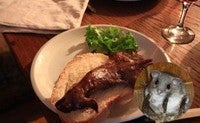 Strange Eating and Drinking Habits of the Past


We must be careful when we examine the habits and customs of people who lived in different circumstances than our own. Beliefs and behavior were different then and before we criticize, we need to learn more about the time period.

We all have to eat and over the course of history, people have eaten just about everything, including each other. Who knows how many humans have died tasting new foods, trying out new recipes, cooking up poisonous plants or animals? We have to admire the bravery of the very first individual to eat a snake, frog or snail. We should be grateful to these early pioneers whose courageous experiments have taught us what's good to eat and how best to prepare it.

Rodents for Dinner. The Ancient Romans were very fond of food. There are tales of them stuffing themselves at feasts with a huge variety of dishes. One great delicacy was dormice, which was served in a number of ways. It was said that dormouse experts would discuss their favorite food in very much the same manner as wine connoisseurs talk about the wines they've tried. In fact, the Romans were so fond of the delicacy they created a special container called a glirarium or vivarium in doliis (enclosed animal habitats in jars). These jars were temporary homes where the rodents could "pig out." The mouse wasn't deemed ready for the table until it had reached prime plumpness. A number of ancient Roman recipes and dormice dish descriptions survive. In a famous banquet scene, the Satyricon, an early Roman novel, mentions "dormice seasoned with honey and poppy-seed." There were also recipes for stuffed dormouse with pork, in which the mouse meat was pounded with pepper, the juice of a fennel plant, broth and nuts, after which it was baked in a casserole dish.

Greedy Emperor. One of the biggest eaters in Ancient Rome was surely Emperor Maximinus Thrax (AD 173-238), who was said to eat 40 pounds of meat and drink 6 gallons of wine every day. But then, if the stories are true, he was an 8½-foot-tall giant, who sometimes wore one of his wife's bracelets as a thumb-ring, was so strong he could pull a carriage that two oxen couldn't move and for exercise, would crush large stones with his bare hands.

Sounds Fishy. Another great Roman delicacy was a drink derived from the insides of various fish which were salted and exposed to the sun until they rotted, after which the liquid was drained and consumed.

Vomitoria. Today, many doubt the existence of Rome's vomitoria and insist the word had an entirely different meaning. Rather than a place for overeaters to disgorge their meals, vomitoria apparently referred to an amphitheater's passageways that "disgorged" patrons to their seat. Nevertheless, many youngsters who learn nothing else about the Romans, never forget the vomitoria, where overindulgent Romans went to regurgitate after dinner.

A Nasty Meal. The worst royal food in Britain was probably served at the court of Henry II (1154-1189). At times, the meat was spoiled to the point it was putrid and the wine so think with dregs the courtiers had to filter it through their teeth.

Meals to Die For. These are the ingredients ordered for a dinner served to King Henry VIII (1509-1547) and 30 guests: 800 eggs, 90 dishes of butter, 50 loaves of chestnut bread, 300 wafers of marzipan, plus 6 apples, 7 pears and 10 oranges per person. So much for starters! The serious part of the feast consisted of roast beef, veal, lamb, capons, plovers, woodcock, partridges, herons, snipe, leverets and lambs' tongues. The proteins were washed down with 2½ gallons of beer and wine per person! Henry partook of similar meals almost every day and began to pack on the pounds. His waistline increased by 20 inches in four years and by 1546, he had grown so heavy and incapacitated that he had to be pushed around the castle in a "traveling chair" and a "device," presumably a pulley, was installed to lift him up and down the stairs. He couldn't even get into and out of his 13-foot bed without assistance.

Malnourished Monarch. Strangely enough, historians now believe Henry VIII died because of what he did not eat. Like most well-off people in Tudor times, Henry ate huge quantities of meat and almost no vegetables because vegetables were considered suitable only for the poor. Henry suffered from bleeding gums, sores that wouldn't heal, stomach pains, coughing and depression – all symptoms of scurvy, a disease caused by a lack of Vitamin C. He died at the age of 56.

Balanced Diet. Louis XIV (1643-1715) of France wasn't as greedy at the table as was Henry VIII, but he didn't exactly go hungry. He often dined on a meal consisting of four different soups and a whole pheasant, accompanied by a whole partridge, chicken or duck stuffed with truffles. Unlike Henry, Louis didn't scorn vegetables and his meals included a huge quantity of salad, mutton, two slices of good ham, a dish of pastry and raw fruit, compôtes and preserves. When Louis died, a postmortem examination revealed he had a vast stomach and bowels (intestines) twice the normal length.

Eating in Public. Several kings ate in front of people and one of them was Louis XIV, who took most of his meals in front of a large audience. In Britain, during the reign of George II, people could purchase tickets to watch the royal family eat Sunday dinner.
Blackbirds in a Pie.
Royal chefs and those serving in homes of the nobility were constantly coming up with new ideas to please their employers and eventually, someone suggested covering live animals or birds with a pastry shell. When the pie was opened, the entrapped creature would pop or fly out, much to the delight (or perhaps disgust) of guests. The animals included various birds, pigs and even frogs. In a famous example, King Charles I (1625-1649) and Queen Henrietta Maria served up Jeffrey Hudson, a famous dwarf of his day (alive of course), in a pie. According to legend, a pie containing 24 live blackbirds was served to Charles I, but this is unsubstantiated.

Ale and Hearty.
Food and drink preferences have changed tremendously over time. People began recognizing the dangers of overindulgence in alcohol many years ago. However, in 1632, a children's hospital in Norwich (England) included 2½ gallons of beer in its weekly ration for each sick child. On the face of it, this may seem preposterous, but there was a reason for serving children beer instead of water. In those days, water from streams and wells in metropolitan areas was polluted, containing
Vibrio cholerae
, which causes cholera, as well as other disease-causing bacteria, and drinking it could kill you.
Poison Potentate.
Normally people avoid poisons, but not King Mithradates VI of Pontus in Asia Minor. He was so paranoid about being assassinated that so he took small doses of poisons to build up his resistance. Unfortunately, in 63 BC, to avoid being captured by the Romans, he decided to kill himself and resorted to poison to do the deed. Of course, the poison had no effect and in the end, he was forced to fall on his sword.
Chocoholic.
The Aztecs' loved a cocoa drink made from the beans of the cacao tree flavored with vanilla and spices, whipped briskly until the ingredients dissolved and served cold, i.e., it wasn't warmed, the Aztecs had no means of refrigeration. The Emperor Montezuma had 50 jars of this drink made each day for his personal consumption and 2,000 additional jars for his household.
Frozen Wife.
Reports of cannibalism are often wildly exaggerated. However, according to George Percy, the Jamestown Colony's interim president, one of the very first executions in the American colonies occurred when a young colonist was hanged for eating his pregnant wife, whom he was suspected of killing. Percy wrote that 1610 was a difficult winter and there was a severe food shortage. When the snows finally melted and spring arrived, it was discovered that one man had managed to survive with the help of his wife: she had died (naturally or at the hands of her husband) at the height of the extremely cold winter and he had eaten her corpse.
Powerful Punch.
One of the most exciting cocktails must have been the "Pirate Special" invented by Edward Teach, aka "Blackbeard," (1680-1718). It is said the pirate captain never bathed and his clothing was stained with drink and blood. His favorite drink was rum mixed with gunpowder. Some say he used to light the gunpowder just before he tossed down the drink. No doubt he found it warming on cold winter nights.
Have a Drink on Me.
President Rutherford B. Hayes and his wife, who was known as "Lemonade Lucy," were teetotalers. They never consumed alcoholic beverages and during Hayes' term as president (1877-1881), he banned any and all alcohol from the White House. However, the butler was only too willing to oblige imbibing guests – for a price, of course. He generously spiked the sherbet punch with alcohol and grateful visitors paid handsomely for his "assistance." Neither President Hayes nor Lucy ever discovered their butler's little side business.

Mammoth Meal.
One of the most unusual locations for a dinner party must have been that chosen by Renbrandt Peale in Philadelphia. In February 1802, 13 guests sat down to eat and were entertained by a pianist. The entire meal was consumed beneath the gigantic skeleton of a mammoth that Rembrandt and his father had excavated from the clay in the Hudson River Valley.
High Fiber Diet.
The health experts say fiber is good for you and Jay Gwaltney, 19, agreed. In a 1950 eating contest in Chicago, he ate an 11-foot-long birch tree with a trunk that measured 5 inches in diameter. It took him 89 hours.
Wormburgers.
The North American Bait Company once sponsored a "cookery with worms" competition. The winning recipe was for Earthworm Apple Sauce Surprise Cake.
Mane Course.
Those who love horses will likely be distressed to learn that horse meat was once, and in some parts of the world still is, enjoyed by many discerning diners. In 1868, a horse meat banquet for 160 was held at the Langham Hotel in London. The highlight of the meal was a 264-pound baron of horse, which was carried into the dining room on the shoulders of four chefs.
Instant Food.
In 1982, the
New England Journal of Medicine
reported the craving of an Indian woman for paper. She ate one cigarette packet and a Kleenex box every day. When she was especially hungry, she would devour an entire paperback novel.
Skull Cups.
The earliest known drinking vessel fashioned from a human skull dates to 12,750 BC, but one of more recent vintage (above), went on the auction block last year. The skull was found at Newstead Abbey, the home of Lord Byron (1788-1824), by his gardener. "There had been found by the gardener, in digging, a skull that had probably belonged to some jolly monk or friar of the Abbey, about the time it was demonasteried," Byron wrote. "Observing it to be of giant size, and in a perfect state of preservation, a strange fancy seized me of having it set and mounted as a drinking cup. I accordingly sent it to town, and it returned with a very high polish and of a mottled colour like tortoiseshell." According to Stephen Massett, in his detailed essay, "A Day at Newstead Abbey," it [the skull cup] "was always produced after dinner when Byron had company at the abbey and a bottle of claret poured into it." Byron was even moved to write a poem he called "Lines Inscribed Upon a Cup Formed from a Skull," in which he mused that becoming a skull cup would be more noble than rotting beneath the ground:
Better to hold the sparkling grape,
Than nurse the earth-worm's slimy brood;
And circle in the goblet's shape
The drink of Gods, than reptiles' food.
Sources:
What They Don't Teach You about History
by Tim Wood and Ian Dicks; Carly Silver, Gastro Obscura, June 26, 2017;
Henry VIII: The King and His Court
by Alison Weir; Stephanie Butler, "Vomitoriums: Fact or Fiction?," History, November 20, 2012; Gil Troy, "The English Settler Who Ate His Pregnant Wife,"
The Daily Beast
, November 24, 2016;
The Accomplisht Cook
by Robert May; and "Earliest Directly-Dated Human Skull-Cups,"
PloS ONE
, February 2011.