Post by Graveyardbride on Oct 12, 2017 18:33:39 GMT -5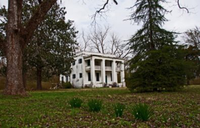 2017 Alabama Ghost Walks/Tours
This year, spirit-seekers will be able to experience some of Alabama's haunted history with hearse rides, ghost walks and paranormal investigations. A variety of events pay homage to the state's ghostly history, including a moonlit tour of the ghost town of Old Cahawba (above) where paranormal investigators will showcase their ghost-hunting equipment. In Montgomery, a mortician will take you on a tour of Oakwood Cemetery in a hearse. And in Tuscaloosa, you'll see why the Drish House is one of the most haunted houses in the state. Check out this list of nine ghostly events taking place this month across the state:
Selma/Old Cahawba: Haunted History Tours and Cahawba Spirits Investigation.
Two centuries of area history will raise the hair on your arms during the Haunted History Tour of Alabama's most famous ghost town. This tour of Old Cahawba after dark takes participants on a deluxe wagon tour and short walks along the most haunted locations in the archaeological park. The Alabama Paranormal Research Group will pull out their ghost-hunting equipment along the tour, placting visitors in the middle of a real mini-investigation. After the tour, guests can sit around the bonfire and chat with paranormal investigators. Tours are scheduled for Saturday, Oct. 21, and Sunday, Oct. 28, at 7, 7:30, 8, 8:30 and 9 p.m. Seats for this 90-minute tour and investigation are limited. Advance tickets are $20. For additionall information, call (334) 872-8058 or visit
www.selmaalabama.com
Huntsville Ghost Walk.
The Huntsville Ghost Walk guided tours are scheduled for every Friday and Saturday in October. Visitors can chose from three guided walking tours. Hear tales of Historic Huntsville's haunted past while walking along the Old Town District, The Haunted Downtown District or the Twickenham District. Tickets are $10 for adults and $5 for children ages 12 and under. All tours depart from Harrison Brothers Hardware Store downtown and begin Fridays at 6 p.m. and Saturdays at 8:30 p.m.
Another option is a one-hour Trolley Tour through Huntsville's haunted past. Reservations for this tour should be made in advance by purchasing tickets at Harrison Brothers Hardware Store. Adult tickets are $15 and $12 for children 12 and under. Call (256) 509-3940 or visit
www.huntsvilleghostwalk.com
for more information
Mobile Spirits and Strange Happenings Tour.
This one to two hour tour explores Mobile's mysterious spirits, ghostly residents and strange happenings. Tours take place seven days a week in October and leave nightly at 7:15 from Mobile's Welcome Center on Royal Street. Pickups from area hotels can be arranged. A special motor coach tour on October 30 includes extra stops at a graveyard and haunted house. (Call for special pricing.) Regular tour cost is $20 per person with a six-person minimum. For additional information, call (800) 338-5597 or visit
www.baycityconventions.com

Haunted Tuscaloosa Tours.
This hair-raising tour starts at one of the most haunted houses in Alabama, the historic Drish House. The 90-minute adventure on a trolley bus will take guests to 16 locations around the city, including the University of Alabama campus, to learn about the city's dark history. Tours take place every Friday night in October and depart at 7, 8:30 and 10 p.m. from the Drish House. Tickets are $25 for adults. Discounts are available for students, military, children and groups. For advance reservations and additional information, visit HauntedTuscaloosaTours.com
The Birmingham Ghost Walk.
Lantern lit tours take you into the shadowy darkness to discover Birmingham's ghostly past. Different tours offer visits to haunted hotels, churches, theaters, the Sloss Furnace and more. Two-hour tours begin at 7 and 9:45 p.m. each night in October. Tickets are $20 for adults and $10 for children. Call (205) 440-2720 or visit Birmingham Ghost Walk for more information.

Florence/Sheffield: Haunted History of the Shoals Ghost Walk.
Master storyteller and author Debra Glass entertains participants with tales, legends, folklore and true stories as you stroll the streets of Florence and Sheffield. Visit an old Civil War hospital, famous restaurants, recording studios and more. Various dates and times will take you on ghost walks and trolley tours in Florence and Sheffield. Prices range from $15- $20 for adults and $10 - $15 for children. Visit
www.florenceghostwalk.com
or call (256) 810-5618 for dates, times and prices.
Montgomery: Haunted Hearse Tours.
Ride in a real hearse as you visit sites like Oakwood Cemetery, the feather duster murder house, the house where Catfish Bob met his demise and more. The one-hour tour leaves from the Alley across from Biscuits Stadium every hour beginning at 7 p.m. each night in October. Reservations are required. Cost is $15 per person. Call (334) 514-4457 to reserve a spot. Haunted Hearse Tours of Montgomery also has a Facebook page.
Decatur Ghost Walk.
Ghosts of Union soldiers still wait for the train in Decatur 150 years after the Civil War. Dead Man's Alley could make you uneasy as you listen to tales of sinister murders. Delve into these stories and more every Saturday in October. Tours begin at 6 p.m. on the steps of the Old State Bank. Tickets are $10 for adults and $5 for children 12 and under. Call (256) 509-3940 for more information or email Jacque@HuntsvilleGhostWalk.com
Athens: Historic Haunts Walk.
Hear the story of a student who fell to her death, yet still wanders the halls at Athens University. The Historic Haunts Walk begins at the Athens Visitors Center and includes 13 sites. Walks take place Tuesday and Thursday nights through October 26. Walks are approximately 90 minutes and the first begins at 6:30 p.m. and a second walk begins at 7 p.m. Required advanced tickets are $5. For additional information, call Athens-Limestone County Tourism (256) 232-5411.
Note: Walks are almost sold out.
Source:
PRWeb, October 12, 2017.