Post by Joanna on Sept 29, 2017 6:52:52 GMT -5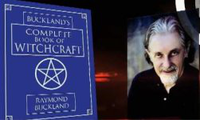 Death: Noted Wiccan Leader/Author Raymond Buckland
Raymond Buckland, author and founder of Seax-Wica, died Wednesday, Sept. 27, after being hospitalized for chest pain. "Ray," as he was called by his close friends and family, is largely considered responsible for introducing the U.S. to Gardnerian Wicca.
Born August 31, 1934, in London to Stanley and Eileen, by 1939, as World War II loomed, the family had moved to Nottingham where Buckland spent his childhood. During his school years, he became interested in the theater and acting, a passion that would follow him throughout his life. It was during these early years that Buckland was introduced to spiritualism and the occult. His uncle was a practicing spiritualist and shared the concepts with his then-12-year-old nephew. In a 2008 interview, Buckland said, "I read everything I could on that subject then expanded my interest to other related subjects: ghosts, ESP, magic, witchcraft, etc." Like theater, it was a passion that would follow him into adulthood.
In 1951, Buckland began his studies at King's College in London, eventually earning a doctorate in anthropology at Brantridge Forest College. It was also during this time that he married his first wife, Rosemary, and became a father. During his early career, Buckland held several different positions and spent two years in the Royal Air Force (1957-59), a service for which he was honored in 2014 during Circle Sanctuary's Veterans' Day presentation of the Pagan Military Service Ribbon.
It was in 1962 that his life would change and he embarked on the path that would lead him to notoriety. Buckland, who worked for the British Overseas Airway Corp., moved his family moved from the U.K. to Long Island, New York, where he began reading Gerald Gardner's books and studying Wicca. Eventually, he developed a long-distance friendship with the renowned "father of Wicca." In 1963, he and his wife returned to the England where they were initiated into the Craft by Monique Wilson and Gardner himself, after which they introduced the tradition in the United States. As Buckland said in a 2016 interview with The Wild Hunt, "Gerald was very keen to get the Craft established here in America and did rather push that. His greeting was never, 'How are you?' but rather right into, 'We have got to get you going over there.'"
During the 1960s, as the occult became more popular, Buckland established a Long Island coven, which, he said, did not have a name. He also opened a museum called the First Museum of Witchcraft and Magic in the U.S. At the same time, he began his first book,
A Pocket Guide to the Supernatural
(1969). This was quickly followed by a number of other books on magic, the occult and Wicca. Through the success of his works, Buckland was able to leave his job at BOAC and devote all his attention to the coven, writing and teaching. Buckland always said he didn't specifically seek out publicity; it just fell into his lap:
"For the longest time I would do interviews and write articles to straighten the misconceptions that existed (this I felt to be my task), but withheld my name and picture. Then a columnist for the
New York Sunday News
, who assured me she would honor my confidentiality, boldly published my name and address and all hell broke loose."
In the 1970s, Buckland's life began to shift again. He and Rosemary divorced and both left the Long Island coven. In 1974, Ray remarried and moved first to New Hampshire and then Virginia, where he would begin a new spiritual journey, established Seax-Wica and launched a correspondence course that over time attracted more than a thousand followers worldwide. It was at this time Weiser published his book,
The Tree: Complete Book of Saxon Witchcraft
. Former student and Wiccan priest Gavin Bone recalls:
"I was initiated into my first coven in 1986. It was based on Ray's
The Tree: The Complete Book of Anglo-Saxon Witchcraft
... [The] story I heard among the U.K. Wiccan community was that Ray was drunk when he wrote the book. This always seemed a bit strange to me, but I generally ignored comments like that. In 2000, Janet and I were invited to the original WitchFest in New Orleans, where I finally got to meet Ray. … One evening after the festival, [Ray, Ed Fitch and I] went down to Bourbon street hopping from bar to bar. … We finally ended up at Old Absinthe House.
"It was there, with both of us a bit worse for wear and me emboldened by several margaritas, I asked [Buckland] if he had indeed written
The Tree
drunk. Hr was a bit perplexed by the question at first, but said that he had heard this stateside. 'No', he said 'I was very pissed, very upset about the way the Craft had gone in the U.S.' The penny dropped between the two of us and both of us started to laugh! Of course, people had heard in the U.K. that Ray was 'pissed' and for them that meant 'drunk,' and of course this spread back the other way. From this conversation I got the long history of Long Island, why he wrote the book, etc. I learnt more about the true history of the U.S. Craft in one evening drunk with Ray Buckland, than at any other time since."
Over the next decade, Buckland continued to write about and teach Wicca. He interacted with the growing Pagan community, attending festivals and speaking publicly to the media about the Craft. Rev. Selena Fox remembers appearing on
The Sally Jessy Raphael Show
with both Buckland and Scott Cunningham. "It was a dynamic show," she says, "and we worked well together, talking about Witchcraft, Wicca and contemporary Paganism."
By the mid-1980s, Ray and his second wife had divorced and he had met and married Tara, who would become the love of his life. It was also during this time that Llewellyn published what would become arguably his most famous book,
Buckland's Complete Book of Witchcraft
, or what is often called "Big Blue," or "The Big Blue Book."
Over time, Buckland became increasingly disconnected from the growing Pagan community for a variety of reasons. He shut down the correspondence course and in 1992, he and Tara moved to a farm in Ohio, where he retired from his public Pagan life, rarely interacting with the community. Over the next several decades, Buckland slowly reconnected with his spiritualist roots, attending events at New York's Lily Dale, a camp for spiritualists and freethinkers. He also resumed his love of the theater and performed stand-up comedy at a hotel in Millersburg, Ohio.
In an interview last year, Buckland observed: "Seax-Wica is definitely still part of my spiritual identity. I don't care much for labels – though some do seem necessary – so will not label myself. I am very much a solitary practitioner these days and draw on a variety of beliefs and practices."
His museum was recently reestablished in Ohio as the Buckland Gallery of Witchcraft and Magick and he also indicated his library would eventually be donated to a group in Kentucky, where a Raymond Buckland Memorial Reference Library would be established.
Toni Rotonda, the Buckland Gallery owner, says, "Raymond had a story behind each and every artifact and if you've ever had the privilege of hearing any of his stories, you knew the ending was going to have you crying with laughter. We are honored to be able to continue and share his passion in the preservation of our history and share it with generations to come."
As for his writing, Buckland moved increasingly into fiction, producing only a few nonfiction or occult-related works over the past decade, one of which was his popular Romani Tarot. In his works of fiction, he wrote within several genres, including mysteries set in the Victorian era (e.g.,
The Bram Stoker Mysteries
), as well as high fantasy (
The Chronicles of Kurnow
), and science fiction (
The Committee Against Evil
).
Buckland indicated he was working on an autobiography, however, in 2015, his health began to decline when he contracted pneumonia. In July of that year, he had a heart attack, but by the following year, he indicated he was much better and keeping active. "I am now walking two miles every morning and spending an hour on exercises every afternoon," he said. "I no longer will travel any great distances, don't do public appearances and keep pretty low key with my writing – all fiction these days."
Early this past week, Buckland was reportedly experiencing breathing problems and doctors discovered his lungs were filling with fluid. He rallied following treatment and was reportedly his cheerful self by Wednesday. Then, when doctors asked that he get up and walk around, he experienced chest pain. Buckland passed peacefully without pain Wednesday evening in the company of loved ones.
* * *
What people are saying:

"He was the father of Wicca in the U.S., a legacy whether people wish admit it or not continues. He was a gentleman, progressive in attitude before his time with the ability to inspire others, but he had an indomitable spirit. Perhaps when he arrives there he can finally give those flowers to Doreen Valiente and she'll let him watch soccer with her. Travel well my first teacher." – Gavin Bone.

"Ray Buckland was a wonderful, wise, creative, and loving soul who blessed this world with his magical knowledge, writings, joy and love. I am thankful for his friendship over the years, his teachings, and his leadership in the many endeavors that helped the Craft and Paganism grow and develop in the US, UK and around the world … I, like many, am saddened that he has died, but am glad that he continues to be in this world through his books, works, and many lives he has blessed. Hail and Farewell, Ray. Blessings in your journeys in the otherworld." – Rev. Selena Fox.

"While Ray never professed to be Druidic, to us he was all we admire in a Druidic leader and elder. He understood Summerland and our Druidic beliefs in 'life before life, life after life' as well as any Druid. We look forward to seeing him in our astral travels soon. Our blessings to all that loved him." – George King (the Druid King).

"Having been a proud owner of Ray's 'Big Blue Book' well before my own career as a Pagan author took hold, I was nervous about meeting him the first time we were booked at the same event. After all, this was the Raymond Buckland. The man I met and befriended, however, surpassed his 'legend' status in spades by eschewing the part. Instead of embracing a label, he was simply himself. A warm, genuine, intelligent, funny, and delightful human being. I will always cherish the chats we had, the laughs, and the honest exchange of ideas. He will be sorely missed." – M. R. Sellars (author).

"I am simply in shock at Ray Buckland's passing. I was just looking at pictures yesterday and remembering a few of the truly bad jokes he told 30 years ago when we were young and not so innocent. Today my old friend is gone. Life happens in a blink of an eye. Until we meet again, may your journey be interesting. " – Janice King.

"He was a true original in every sense of the word. I find myself immersed in his legacy, and both Jillian and I are proud to carry on the museum which bares his name. We feel blessed to have spent time with him, and would like to express our deepest sympathies to his wife, family and all of the people he has touched as an author, lecturer, and a Pagan elder. As I always tell people on our tours, you were a one in a century type of guy, Buck. Blessed Be." – Steven Intermill (Buckland Gallery curator).

"Ray was a true gentleman. He always took the time to be personable to everyone he addressed. He had a way of looking into a person to see where they were in life and always encouraged them to be their best. He was very patient and faced many uneasy people, but also treated them respectfully. There are gentleman, and then there are true gentleman. Ray was a true gentleman." – Sandpiper (close family friend).


* * *

Buckland's family is keeping his memorial service private. His wife Tara publicly thanked the Pagan community and others for the outpouring of love for her husband and support for her family in social media.

Rev. Selena Fox will host a two-hour special podcast: "Circle Sanctuary's Remembering Ray Buckland" Oct. 3 on Pagans Tonight Radio Network.

In 2008, Buckland was asked what advice he'd like to offer to every Witch. He said, "Be true to yourself … and always remember that Witchcraft/Wicca is a religion of love."

When asked in 2016 how he would like to be remembered, Buckland said, "I guess I'd like to be remembered as someone who did his best to expand Gardnerian from the U.K. to the U.S., who tried to write truthfully about the Craft – without ever breaking his original oath of secrecy – and as someone who very much enjoyed working with others in many different fields." He also cited his legacy: the museum, his library and his written works, many of which are still in print.

Raymond Buckland was many things: a writer, an actor, a teacher, a visionary, a spiritualist and a priest. He was a friend, a husband, a father and grandfather, and an inspiration to generations of Pagans. Weaving throughout all the recently-expressed memories and tributes on social media and beyond, one thing stands out and is repeated over and over again: Raymond Buckland was a gentleman and one who was clearly loved and cherished by both those closest to him and the many whom he touched through his work.

What is remembered, lives.

Source: Heather Greene, The Wild Hunt, September 29, 2017.
See also "The Buckland Gallery of Witchcraft & Magick": whatliesbeyond.boards.net/thread/7449/buckland-gallery-witchcraft-magick