Post by Joanna on Jul 19, 2016 21:34:31 GMT -5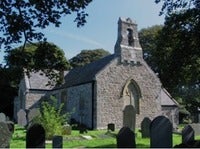 Dark Witches and Satanists in Wales
Witches are usually associated with images of old hags, broomsticks and unfortunate women being dunked in ponds in centuries gone by. However, in more enlightened, modern times, witchcraft is broadly defined as the practice of magic, which can be used for good such as the Wiccan movement. But during the last few decades, dark occurrences in communities across North Wales raised concerns that witchcraft has been used to satisfy more sinister goals.
In the late 1980s and early 90s, a spate of attacks on churches and burial sites in the region was blamed on the occult. Discoveries of animal carcasses were also linked to the dark arts. And there were reports of stolen crucifixes, blasphemous scrawlings and symbolism associated with devil worship, especially around the Conwy area. This caused the residents of several local towns and villages to fear Satanists were active.
As attacks on religious sites escalated, Llanrhos vicar David Jenkins admitted in the late 1980s, he was concerned a witches' coven may have behind the activities. At the time, he said churches must be protected from "the workings of the evil one" after gravestone crosses had been turned upside down at St. Hilary's Church (above) and other stones smashed.
Then in March 1987, Sgt. Jerry Parkhurst, who was Conwy-based, claimed youngsters had developed a "morbid interest in the occult." The officer voiced his concern after occult symbolism was scrawled on gravestones and church doors at St, Mary's Church in Conwy and St. Benedict's in Gyffin.
Speaking at the time, Rev Peter Jones said: "Interest in the occult leads to anti-social behaviour of various kinds. "My main concern is the very real spiritual harm that it can cause to those who get mixed up in it."
Some incidents ended up in court. In June 1987, two 16-year-old boys came before Llandudno Juvenile Court after they urinated on the altar at Llandudno's Holy Trinity church. One of the youths later told police he was a pagan and had stolen church ornaments for use in occult rituals.
Then a couple years after, one of the boys appeared on ITV's
Cook Report
as a reformed Satanist. At that time, he was living at Conwy Morfa and warned local youngsters were involved in black magic. "A lot of kids dabble in witchcraft, but they don't realize how deep they can get in," he said. "You can go to any library and pick up books about these things, and it's usually black magic, though they don't tell you that."
During Hallowe'en 1987, the crematorium at Mochdre was vandalized. In April 1989, 12 witches accompanied by their high priest and priestess were accused of recruiting for their coven using sex and drugs in Colwyn Bay and Old Colwyn. Villagers in Llanrwst feared a black magic circle may have been responsible following a grave theft on New Year's Day in 1990. A white wooden cross marked the grave of a Christopher O'Toole who had died just three years earlier. The nameplate had been removed and the cross was found in a farmer's field nine days later, sparking further occult fears.
Then in October 1991 the community of Bryn-y-Maen found a cross turned upside down at the parish church and occult slogans smeared in the valuable parish registers. Earlier that year in May, witchcraft was blamed when black fur and blood were found off Bodnant Road in Llandudno by the RSPCA as the summer solstice approached.
In recent years the Rev Felix Aubel, who was the minister of five Congregational chapels in rural Carmarthenshire, claimed occult practices in rural Wales had been increasing during the two decades he has been working in the area. The minister spoke out after figures in the 2011 census revealed 83 witches and 93 Satanists were living in Wales.
Source:
Steve Bagnall,
The Daily Post
, July 16, 2016.