Post by Joanna on Jun 11, 2016 19:31:51 GMT -5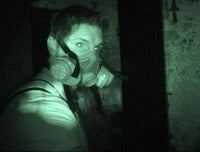 Has Zak Bagans Gone Crazy?
MOUNT CHARLESTON, Nev. – Only hours before the series finale of
Deadly Possessions
was set to air, ghost-hunting guru Zak Bagans could be found about 50 miles northwest of his Las Vegas museum committing an act so irrational that officials assume he was either under the influence of a mind-altering substance or possessed by an evil spirit.
Standing on the edge of a peak known as Masking Heights, 9,281 feet above a rocky gorge, Bagans first tossed his beloved air mask over the edge before pushing his iconic red 2012 Ford Ranger over and watching them both fall to their destruction.
In addition to the drug and possession theories, many have speculated that Bagans may be under an enormous amount of stress after a dismal first season in which he fulfilled his lifelong dream of opening a museum, filled with haunted and cursed objects he has collected through the years, in downtown Las Vegas. The sixth episode in the first season features objects belonging to Dr. Jack Kevorkian, "Dr. Death," and the late actress Natalie Wood.
"The sheer hatred he showed towards that mask when throwing and then watching it fall to a horrible death … I've never seen that kind of sheer hatred before," said park ranger Jared Bulgovich, the sole witness to the ghastly act that has the ghost community shaken. "Everyone round these parts knows Mr. Bagans loves his air mask and is as shocked as I am!"
The co-host of the paranormal show
Ghost Adventures
, which has been on the air 12 seasons, is frequently criticized by viewers for over-wearing a protective mask with the intention of cleansing the air he breathes. Certain situations, such as caves and old basements, require the use of such a device, but when Bagans began wearing his mask all the time, questions immediately arose. Since then, he has interrupted a wedding and even a performance of the musical
Cats
to profess his love for his mask.
While the previous incidents seemed to be the mere infatuation of a man in love with a poly bi-carbonate plastic mold, the most recent event is indicative of a man in need of serious help.
No charges have been filed and Bagans has received comfort from close friends, relatives and the many spirits with whom he claims to have connected over the years.
Source: It's A Cat, Glossynews, May 11, 2016.