Post by Graveyardbride on Dec 31, 2015 13:40:07 GMT -5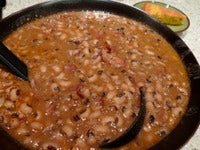 New Year's Hog Jowl and Black-Eyed Peas
The real story behind serving hog jowl and black-eyed peas on New Year's Day is interesting, but hasn't been told in recent years because it is considered by some to be politically incorrect. It's a story of brutal and bloody war and military might forced upon American civilians – women, children and the elderly. Although not considered a war crime by the invading nation, the killing and starving of the innocent was carried out with ruthless abandon by generals following the orders of their commander-in-chief, leaving an unhealed wound in the hearts of many Southerners to this day.
The story of black-eyed peas as a symbol of good luck dates to the bloody 1864 march through Georgia, led by General William Tecumseh Sherman, who declared, "All women and children in the South need to be exterminated." What was called the Savannah Campaign began November 15, 1864, when Sherman's troops began their rampage – after burning Atlanta – to the seaport of Savannah, where they arrived December 22, 1864.
When the smoke of burning cities, barns, plantation homes and ordinary houses finally cleared, those Southerners who survived the onslaught discovered the northern aggressors had looted and stolen everything, from livestock to stored food, leaving nothing but death and destruction as far as the eye could see. There was no international aid, no Red Cross, nothing to aid the starving women, children and old folk. Sherman's bloodthirsty marauders had eaten all they could and burned the rest with the exception of stores of black-eyed peas. At that time in the north, the lowly black-eyed pea was used for feeding livestock, having been deemed unfit for human consumption.
On January 1, 1865, the people (white and black) of Dixie awakened to devastation, but remaining undaunted in the face of total destruction, cooked up pots of black-eyed peas and thanked God for their meager fare. The following spring, they planted new crops and prayed what few livestock animals they had been able to hide from the Yankee marauders would multiply. By New Year's Day 1866, most were no longer on the verge of starvation. Nevertheless, Sherman's scorched-earth march was still fresh in their minds and once again, families served black-eyed peas seasoned with hog jowl as a symbol of good luck because without the peas, they would not have survived. Since that time, it has been considered "good luck" to serve black-eyed peas and hog jowl on New Year's Day.
Hog Jowl and Black-Eyed Peas Recipe
½ lb. hog jowl, chopped
2 Tbsp. bacon grease or oil
1 lb. dry black-eyed peas
1 onion, chopped
salt and pepper to taste
Wash black-eyed peas, remove hulls, drain well and set aside. In a large iron dutch oven, cook hog jowl in bacon grease over medium heat until browned and crispy. Add drained black-eyed peas and enough water to cover. Bring to a boil, lower heat and simmer covered about 1½ hours. Add water as necessary to keep peas covered, but enough to become soupy. Stir occasionally to prevent sticking to the bottom of pot. If sticking occurs, lower heat. Stir in chopped onion and continue to simmer approximately 30 minutes, stirring frequently, until onion is soft. Add salt and pepper to taste. You may not need much salt because hog jowl tends to be salty, but add enough pepper to give the dish a somewhat "peppery" taste. Serve with Southern cornbread.
Author:
Graveyardbride.
Sources:
Ron Perrin, Defending the Heritage; The Southwest Georgia Regional Library System; and Just-a-Pinch.