Post by Joanna on Oct 30, 2013 23:26:12 GMT -5

If a Druid Rings the Doorbell

How will you be celebrating Samhain this year? What's that? You say you won't be observing the high Druid holiday of the ancient Celts? With all due respect, you're probably wrong and you probably will.

"Samhain is Halloween; Halloween is Samhain," said Ellen Evert Hopman, 61, an author, herbalist and Druid priestess and scholar. Irish monks, by most accounts, co-opted the earthy ritual and recast it with strait-laced saints. But the bones of the holiday wouldn't stay buried. The first historical record of Samhain, an engraved bronze calendar found in Coligny, France, dates to the first century B.C. The Druids of the British Isles went to ground a few centuries later, after the Romans rode in on chariots and "trashed the place." All the same, she added: "There have been people celebrating Samhain in Europe for thousands of years. It never ended. Now it's coming back with a vengeance, as more and more people turn back to the old ways to honor the Earth."

The holiday may share its DNA with Halloween, but the two are about as closely related as a toy poodle and a wolf. Where modern Halloween is mercantile, Samhain is magical; where Halloween is juvenile, Samhain is adult. Or try this: You celebrate Halloween by nibbling on candy; you celebrate Samhain by pouring whiskey over a bonfire. That's the bottle service this Friday night, when CedarLight Grove celebrates in its parsonage and prayer garden. This house of worship is a clapboard fourplex on a residential street in northeastern Baltimore. Out in the yard, the Druids will circle around their World Tree, a green ash that connects the underworld, the heavens and the mortal realm. The officiants will make offerings at the "well" (here, an enamel bowl: the last thing the yard needs is a mosquito pond). And they will recite bardic tales around the fire. The service, which is open to the public, will invoke a pantheon of deities with names like the Morrigan (the corpse-picking queen of the battlefield) and the Dagda (her erstwhile mate, the all-father). For their religious garments, the Druids are shooting for a Southern steampunk look, inspired by the band Delta Rae. Samhain is probably the most popular of the eight annual Druid festivals, added Taryn Lyon, 27, the grove's "scribe" and a member of the witan, or vestry. "Just like there are Christmas Christians, there are Samhain Druids and pagans."

How many folks will spend the next few days and nights worshiping the old gods? The 2008 American Religious Identification Survey put the number of American Druids at 29,000. But then, many Druids connect with the practice of paganism, and the survey counted 340,000 souls in this category. Add another 342,000 wiccans (fellow travelers), and Samhain starts to look like a pretty big party. Of course, that number would swell if you were to include the ancestors who have passed on – and Druids do, especially in this liminal season. These days, Samhain (pronounced SOW-in) lasts from Oct. 31 to Nov. 2. The old Celtic calendar seemingly cleaved the year into two seasons, the dark half and the light. This was a harvest festival, then, and perhaps a New Year's revel as well. "It's the time of year when everything is dying back," Ms. Hopman explained. "The vegetation is dying back. In the old days, people would assess how much fodder they had to feed the animals in the winter. And they'd judge how many animals they would keep and how many they would slaughter. There's a lot of death going on. It's a time of chaos. And when things break down like that, that's when the spirit world can bleed through more easily."

The holiday is one of the occasions when Ms. Hopman expects to encounter the fairies who share her wooded backyard, an oak forest of some 25 acres on a mountaintop near Amherst, Mass. On Samhain, a few members of her small Druid grove, Tribe of Oak, will proceed through the trees to a Colonial bridge above a stream, and then to a natural stone circle. It's two-way traffic, as the path is also a kind of fairy "superhighway," she claimed. Some friends have sighted them, and "I've heard them singing."

She keeps an altar on the west lawn of her bucolic house. (Or maybe a better word to describe it is primitive: "The house that I live in used to be a chicken coop and a pigsty," she admitted) "I'll put food out for them," she said of her magical guests from the Sidhe realm – that is, the otherworld or the fairy kingdom. "On Samhain, that's very traditional." An animistic streak runs through Druidry. There is a spirit in everything that exists in nature – the trees, the rocks, the waters – and it's possible to think of fairies as a metaphor. But why stop there? "Walt Disney came up with the idea of Tinker Bell," Ms. Hopman began: "That's not what fairies are. They're large, they can be very scary. There are some that overlie entire landscapes. They're huge. Some live under the ground, like the mound behind my house. You can feel them. You go to a hill and you know they're under there. Sometimes it feels like there's a whole city under there!"


This chthonian belief – that the world's underbelly rumbles with life – guides all the so-called Earth-based faiths. Practically, it means that the rituals of Samhain belong outdoors, whether in a wood or a home garden. Or, say, Central Park. That's where the New York Druid congregation called Inis Ull-Apple Isle Grove, ADF will gather this Saturday afternoon for a public celebration. In August, the group earned its charter from the 30-year-old Druid denomination called Ar nDriocht Fein (a.k.a. A Druid Fellowship). It currently numbers 14 members, most of them are from around the city. (Long Island and Connecticut have their own groves: the ancestors presumably don't mind commuting.) Peter Coughlin, 47, one of Apple Isle's founders and the senior Druid, describes a Samhain ceremony that will include music on guitar and drum and offerings of prayer and verse. The participants will also be moving around a lot, Mr. Coughlin explained. "We're going to be walking a repeating pattern of a triskele, the three-armed Celtic symbol." The plan, he added: "is practical as well as spiritual. This is not the holiday to sit on the grass and meditate, because it's going to be really cold."
Some of the worshipers, including Coughlin, will most likely wear special garb. "Some cloaky thing," he said, "to get myself mentally into the space, apart from my normal, day-to-day life." You might guess that the spectacle of robed Druids promenading through the city commons would attract gawkers. Not so. "In New York City, people see all kinds of things going on," Mr. Coughlin insisted. "It's just another thing; they tend not to react."
Apparently, while the Apple Isle Druids are singing together to the Dagda, that wise and good deity, your typical cosmopolitan is blindly communing with an Android device. Which of these seems like a false god?
CedarLight may be the largest of the 74 groves in A Druid Fellowship. Perhaps no coincidence, it is also the only Druid group that owns a building. A pair of second-floor rental apartments brings in some money, which is helpful: a new stone circle doesn't grow on trees. Though the clergy may reap rewards in the next life, there's no paycheck now. The furniture and dishes in the social hall have clearly been selected for a single design standard: they were free.
Caryn MacLuan has been the priest at CedarLight for almost a decade; she took over from her husband, who fronted the $50,000 down payment (about half the sale price) for the parsonage in 1996. And the building's upkeep has demanded both the sacred and the mundane. "Let's just say that being a landlord has not been my idea of being a religious leader," she said on a Friday afternoon last month. Ms. MacLuan, 53, has had more time to devote to Druidry since she retired a few years ago as a chief warrant officer in the Coast Guard. For instance, she recently spent the weekend at an East Coast Thing, a heathen congress in the Poconos town of Milford, Penn., dedicated to the Aesir and Vanir, the heroic races of the Norse pantheon. Back home, alas, the raven pendant she bought to honor Odin seemed to be flying upside down in the flag holder over the front stair.
Perhaps the local Baltimore Ravens fans will find common cause. An earlier banner, with Celtic text, disturbed someone down the block. "They thought it was German," she said. "And they thought we were skinheads." Fortunately, another neighbor came to their defense: "They're tree people." As a summary of a creed, Ms. MacLuan indicated "tree-hugger" is close enough. A Druid Fellowship, by doctrine, is undoctrinaire, explained Ashley Bryner, the senior Druid (or warden) at CedarLight. Druids often select their personal pantheon from an Indo-European tradition, or "hearth culture."
"The gods can run the gamut from Greek, Roman, Baltic, Slavic, Vedic, Germanic," Ms. Bryner, 31, asserted. That's a lot of gods – enough to fill a United Nations of the afterworld, or a Neil Gaiman novel. The liturgical art in the vestibule and parlor reflects that polyglot faith. One wall hosts an altar to the Celts: icons of Brighid (who later moonlighted as a saint) and a three-armed Brighid's cross, formed of wheat stalks. ("You can get it from a craft supply store; I went to Michaels," Ms. Bryner said.) Another altar venerates the Norse gods. Ms. MacLuan pointed toward a gallery of pictures: "Over here, we have Odin, Freyja, Thor, Tyr...."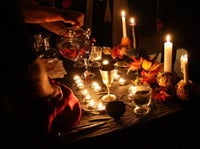 Lying on the white sofa was Thor's hammer, called Mjolnir, which Ms. MacLuan crafted last winter, and it's a good bet that she copied the filigree from a fantasy website. As one member put it, "The Internet is a pagan's best friend." At a recent Saturday-night feast, a couple of Druids were dreaming up a "Pagan Problem" Tumblr. Potential entries included "My Horn Got in the Way" and "I'm Getting to the Point in the Feast When I Need to Loosen My Corset." Put broadly, the members of CedarLight have active imaginations. Popular pastimes include medieval re-enactments, cos-play (or costume play) and Mmorpgs (massively multiplayer online role-playing games).
The tension between fantasy and historical truth is a matter of dogma among Druids. The original Druidry, scholars agree, was an oral tradition, and the record is fragmentary, at best. This lacuna leaves competing revivals (British Druid practice re-emerged in the 1700s) and Celtic reconstruction movements. It's fitting, then, that CedarLight has built its grove on bare ground. Ambling through the prayer garden, Ms. MacLuan said, "When we first came here, this backyard was empty." She pointed to a holly: "That was the only tree." There was a time when Ms. MacLuan sowed the dirt with medicinal herbs. But the community planted a couple of pin oaks, and the squirrels scattered a few more. Now, 17 years on, the sanctuary is a shade garden.
There had been talk at the beginning of a privacy fence. But CedarLight doesn't traffic in the occult, and it's not a bastion against the outside world. When a water main burst in a vacant house nearby, the earth turned into a bubbling mud pit. And however religious Ms. MacLuan may be about the value of good compost, Baltimore is no place, she said, "to have a compost pile on the ground." For all the Druid ritual that goes on in the garden, there's no magic strong enough to drive out the rats.
Ultimately, what unifies the Druids at CedarLight Grove is that they worship together – a bit of circular logic that also happens to be true. The community includes children in little cloaks and tunic tops fit for a BBC costume drama. A photo above a fountain, in the parsonage, memorializes a congregant who just joined the ancestors.
Erica DeVarney, 24, makes a kind of pilgrimage from Easton, Penn., where she works in the infant room of a day care center. "Normally it's three hours," she said of the drive to CedarLight, "but with the traffic today it was four and a half."
This is not a casual commitment. "I don't really talk to my biological family," Ms. DeVarney said. "This is my family."
A Druid Fellowship has spaced its holidays every six weeks, more or less, and the festivities involve planning and preparation. Mabon, which the grove treats as a kind of Druid Thanksgiving, fell in late September. And the witan spent days cleaning up the yard and preparing appreciation gifts. With the grove's women's group, Ms. Lyon sewed a tapestry of the World Tree, bearing a separate gold leaf for every member who attended a high rite.
At the night's ritual, affirmations honored each member's volunteer work. Katie delivered a fresh turkey for the feast! Hail Katie! Amy, the queen of the latrine, stocks the shared bathroom, and she is becoming an awesome seer! Hail Amy! At holidays like Samhain, the ancestors might share our meat and drink our mead. But when they cross back through the gates to the otherworld, they leave their dirty dishes behind. (A sign on the banquet table warns that potluck leftovers will be fed to the Kraken.)
A Druid Fellowship, it seems, is more than just a name. It is a shared, living faith. Ms. Bryner, the senior Druid, said: "We take on a kind of reconstructionist bent. But we live in the modern world. Some things are not significant to us. For instance, we don't sacrifice people anymore. We call it murder." The gods, in their wisdom, are merciful (until further notice).

Source: Michael Tortorello, The New York Times, October 30, 2013.