Post by Joanna on Apr 24, 2015 1:10:38 GMT -5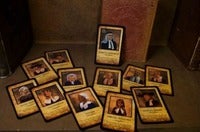 Card Game Based on Salem Witch Trials
Cards and board games are a big part of Utah culture – perhaps it comes with the Nerdiest State title – and Kickstarter is usually swimming with projects and ideas for new entertainment. At the moment, Kickstarter has 645 live projects involving games, with names and genres ranging from Dungeonmancer and Demon Lord to Assumptions and the recently completed and funded game Exploding Kittens (which received $8.7 million in pledges, making it the fourth highest funded project in Kickstarter history).
Needless to say, even though there are hundreds of games being thrown at consumers out there, there's still demand and a market. Creativity is exploding (and so are the cats). One recent project to launch on the crowdfunding site is Salem, a strategic card game of deception, based in Provo.
"The year is 1692, and it is a perilous time to live in the town of Salem, Massachusetts. One wrong step, or one misplaced accusation, and you could be the next witch to hang. 'Salem' takes players into this perilous world and lets them relive the tension, politics and religious extremism that still has people talking about it 300 years later," the Kickstarter page said.
Salem has also gotten a stamp of approval as a Kickstarter Staff Pick. At first glance, the game seems similar to Mafia or Werewolf with different characters, storylines and further game development. The creators aimed to combine the favorite aspects of other games like Bang, Ticket to Ride and Werewolf – entertainment staples for Utah Friday nights.
According to an explanation by project creator and BYU grad Travis Hancock on the site, inspiration for the game Salem came from major frustrations while playing Mafia-type games. "There wasn't an official structure to the game, the game always required a moderator, someone always had to die right at the beginning, rounds could drag on forever ... Salem aims to right these wrongs while still bringing forth a new game that captures the essence of the Mafia spirit."
This project received enough pledges to be funded within 15 hours of its launch. Now it moves forward to hit stretch goals of $15,000 or $25,000. Before its first week has finished, the project has accumulated more than $13,000 of its $6,000 goal. The backing rewards range from $10 for emailed pdfs of the cards to $25 or more for a copy of the game. The project hopes to deliver by November 2015.
Source:
Jordan Carroll,
The Daily Herald
, March 29, 2015.