Post by Kate on Jan 31, 2015 18:56:29 GMT -5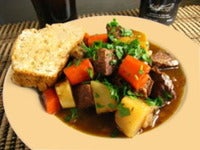 Recipes for Imbolc
Imbolc is a great time of fire and feasting. Whip up some kitchen magic for your Sabbat meal with these tasty recipes:
Lamb and Barley Stew
At Imbolc, the lamb is a true symbol of the season. In the British Isles, there were years when the spring lambing presented the first meat people had eaten in months. Barley was a staple crop in many areas of Scotland and Ireland, and could be used to stretch even the thinnest of winter meals to feed an entire family. This simple dish is delicious, and reminds us that spring is truly on its way.
Ingredients:
2 lb. stew lamb, in bite-size pieces
3 Tbsp. flour
2 Tbsp. olive oil
3 large carrots, chopped
3 stalks celery, chopped
2 leeks, white and light green parts, thinly sliced
½ tsp. dried thyme
1 large bay leaf
6 cups chicken broth
1 cup dry white wine
1 cup barley
salt
pepper
Directions:
Season lamb with pepper, then coat with flour. Heat olive oil in Dutch oven. Brown lamb over medium heat in two batches, sauteing each batch for six minutes. Remove from pan and set aside. Add vegetables and thyme to pot with a pinch of salt, cover, and cook until slightly softened, 5 minutes. Return cooked lamb to pot, including drippings, then add broth, wine, and water. Bring to boil, then simmer 20 minutes. Add barley, cover and simmer another 40 minutes, until barley is al dente.* Season with salt and pepper, to taste, and serve.
*Cooked so as to be firm when eaten.
Irish Soda BreadIngredients:
4 cups all-purpose flour 4 Tbsp. white sugar
1 Tbsp. baking soda
1 Tbsp. baking powder
½ tsp. salt
½ cup butter, softened
1 cup buttermilk
1 egg
¼ cup butter, melted
¼ cup buttermilk
Directions:
Preheat oven to 375 degrees. Lightly grease a large baking sheet. In a large bowl, mix together flour, sugar, baking soda, baking powder, salt and margarine. Stir in 1 cup buttermilk and egg. Turn dough out onto a lightly floured surface and knead slightly. Form dough into a round and place on prepared baking sheet. In a small bowl, combine melted butter with ¼ cup buttermilk; brush loaf with this mixture. Use a sharp knife to cut an 'X' into the top of the loaf. Bake in preheated oven for 45 to 50 minutes, or until a toothpick inserted into the center of the loaf comes out clean, about 30 to 50 minutes. You may continue to brush the loaf with the butter mixture while it bakes.
Baked Custard
The word "Imbolc" comes in part from the phrase "ewe's milk," so dairy products become a big part of February celebrations. For our ancestors, this time of year was hard - the winter stores were running low and there were no fresh crops. The livestock was typically preparing for birth and the lambing season would begin soon. At that time, the ewes came into milk, and once milk arrived, you knew your family would have a source of food again. Sheep's milk is highly nutritious, and sheep were considered a dairy animal long before cattle. If you have eggs, then you've got the makings of custard, a perfect dairy dessert.
Ingredients:
4 eggs
3 cups milk
½ cup sugar
½ tsp. ground nutmeg
½ tsp. ground cinnamon
½ tsp. vanilla extract
Pinch of salt
Preparation:
Preheat oven to 350 degrees. Combine all ingredients in bowl of mixer and blend about 15 seconds, or until well mixed. Pour custard mix into ramekins or custard cups. Place the ramekins in a baking dish and fill the dish with hot water up to a depth of about ¾ inch. Bake the custards for one hour.
Note: If you don't have a mixer, you can use a hand beater. It just takes a little longer.
Sources:
Celtic Well, Epicurious, Patti Wigginton.