Post by Joanna on Jan 11, 2015 23:35:45 GMT -5
The Mysterious Death of Superman
If the Hollywood stories are to be believed, any death involving a girl and a gun is suspicious. But this wasn't the conclusion of the police officers who arrived at 1579 Benedict Canyon, Los Angeles, in the early hours of June 16, 1959. When Officers Johnson and Korby entered the small house, they found a few drunken guests and a body on the bed. The burly, naked, 6'2" man had been shot through the head, the bullet leaving a hole in the ceiling beneath where he lay, the blood on the sheets around his body giving the appearance of a billowing red cape. The Luger was between the corpse's feet. It didn't take the officers long to determine the deceased was George Reeves, the 45-year-old actor who had become famous for playing the only bulletproof character on television: Superman.
Though Superman – as played by Reeves in a wool and foam rubber suit, on echoing sets and in black and white – had become one of the most popular figures in America, the actor himself always had misgivings about the role. He disdainfully referred to kryptonite as "kraptonite" and burned his costume on a pyre at the end of every series. Before filming had even begun, he raised a glass and toasted the actress about to play Lois Lane: "Here's to the bottom of the barrel, babe," he proclaimed. He also had no qualms about holding up production on an almost daily basis while he slept off the booze from the night before.
Reeves, who had been classically trained at the Pasadena Playhouse, made his silver-screen debut in Gone with the Wind, in which he played Stuart Tarleton, one of Scarlet O'Hara's many beaux, but even that didn't go as it should, for the film's credits misidentified his character as "Brent Tarleton." He also had made a gangster film with James Cagney and a romance with Claudette Colbert. He worked twice with Fritz Lang – indeed, any other actor might have felt sharing the credits of Rancho Notorious with Marlene Dietrich was enough for one career, but Reeves felt he was destined for greater things.

At the end of World War II, when Reeves was discharged from the U.S. Army's theatrical unit, there were just 6,500 television sets in the country, but within five years, there were 11 million. Originally imagined as a vehicle for live entertainment, TV had become an outlet for prerecorded programs, of which Superman and I Love Lucy were pioneers. The shows were filmed by big-screen refugees: one of Superman's early directors was an action sequence expert and its entire sound crew had worked on Citizen Kane. As soon as Reeves pulled on his tights and donned his red cape, his fate was sealed.
Reeves attempted to preserve some of his matinée-idol dignity. While the Superman of the original comics – the orphan who was born on the planet Krypton and fell to Earth – had incredible strength, X-ray vision, a bulletproof body and the capacity for supersonic flight, his everyday incarnation, Clark Kent, was a bumbling idiot. Not so in the TV series. Reeves refused to play the "mild-mannered reporter for a great metropolitan newspaper" as a buffoon, surreptitiously transforming the story in the process. Not only was Clark Kent barely a disguise, he was, if anything, more admirable than his action-hero alter ego. As Clark, Reeves wore a broad-shouldered double-breasted suit and round, black-rimmed glasses without lenses – lenses interfered with the set lighting. He was well-built with dyed slicked-back hair, a little chubby around the face with a reassuringly strong jaw and perfect teeth. The boiled wool number that he wore when he transformed into Superman crinkled around his crotch and burned his skin under the lights, causing him to sweat profusely.
Initially,
Superman
aired at 8.30 p.m. and its plots were basically noir short stories, peopled by con men and kidnapers and peppered with violence. But it soon had to be adapted, because the audience wasn't pulp fiction aficionados, but kids. Accordingly, the storylines were changed and played for laughs. One hundred four episodes of
Superman
aired between 1953 and 1957, and were watched by 91 percent of households with children under 12 – by which time, the humiliation of George Reeves was set in stone.
Reeves played Superman for a full third of his professional life. Kellogg's, which sponsored the show, insisted he make personal appearances, at which he would be mobbed by up to 20,000 children. Initially, he did these in his Superman costume, but when a small boy approached him holding his father's gun and asked to see if bullets really would bounce off him, Reeves refused to appear in the getup. Other children tried to emulate him, so Reeves started doing "safety tours" during which he would lecture children, explaining it was impossible for humans to fly.
Filming on
Superman
began in 1951, but it didn't go on the air until 1953 and for Reeves, the two-year gap was critical. Before the series aired, he had played a part in
From Here to Eternity
, the post-war film starring Deborah Kerr and Burt Lancaster that would later be deemed a classic. By the time
From Here to Eternity
previewed,
Superman
was everywhere and the producers, it is claimed, thought Reeves's fame as a kiddie TV character skewed their movie. They cut his part before the film was released in August 1953 and Reeves never played anything other than Superman again. The final season wrapped in 1957, and by 1959, Reeves had been out of work for two years – afloat, overweight and typecast to death.
Following are some of the theories as to what might have happened on the night of June 16, 1959:
(1) Depressed by his lack of acting work, caged by his fame as Superman and disappointed that a planned celebrity wrestling tour had sold so few tickets that all matches had been canceled, Reeves committed suicide.
(2) Reeves, who tended to walk around his house naked, liked to play with guns and kept a Luger beside his bed, died during a solo game of Russian roulette.
(3) A car accident that had almost killed him two months earlier left Reeves brain damaged. High on the painkillers he took for the severe headaches he suffered as a result, Reeves shot himself in the head.
(4) His girlfriend of eight months, the hell-raising New York society girl Leonore Lemmon, killed him during an argument.
(5) His spurned lover, Toni Mannix, who owned the house in Benedict Canyon, entered after midnight and shot him in a jealous rage.
(6) Toni Mannix's husband, the super-enforcer and former general manager of MGM studios, Eddie Mannix, had Reeves killed because the actor had upset his wife.
(7) Toni Mannix had Reeves murdered using her husband's underworld contacts and Eddie hushed it up.
In the days and years since, each of these theories has found supporters. Sam Kasher and Nancy Schoenberg's book
Hollywood Kryptonite
gathered evidence and imagined the scene. This book became the basis for
Hollywoodland
, a film in which Reeves was played by Ben Affleck. To some extent, the Reeves syndrome is reflected in Alejandro González Iñárritu's movie
Birdman
, wherein a Hollywood actor (played by sometime
Batman
star Michael Keaton) attempts to shake off his typecasting as a feathered superhero and directs an adaptation of Raymond Carver stories on Broadway. But at this distance, it is difficult to ascertain whether the death of Superman revealed that the Hollywood system could still gear itself up to protect its own, or if it betrayed Hollywood's sorry disintegration.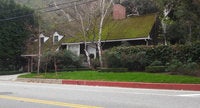 In the house (above) that night were Leonore Lemmon, who lived with Reeves and was about to depart with him for Spain, where they may or may not have been planning to be married; their neighbor Carol van Ronkel, who was married to a screenwriter, and Robert Condon, a journalist with whom she was having an affair; and William Bliss, a heating engineer who lived down the road and whose presence in the house after Reeves had supposedly gone to bed has never been satisfactorily explained. The people in the house weren't friends, or even well-acquainted. Condon was staying with Reeves and Lemmon because he was ghostwriting the memoir of Archie Moore, the wrestler whom Reeves was scheduled to fight, and he had planned to travel to the bout with Reeves. Van Ronkel had been at the house with her husband earlier that evening and may have returned once her husband was asleep, and Reeves and Lemmon had gone out to dinner. Bliss seems to have arrived after midnight, when Lemmon got out of bed, sleeplessly poured herself another drink and turned on the porch light to indicate an open house. At 1.20 a.m., the witnesses later told police, Reeves came down, angrily addressed the assembled drinkers and went back upstairs to the windowless bedroom. Leonore Lemmon said, or may have said: "He's going up there to shoot himself." A sound like that of a drawer being opened was heard. "He's getting the gun out now," Lemmon reportedly told the assembly, "and he is going to shoot himself."
Everyone present told the two LAPD officers Reeves had been depressed. When word got out that Lemmon had predicted his death, many wondered why she had done nothing to stop it. Then she changed her story, insisting she never said he was going to kill himself. But regardless of who said what, the police concluded the death was a suicide and the body was removed. No one dusted for fingerprints and no one worried about tampering with evidence. The gun, which was registered to Eddie Mannix, was oiled, devoid of fingerprints and no one checked to see how many rounds had been fired. The body was washed and embalmed and none of the three coroners who eventually conducted autopsies checked Reeves's hands for gunshot residue to determine if he had fired the gun himself, or whether it was a contact shot or if the shot came from a distance.
Phyllis Coates, the actress who played Lois Lane in
Superman
, had become friends with Toni Mannix. In the early hours, she received a phone call from Mrs. Mannix during which she hysterically told her Reeves had been murdered. Later, Coates wondered how she was certain he was murdered before the police had completed their investigation.
A third police officer who visited the house discovered two additional bullet holes in the floor beneath the bedroom rug. He found the bullets in the living room below – one in the paneling above the fireplace, the other in a beam in the ceiling. When questioned, Lemmon said she had made one of the holes while attempting to find out what the Luger would sound like when fired. No one asked about the other one.
Lemmon was a suspect, even though there were no official suspects. She was an outsider, a New Yorker in Los Angeles and a new, ill-fitting recruit to a social circle in which Toni Mannix had previously presided as hostess. The switch from Toni to Leonore had been sudden and some accused the hard-drinking Lemmon, who had an explosive temper and a reputation for romantic callousness, of keeping Reeves from his friends. Still, what she stood to gain form Reeves's death, or in whose interests it would have been to protect her, has never been explained.
Reeves's mother, Helen Bessolo, believed her son was murdered and engaged Jerry Giesler, Hollywood's most flamboyant and successful lawyer, to appeal to the LAPD to re-investigate the death. Bessolo and Reeves hadn't been on speaking terms for some time and had just reconciled when the shooting took place. From all accounts, she was both a cruel and overbearing mother. Reeves – whose stage name had been picked by Jack Warner during the filming of Gone with the Wind – grew up believing his father had killed himself. He had shot himself in the head, his mother told him. It was only when Reeves was performing on Broadway that his father came backstage one night and introduced himself. His mother had lied, his father was very much alive.
When Giesler called for a second autopsy, bruises were found on Reeves's head and body, but a month after he'd taken on the task, the lawyer announced the investigation was "full of phony angles" and dropped the case.
Helen Bessolo then proceeded to have her son's body transported to Cincinnati for burial, but first, she ordered, and paid for, a third autopsy, the results of which were inconclusive. There were rumors she kept the corpse on ice for five years, but in reality, it was only a few months before the body was cremated. Afterwards, she flew to Los Angeles with the brass urn containing her son's ashes on her lap. She placed the highly-polished receptacle on which was engraved "My Beloved Son, Superman, George Bessolo Reeves, January 6, 1914 - June 16, 1959," on the mantlepiece of the Pasadena home where they had lived when he was a boy. On June 19, 1964, five years and three days after the death of her famous offspring, Mrs. Bessolo died and she and Reeves rest together at Mountain View Cemetery in Altadena, Calif.

Following Reeves's death, Leonore Lemmon left Hollywood for New York and never again set foot on the west coast. She was unsuccessful in contesting Superman's will and became the mistress of Jack Whittemore, a married theatrical agent, and lived in his apartment on the corner of 39th Street and Park Avenue. There are unsubstantiated rumors that following Whittemore's death, she turned to prostitution, plying her trade in the bars of nearby hotels. On January 1, 1990, she was found dead in her cluttered apartment.

Toni Mannix was heavily sedated following the shooting, but when the will was made public, she was the sole beneficiary. Her husband died four years later and she spent the remainder of her life alone, occasionally inviting people to her home to watch reruns of Superman. She died February 2, 1983. In her Telegraph piece of January 1, 2015, Gaby Wood wrote, "Though there is an inherent glamour in the demise of an invincible superhero, the presence of Toni Mannix in the story is what gives Reeves's death a frightening heft. Sleeping with the wife of one of the most dangerous men in Hollywood was playing with fire to such a degree that perhaps only Superman would dare to do it.
"For many years, Eddie Mannix had been general manager and vice-president of MGM. 'Vice president,' people liked to say, could be taken two ways: Mannix, a tough guy from New Jersey, was the studio's president of
vice
– its direct line to the mob. Nicknamed 'the bulldog,' he was one of a duo of 'fixers' at MGM. Howard Strickling, its head of publicity, was the tactical mind behind every story that emerged about the stars. Mannix was its strong arm. While Strickling fed the press, Mannix fed the police. They had paid off call-girls, hushed up speeding tickets, hidden illegitimate children, smoothed over death scenes and bought all copies of porn films made early in stars' careers. 'I spent my whole life inventing coverups,' Strickling once told a friend. But now the studio era was gone. Television was the future, and Mannix's reign over Los Angeles wasn't what it used to be."
Toni Mannix and George Reeves (pictured above) had been together for a decade. She was seven years older and a former New York showgirl whom Eddie Mannix had spotted in a line-up of Ziegfeld girls. Wood describes her as a woman with "a haughty accent and generous manner. She wore white gloves and referred to Reeves as 'the boy.'" Mobster Mickey Cohen allegedly remarked that Toni Mannix was the "only person in Hollywood who had any balls." By 1959, Eddie, though only 68-years-old, had suffered several heart attacks and used a wheelchair, and it is generally believed he knew of his wife's affair for the three, along with Eddie's Japanese mistress, allegedly took trips together. Although friends of the couple claimed the two planned to be married when Eddie died, at the time of Reeves's death, it was Lemmon, not Mannix, sharing Superman's bedroom.
Lemmon came on the scene in early 1959 when Reeves returned from New York City with his new ladylove on his arm. And if that in and of itself wasn't enough of a slap in the face, he installed her in the Benedict Canyon home, which Mannix owned and had decorated herself. She also paid her lover's bills and the liquor charges alone would have put most people in the poorhouse. According to reports, Mannix began calling in the middle of the night and parked her car on a side street where she watched the comings and goings at the house. She is also accused of taking and doing away with a dog that belonged to Reeves. It was during this time that Reeves was involved in three automobile accidents, one of which was major, and a mechanic checking the car afterwards allegedly said "somebody wanted him dead."

Years later, a journalist intending to write about the strange death of Superman telephoned Toni Mannix, who, in turn, called Howard Strickling. At this time, Strickling supposedly confided to Samuel Marx that it was Eddie Mannix who killed Reeves. But why? Reeves had broken off his relationship with Toni. Strickling also talked about writing his memoirs and deciding how much he wished to reveal, but such were never published. Isn't it more likely that Toni, who was devastated by the unexpected breakup, hired one of her husband's heavies to take care of the problem?

Another theory is that Reeves may have suffered brain damage in the third car accident in which his brakes failed and he hit a concrete pole. He had 27 stitches in his forehead, an indication the collision was serious and likely resulted in more than just a laceration to the head. So far as is known, doctors did not check for additional injuries of a neurological nature. Following this accident – that occurred approximately two months prior to his death – he suffered severe headaches and is said to have lain on the cold tile of the bathroom floor with his head wrapped in a wet towel in an attempt to relieve the pain.
But regardless of the cause or what led up to that fateful June night in 1959, it ended in tragedy. Whether Superman died by his own hand, or at the hand of someone hired by his spurned mistress or her cuckolded husband, in the end, nothing is faster than a speeding bullet.
Sources:
Gaby Wood,
The Telegraph
, January 11, 2015;
The Fixers: Eddie Mannix, Howard Strickling and the MGM Publicity Machine
by E. J. Fleming; and
Hollywood Kryptonite: The Bulldog, the Lady, and the Death of Superman
by Sam Kashner and Nancy Schoenberger.