Post by Graveyardbride on Oct 9, 2014 19:42:27 GMT -5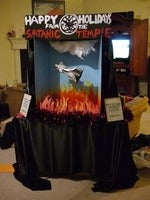 Satanists plan return to Florida Capitol for holiday display
TALLAHASSEE, Fla. – They're baaaack ...
Once again, Satanists will return to the Florida Capitol for the holidays, being the first group to take advantage of the state's open door display policy.
Last year, the Satanic Temple threatened to sue after the Florida Department of Management Services rejected a planned display as "grossly offensive." This year, the New York-based temple will submit the same holiday exhibition.
"After our display was rejected last year, we asked elaboration from the Department of Management Services as to what, exactly, was 'offensive' about our display," said temple spokesperson Lucien Greaves in a statement. "They never replied, and the holiday season expired without resolution. This year, we're submitting our display early, with plenty of time to confront any objections or concerns. In a nation that respects religious liberty, viewpoint discrimination is simply intolerable," he added. "It's a message of religious freedom, and Church/State separation expressed in the State's neutrality."
The last straw for state officials was the Satanic Temple's proposal: a diorama depicting an angel falling into hell with the phrase "Happy holidays from the Satanic Temple."
What turned the rejection into an issue with the Satanists was that the DMS approved two Christian nativity scenes, a Festivus pole constructed of empty beer cans, banners from atheists and a shredded mound of cardboard representing the deity of the satirical Church of the Flying Spaghetti Monster.
For years, the state installed nativity scenes, often next to a Hanukkah menorah and Christmas trees on the first floor Capitol rotunda.
Graves said the Temple is working with legal counsel from Americans United for Separation of Church and State (AU) – a nonpartisan organization dedicated to maintaining the constitutional principle of church-state separation, to ensure a plurality is maintained. "Where one religion is allowed to place displays in the public square, the State cannot adopt a position of preference toward any one," Greaves said. "While neither AU nor The Satanic Temple would seek to establish a precedent in inserting religious displays on public grounds, the best way to handle such a policy that allows such displays is to ensure neutral standards for all perspectives."
Source:
Peter Schorsch,
The Saint Petersburg Times
, October 8, 2014.