Post by Joanna on Oct 8, 2014 22:26:26 GMT -5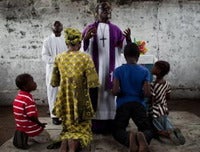 New British guidelines link child abuse to religious suprestition
LONDON – The training film, commissioned by the Metropolitan Police Service's (MPS) Project Violet team in conjunction with the Churches' Child Protection Advisory Service, features information for teachers, social workers and healthcare staff on how to spot if a child may be suffering, or is likely to suffer, significant harm from abuse linked to witchcraft and spirit possession. It is designed to build upon the Government's National Action Plan to tackle child abuse linked to faith or belief in England, which was launched in 2012 in the wake of cases such as Kristy Bamu and Victoria Climbe.
The release of the film follows a rise in the number of ritual child abuse cases linked to witchcraft being investigated by the Metropolitan Police. In the past year, there have been 27 allegations of this type abuse, including two claims of rape.
Examples of cases referred to the police include dunking children in a bath to wash away evil spirits, a child swung around and smacked on the head "to drive out the devil" and parents removing children from school and taking them out of the country to attend an exorcism.
Detective superintendent Terry Sharpe from the Met's Sexual Offences, Exploitation and Child Abuse Command, said, "Abuse linked to belief is a horrific crime which is condemned by people of all cultures, communities and faiths. A number of high-profile investigations brought the issue of ritual abuse and witchcraft into the headlines but it is important that professionals are clear about the signs to look for. "Families or carers genuinely believe that the victim has been completely taken over by the devil or an evil spirit, which is often supported by someone who within the community has portrayed themselves as an authority on faith and belief. Often in the perpetrators' minds, any abuse is not going to affect the victim because he or she believes the child is effectively not there any more and the abuse is directed at whatever has possessed the child. The victim is often convinced that this is the truth and that the abuse is 'normal' behavior. Regardless of the beliefs of the abusers, child abuse is child abuse. Our role is to safeguard children, not challenge beliefs. We investigate crimes against children, but our main aim is to prevent abuse in the first place. This is a hidden crime and we can only prevent it by working in partnership with the community. Project Violet aims to build trust with communities and emphasize that child protection is everyone's responsibility."
Mor Dioum, director of the Victoria Climbié Foundation, and chair of the national working group on child abuse linked to faith and belief, said, "We urge professionals to adopt a more holistic approach with children, young people and families when dealing with abuse that does not fit the norm, as we continue to raise awareness within the community with a view to increase the reporting of harmful practices."
Source:
Katy Morton, NurseryWorld, October 8, 2014.