Post by Graveyardbride on Aug 31, 2014 16:51:35 GMT -5

John's in the Freezer
Somerville, Massachusetts, a city of around 75,000 resting in the shadows of Boston, once harbored a terrible secret. On November 12, 2004, Geraldine "Geri" E. Kelley died of breast cancer, but before shuffling off this mortal coil, she revealed a secret that shocked the entire community.
Geri had always claimed her husband, John (above), had been killed years before in a traffic accident. But this wasn't the entire truth. Actually, it wasn't the truth at all. Her husband wasn't done in by a car, but by a bullet to the back of the head, courtesy of Geri herself. Incredibly, this wasn't the worst of it. Everyone assumed her deceased spouse was buried somewhere out West, but John wasn't resting in some cemetery a half continent away. In fact, it's doubtful he was resting at all. The truth was that John T. Kelley was stuffed inside an old 6' x 3' freezer in a rented storage unit right there in Somerville..
Following Geri's deathbed confession, police entered the small, musty room at Planet Self-Storage where they found a locked and taped freezer – just as Geri had described – and the mummified body of a man. A Massachusetts medical examiner said Kelley died of a gunshot wound to the back of his head and ruled his death a homicide.
During a news conference in Somerville, Middlesex District Attorney Martha Coakley said detectives found the handgun in Geri Kelley's apartment and a .38-caliber bullet in the back of her husband's skull. "Massachusetts has solved the murder that California didn't know it had," Coakley said.
Autopsy confirmed the decomposed corpse was that of John Kelley, who was killed in 1991 or 1992, Coakley said. Coroner officials were able to identify the body based on its size – he was 5'6" and 135 pounds – and three tattoos: a panther on his shoulder, a Kewpie doll on one arm and a skull on the other. Ventura County law enforcement officials provided authorities information regarding the tattoos and a photo of the victim from the late 1980s.
Family estranged.
The family was torn by domestic violence and the couple's two children were estranged from both parents by the late 1980s, Coakley claimed. Nevertheless, there were no criminal records on John Kelley in Ventura County Superior Court.
On her deathbed, Geri told her daughter she shot her husband in Ventura, then kept him in a freezer at least six years until she moved to Somerville. The shooting occurred about three years after the pair had become estranged from their children. A son, John P. Kelley Jr., and daughter, Sheri-Ann Bouchie, were 18 and 19, respectively, at the time they stopped seeing their parents because of the constant fighting, Coakley explained. The lack of contact made it possible for Geri to make up a story about how her husband died in a car crash in Las Vegas and was buried there, a story that apparently received little scrutiny from anyone.
Those who knew the couple in Ventura weren't aware of any domestic abuse. "She was the boss. She told him what to do," said Richard Tan of Ventura, who leased the Victoria Motel (below) and hired the Kelleys to manage and maintain it in 1988. The couple lived in the motel, next to Highway 101 in Ventura, and according to Tan, the last time he saw John Kelley was in early 1992. Geri told Tan her husband was killed in an accident in Boston while the couple was on vacation. "We just believed her," Tan continued. "She said it was a hit-and-run. She said he died in the snow and nobody helped him."
Geri Kelley claimed she had been abused by the auto mechanic, whom she first met while growing up on Franklin Street in Somerville. They were high school sweethearts. John Kelley was also estranged from other members of his family and this was likely why no one asked questions when he disappeared in the early 1990s, Coakley told reporters. "It does not appear that anyone was aware of his disappearance," she said.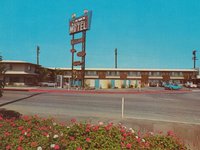 Ventura motel owners shocked.
Don and Valerie Kiunke, the motel's owners, said Geraldine Kelley didn't put up with anyone, but was a good manager. The Kiunkes added they never witnessed any abuse. News of the discovery of John Kelley's body and his wife's confession stunned them. "We were shocked. I mean, it's just devastating," Valerie Kiunke remarked.
John Kelley was a quiet man who made repairs around the motel. On a daily basis, he would wave to Valerie or Don Kiunke and go into his living quarters at the motel without saying much. His character differed from his wife's, who was outspoken and assertive, according to Mrs. Kiunke.

The petite woman, who had dark, shoulder-length hair and wore glasses, spoke her mind, especially with misbehaving guests at the motel, Valerie Kiunke recalled. She was fond of her pets, including a Rottweiler and a boa constrictor that she wrapped around her neck, sometimes scaring motel guests. When John disappeared, she said he was killed in Boston while on vacation.
But housekeepers who worked for Geraldine Kelley, who became the managers when Geri resigned, said she gave differing accounts of his death. "She told me that he was drunk and he got hit by a car right here next to the Jack in the Box," Paul Sanchez claimed. His wife, Marilyn, was told he was killed in a car crash in Nevada.
'She had a nasty personality.'
When Geraldine Kelley spoke of her husband, it was always in the past tense, Sanchez recalled. They did not meet John Kelley, but remembered Geri as a strong woman with unladylike ways. According to Sanchez: "She cussed like a truck driver. She had a nasty personality."
Still, no one in Ventura questioned John Kelley's death and Geri continued to manage the motel until October 28, 1998.
Following the gruesome discovery, Bryce Grefe, owner of Planet Self-Storage told
The Boston Globe
: "It's not every day that they find a dead body in one of my storage facilities. It just doesn't happen on a regular basis."
What truly boggles the mind is how she got away with it. No one, not even the couple's children, ever bothered to check on the circumstances leading to John Kelley's demise. However, the daughter did, apparently, ask where her father was buried, but Geri refused to reveal this information, saying "Nobody needs to know." Why didn't Geri simply say he had been cremated? And if the daughter really wanted to know where her father was buried, why didn't she contact the police, which could have led her to the hospital where he was pronounced dead and the funeral home that handled his remains? It is truly remarkable that no one, not even his own daughter, cared enough about John Kelley to do anything more than simply ask Geri what happened and perhaps this, more than anything else, explains why he ended up in a freezer.
But all this doesn't explain why Geri chose to transport her dead husband all the way across the United States. What if the moving van had been involved in an accident? Why didn't she simply bury him in the desert? Or dispose of him with the motel's trash? Or feed him to her Rottweiler? Perhaps she believed the old adage that you should keep your friends close and your enemies – even dead ones – closer. If so, it worked because no one discovered her secret until she chose to reveal it.
Author:
Graveyardbride.
Sources:
Suburban Legends: True Tales of Murder, Mayhem and Minivans
by Sam Stall;
The Boston Globe
; and
The Ventura County Star
.