Post by Graveyardbride on May 25, 2014 15:23:37 GMT -5
May 23, 1934: The End of Bonnie and Clyde
By 8:30 on the morning of Wednesday, May 23, 1934, a group of men who had spent a restless night fighting mosquitoes in the trees and brush beside a deserted road wanted nothing more than a hot bath, a hot cup of coffee and a hot meal. However, according to Texas Ranger Frank Hamer, they agreed to give it another 30 minutes before "calling in the dogs." The lawmen were about to disperse when they heard a vehicle in the distance traveling at a high rate of speed. The men weren't sure who was coming, but checked their weapons and assumed their positions. As the car came into view, they could see it was a brand new Ford sedan in a color the manufacturer called Cordoba Grey and there were at least two people inside. "It's him!" Hamer shouted from near the road. Bob Alcorn turned and in a loud whisper, called to the others: "This is it! It's Clyde!"
When the driver saw an old Model-T truck that appeared to be broken down beside the road, he slowed and Hamer yelled "Halt!" A woman's scream came from the car and both she and her partner reached for their weapons. However, neither was able to get off a single shot as a fusillade of bullets shattered the windows and ripped through the metal doors of the vehicle and into the writhing bodies of its occupants. It was later determined the Ford was hit by no less than 167 bullets, ending the short and violent careers of Bonnie Parker and Clyde Barrow (above).

* * *
Clyde Chestnut Barrow was born March 24, 1909, the fifth of seven children of a poor farm family in Ellis County, Texas. Clyde, nicknamed "Bud," was deemed "incorrigible" at the tender age of 8 for "wandering the streets at night" and burglarizing a house near his home. But he also loved music and spent much of his time singing and playing an old guitar. Later, he taught himself to play the saxophone and some thought he might have a career as a musician. In 1922, the Barrows relocated to Dallas and shortly thereafter, Clyde, his father and younger sister all came down with a life-threatening illness so severe that all three were hospitalized.
Unfortunately, his brother Marvin "Buck" Barrow, who was seven years older, had a negative influence on young Bud and just before Christmas in 1926, Clyde and Buck were caught with a truck full of stolen turkeys they intended to sell. Buck graciously took the rap and was sentenced to a week in jail after which he began stealing automobiles all over Texas and passing them on to out-of-state fences for around $100 (approximately $1,355 in today's currency) or so each. Clyde assisted Buck in some of these thefts in addition to committing other petty crimes.
In an effort to turn his life around and "go straight," Clyde attempted to enlist in the Navy and even had "USN" tattooed on his arm. Unfortunately, he didn't pass the physical examination, most likely because of the effects of some childhood illness that had damaged his heart.
Bonnie Elizabeth Parker, born October 1, 1910, in Rowena, Texas, had an older brother and younger sister. Her father died in 1914 and Emma Parker moved her family to a poor section of Dallas called "Cement City" to be closer to relatives. The diminutive Bonnie – who stood just 4'10" and weighed no more than 85 pounds – did well in school and enjoyed reading romance novels and writing poetry. In 1926, she finished high school and married her longtime sweetheart, Roy Thornton. She had "Roy and Bonnie" tattooed on her right thigh, but the marriage was tumultuous and she would later describe Thornton as a "roaming husband with a roaming mind." He would disappear for long periods of time; when he returned, he would be drunk and abusive and Bonnie spent many nights at her mother's home. Thornton was also a schemer and smalltime crook who eventually ended up being sentenced to five years in prison for robbery.
Although there are several accounts of how Bonnie and Clyde became acquainted, the most credible version is that the two met January 5, 1930, at the home of Clarence Clay located at 105 Herbert Street in Dallas. Bonnie was out of work at the time and staying at the home to assist a girlfriend who had suffered a broken arm. The day Clyde stopped by, Bonnie was in the kitchen making hot chocolate. Apparently, it was love at first sight for just a month later, on February 12, law enforcement officers arrested Clyde at Bonnie's home. He was charged with several burglaries and jailed at the Waco County Courthouse, but not for long. He made friends with an inmate named Frank Turner and Bonnie agreed to go to the home of Frank's parents, steal a pistol and sneak it into the jail. Clyde and Turner escaped and Bonnie eagerly awaited her lover, but Clyde did not appear. Because Bonnie's place of abode as well as those of Clyde's relatives were all under heavy surveillance, the two escapees headed north, robbing fruit stands and other small business establishments along the way. But when they made the mistake of not changing the license plates on their car fast enough following the holdup of a train depot, Clyde and Turner were arrested.
Bonnie and Clyde had known each other for just a little more than three months when, on April 21, 1930, Clyde Barrow was sentenced to 14 years hard labor and transferred to Eastham Prison Farm at Huntsville, Texas. For some reason, Clyde told prison officials his middle name was "Champion," thus, he was inducted into the prison system under the name "Clyde Champion Barrow." The following year, Clyde killed his first man, a fellow inmate, "Big Ed" Crowder, who allegedly sexually assaulted and otherwise mistreated Clyde as well as other prisoners. In those days, "hard labor" meant just that and not realizing his mother's petition for his early release had been granted, Clyde persuaded another convict to chop off two of his toes with an axe so that he could avoid the daily work detail. When he was released from prison February 2, 1932, he was still on crutches. For the remainder of his life, he walked with a slight limp.
Shortly after Clyde's release, he and Ralph Fults started organizing a "gang" and began robbing stores and service stations. Their intention was to raise money to purchase enough ammunition to launch an attack and liberate the inmates of Eastham Prison. In those days, hardware stores sold guns and Bonnie and Fults were captured during a failed hardware store robbery in Kaufman, Texas.
On April 30, 1932, Clyde was the driver in a robbery in Hillsboro, Texas, during which J. N. Bucher, the store owner, was shot and killed. The victim's wife identified Clyde as one of the shooters even though he was outside in the car when the shooting occurred.
Bonnie was released from jail in Kaufman after the grand jury failed to indict her. Fults was convicted and sentenced to prison. During her time in jail, Bonnie had passed the time writing poetry, but as soon as she got out, she rejoined what people were now calling "The Barrow Gang." On August 5, while Bonnie was visiting her mother in Dallas, Clyde, Raymond Hamilton and Ross Dyer were approached by Sheriff C. G. Maxwell and his deputy, Eugene C. Moore, in the parking lot of a country dance hall in Stringtown, Oklahoma. Clyde and Hamilton opened fire, killing the deputy and gravely wounding the sheriff. This was the first time Clyde and his bumbling cohorts had killed an officer of the law. Just two months later, the Barrow Gang allegedly killed Howard Hall during a robbery in Sherman, Texas, but this murder is in dispute.
Those who have seen the 1967 movie
Bonnie and Clyde
will likely recall Faye Dunaway's introducing herself and Clyde adding, "We rob banks." Though the pair likely deluded themselves into believing they were something other than small-time hoods, most of their "jobs" consisted of robbing grocery stores, gas stations and other mom-and-pop concerns. The newspapers sensationalized their exploits, but the truth was that Bonnie and Clyde and their gang members were so disorganized and their robberies so poorly-planned that while reading about yet another of their botched jobs, John Dillinger remarked: "They're giving decent bank-robbing a bad name!" (Dillinger's bank robberies were so well-planned that he relieved Depression Era financial institutions of something in the neighborhood of $1 million – $17+ million in today's currency – without ever killing anyone.)
W. D. Jones had known the Barrow family since childhood and though just 16-years-old, persuaded Clyde to allow him to join the gang. He left with Bonnie and Clyde on Christmas Eve of 1932 and the very next day, he and Clyde killed Doyle Johnson while in the process of stealing the young family man's car. Less than two weeks later, on January 6, 1933, Clyde shot and killed Tarrant County Deputy Sheriff Malcolm Davis when he, Bonnie and Jones wandered into a police trap set for another criminal. In less than a year, the murder toll was already at six.
On March 22, 1933, Buck Barrow was pardoned by Texas Governor Miriam "Ma" Ferguson and within days of his release, he and his wife Blanche had set up housekeeping with Bonnie, Clyde and W. D. Jones in an apartment located at 3347½ Oakridge Drive in Joplin, Missouri. Barrow family members later insisted the purpose of Buck and Blanche's visit was to persuade Clyde to surrender to law enforcement, but this is unlikely. The Barrow Gang members were so inexperienced when it came to hiding out that people in the quiet neighborhood where they were staying soon grew suspicious of the strange folks who were loud, drank heavily, sat up playing cards well into the night and had no visible means of support. Blanche later recalled the group "bought a case of beer a day" and "the men came and went noisily at all hours." On one occasion, Clyde even discharged a Browning Automatic Rifle inside the apartment. The desperadoes had been in their hideout less than two weeks when Clyde noticed two police cars pull up outside and started shooting. Blanch, the daughter of a lay minister, was terrified and ran out the front door screaming hysterically. Bonnie, Clyde, Buck and Jones managed to make it to the garage where they jumped into their car and sped away, leaving one policeman dead and another dying. They picked up Blanche, who was still running, around the corner. Inside the apartment, police found several rolls of undeveloped film – the Barrow Gang loved to take pictures – which revealed the by now infamous Bonnie and Clyde with their arsenal of weapons. One of Bonnie's lengthy poems, "The Story of Suicide Sal," was also left behind. In it she wrote:
If he had returned to me sometime,
Though he hadn't a cent to give,
I'd forget all this hell that he's caused me,
And love him as long as I live.
The gang members had managed to escape without serious injury, but their luck was running out. However, it wouldn't be the law that crippled Bonnie – it was Clyde. On the night of June 10, 1933, near Wellington, Texas, Clyde, who drove fast and erratically, did not realize the bridge he was about to speed across was closed for repairs. He tried to swerve, but the Ford V-8 smashed through the barricades at 70 miles-per-hour, sailed through the air and landed in a dry riverbed. Scalding acid erupted from the battery and Bonnie, who was trapped in the front passenger seat, was badly burned. The skin on her right leg from her hip to her ankle was eaten away and in some places, the acid had burned the flesh down to the bone. She almost died and for the remainder of her life, could not straighten her leg and either had to hop on one leg, or someone, usually Clyde, had to help her walk.
On June 23, 1933, Buck and W. D. Jones killed City Marshall Henry D. Humphrey in Alma, Arkansas, during a shootout on the road between Alma and Fayetteville. Clyde was not involved. Less than a month later, on July 19, 1933, there was another shootout, this time at the Red Crown Tourist Court in Platte City, Missouri, and Buck was wounded in the head. As they raced toward the highway, Blanche was partially blinded by shards of glass from the car's exploding windows. Clyde drove 200 miles north, running for a long time on flats, then rims, Buck's blood sloshing on the floor of the vehicle. State and federal agents tracked them, following reports of blood-soaked and burned clothing and bandages in fields and on the sides of the road. The Barrow Gang finally stopped in a copse of trees at the edge of an abandoned amusement park outside Dexter, Iowa. They attempted to leave the park the following day, but Buck's injuries were too severe. On the night of July 24, the hideout was discovered and yet another gunfight ensued in which Buck was wounded again, this time in the back. Bonnie, Clyde and Jones escaped, but Buck and Blanche (who refused to leave her husband) were captured (above). Buck died July 29, 1933.
Clyde sustained four gunshot wounds during the melee, Bonnie was hit by numerous buckshot pellets and Jones was left with a head wound. After the trio recovered, W. D. Jones decided he'd had enough. He later told authorities that on September 7, 1933, the gang, now reduced to three members, was around 40 miles outside Clarkesdale, Mississippi, when he saw a way to escape. They had just stolen another car and Clyde gave him $2.12 for gas. Jones put in only a few gallons, then drove ahead on the pretext of finding a secluded location in which to switch vehicles, however, when he was out of Clyde's sight, he turned down a road, turned off the headlights and sped away. He then deserted the car and made his way to his mother's home in Houston.
It took Bonnie and Clyde a while to recuperate, but by November 1933, they were able to resume their lives of crime, but now things were different. First, their photos had been published in newspapers and featured in newsreels in theaters across the country, so renting apartments or houses as they had done in the past was out of the question. Second, Bonnie couldn't walk without assistance and this also attracted attention. Consequently, the two began living in their car, driving during the day and pulling off the road and sleeping in it or on makeshift pallets on the ground at night. Also in November, W. D. Jones was captured and began telling his story. From Jones, law enforcement learned that both Bonnie and Clyde were close to their families. On November 22, 1933, something of a family reunion was planned in Sowers, Texas. But as they approached, Clyde sensed a trap and drove past his family's car at which point deputies, hidden nearby, stood up and opened fire. Bonnie and Clyde managed to escape, but family members, including Clyde's mother, were injured in the crossfire. Clyde was furious that lawmen had placed their families in jeopardy and vowed he would get even, however, his family talked him out of it.
In January 1934, Bonnie and Clyde helped Clyde's old friend and fellow inmate, Raymond Hamilton, break out of Eastham Prison. A guard was killed during the shootout and four other prisoners piled into the car. One of these men was Henry Methvin. The remaining escapees all went their own ways, but Methvin remained and he, Hamilton and Bonnie and Clyde formed the new Barrow Gang. A month later, Methvin, Hamilton and Clyde stole guns and ammunition from a National Guard Armory in Ranger, Texas, under cover of darkness. On February 27, the men robbed a bank in Lancaster, Texas, of $4,138, and afterwards, Bonnie and Clyde agreed to drive Methvin to Gibsland, Louisiana, to visit his parents. Methvin was with the gang on April 1, 1934, when Texas state troopers E. B. Wheeler and H. D. Murphy were shot and killed. Later, Clyde wrote home blaming Methvin, whom he claimed misunderstood his instructions, but in another letter, he named Hamilton as the killer. Regardless of who shot the troopers, just five days later, when their car got stuck in the mud near Commerce, Oklahoma, the gang opened fire on two local lawmen, killing Constable Cal Campbell, and kidnaping Police Chief Percy Boyd, who was wounded. They released Boyd 70 miles north near Fort Scott, Kansas.
The Barrow Gang robbed a Kansas bank of $2,800 April 30, 1934, and the following day, they were identified in a robbery in Sac City, Iowa. Two days later, they robbed a bank in Everly, Iowa, getting away with $700.00. The gang then headed south to meet relatives in Dallas, after which they planned to travel to Louisiana to meet Methvin's father. On May 19, Methvin went into a café for sandwiches and when Clyde saw a police car pass, he took off, leaving Methvin behind. Methvin managed to hitchhike to Ruston, Louisiana, where his parents were at the time. According to most versions of the story, Methvin informed his father that the gang had a rendezvous plan in place in case any of its members should get separated from the group and Methvin was scheduled to meet his cronies on a deserted stretch or road south of Arcadia, Louisiana. Ivy Methvin, who was already being harassed by lawmen in pursuit of his son, allegedly passed along this information to Sheriff Henry Jordan, who, in turn, contacted Texas Ranger Frank Hamer. In exchange, Methvin was allegedly promised that his son would not be electrocuted for the murders of Troopers Wheeler and Murphy.
There was so much shooting the morning of May 23 that it took a while for law enforcement officers to regain their hearing. Somewhere close to 200 rounds were fired and when the noise ceased and the smoke cleared, the grey Ford was riddled with bullet holes. As he approached the car, posse leader Hamer, refusing to take any chances, fired several more shots into the obviously dead body of Bonnie Parker. Clyde, still behind the wheel, was missing part of the back of his head and part of Bonnie's right hand had been shot off. With the smell of acrid gun smoke lingering in the air, gawkers descended on the ambush site and attempted to obtain souvenirs from the bodies of the outlaws still slumped in the front seat. According to Jeff Guinn in his book
Go Down Together
, one man tried to cut off Clyde's ear with a pocket knife and another attempted to sever his trigger finger before lawmen intervened. One person in the throng however managed to clip a few locks of Bonnie's hair and pieces of her blood-soaked dress. The Ford, with the corpses inside, was towed to the Conger Furniture Store & Funeral Parlor in downtown Arcadia. H. D. Darby, a young undertaker who was employed by a funeral home in nearby Ruston, and Sophia Stone, were transported to Arcadia to identify the bodies. Darby and Stone had been kidnaped by the Barrow Gang the previous year and released near Waldo, Arkansas. Bonnie was amused when she discovered Darby was an undertaker and reportedly remarked that he might work on her one day. (According to some accounts, she actually paid Darby $5 to take care of her and Clyde when they died.) Ironically, Darby assisted in the embalming of the outlaws. The coroner's report indicated Clyde's body was riddled with 17 bullet holes and Bonnie's had 26, though there could have been even more. There were so many wounds in the corpses that the morticians found embalming almost impossible because the fluid kept spilling out through the numerous holes.
While on the run, Bonnie had written a poem about the gang's exploits, which she called "The Story of Bonnie and Clyde." In the final stanza, she wrote:
Some day they'll go down together;
And they'll bury them side by side;
To few it'll be grief
To the law a relief
But it's death for Bonnie and Clyde.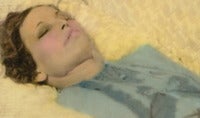 She was partially right. They did "go down together," but they weren't buried "side by side." Bonnie's family blamed Clyde for everything, insisting that but for his influence, Bonnie would never have embarked on a life of crime. Bonnie (shown above in her coffin) was initially buried in the Fishtrap Cemetery in West Dallas, but in 1945, her body was disinterred and she was moved to Crown Hill. Her epitaph reads:
As the flowers are made sweeter by
the sunshine and the dew, so this old
world is made brighter by the lives
of folks like you.
Clyde was buried in Western Heights Cemetery in Dallas beside his brother Buck. The epitaph on the double gravestone reads:
Gone but not forgotten
.
Blanche Barrow survived the wounds she sustained during the July 1933 shootout, but lost sight in one eye. She was convicted of the attempted murder of Sheriff Holt Coffey at Platte City and sentenced to 10 years in prison. She was paroled after six years and married Eddie Frasure of Dallas in 1940, with whom she had a son. She died December 4, 1988, and her memoirs,
My Life with Bonnie and Clyde
, were published in 2004. Ivy Methvin, who sold out Bonnie and Clyde, was struck by a hit-and-run driver near Elm Grove, Louisiana, December 21, 1946. He spent seven days in the hospital before dying of his injuries December 28. The state of Texas kept its word to Ivy Methvin and granted his son Henry a full pardon. Unfortunately for Henry, the state of Oklahoma wasn't so accommodating and he was convicted and sentenced to death for the murder of Constable Campbell. His sentence was commuted to life imprisonment in 1936 and he was paroled March 20, 1942. Methvin drank heavily and continued to commit petty crimes. On April 19, 1948, while attempting to cross the railroad tracks in Sulphur, Louisiana, he crawled beneath a stationary train, the train began to move and the intoxicated Methvin was cut in two by the wheels.

* * *
On May 23, 2013, a paranormal group called Friends of Dusana of Shreveport, Louisiana, set out to capture evidence of the spirits of Bonnie and Clyde at the spot on Highway 154 where they met their violent ends. Their equipment included digital cameras, a "spirit" box and recording devices to capture EVPs (electronic voice phenomena). According to the ghost-hunters, a phantom voice said "Clyde" when a member of their group asked, "What is your name?" Later, in what the team described as an "eerie whisper," a voice said: "Clyde Barrow, you alright?" and a second voice answered: "Yeah." The paranormal investigators were also convinced they heard a female voice say "Champ," claiming Clyde went by his middle name "Champion."* Additionally, the team reported that one of the investigators, who had mistakenly believed the following day, May 24, was Clyde's birthday, said, "Tomorrow is your birthday," and a voice replied: "No, it isn't!"
Author:
Graveyardbride.
Sources:
Go Down Together: The True, Untold Story of Bonnie and Clyde
by Jeff Guinn;
Bloodletters and Badmen
by Jay Robert Nash; Texas State Historical Association; American Thinker;
The Dallas Morning News
; Biography; and Friends of Dusana Paranormal Investigators.
*
Clyde Barrow's middle name was "Chestnut," not "Champion."