Post by Graveyardbride on May 18, 2014 5:46:05 GMT -5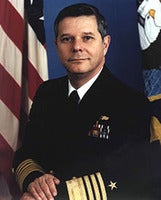 Death at Tingey House: Suicide or Murder?
On the morning of Thursday, May 16, 1996, Admiral James Michael "Mike" Boorda, Chief of Naval Operations (CNO), the highest ranking officer in the United States Navy, arose a little before 6 o'clock. The day before, he had informed his son Ed that he would be submitting his resignation and retiring as soon as Secretary of the Navy John H. Dalton returned from the Far East. A little later, wearing a robe, he joined his wife Bettie for coffee in the second-floor study of Tingey House, the white 2½-story structure situated on the crest of a hill in the Washington Navy Yard. While having his coffee, Boorda perused some of the correspondence from two briefcases he brought home from his Pentagon office. One of the letters he signed was to the parents of a young sailor, in which he explained why their son had been discharged from the Navy, adding a handwritten note at the bottom: "I am willing to give him a second chance ... Please call me if you want to pursue this. I'd like to try to help." This was quintessential Boorda, always willing to help an individual sailor, one-on-one, even one who had been drummed out of the service.
Mike Boorda, born November 26, 1939, in South Bend, Indiana, was different. First, he stood just 5-feet 4-inches in height; second, he was the only person to have become Chief of Naval Operations who had served in the enlisted ranks, and third, he was Jewish – although he did not practice his religion and his wife and children were Christian. In 1956, Boorda dropped out of high school and joined the Navy, serving six years in the enlisted ranks before becoming a commissioned officer. He rose steadily through the ranks, attaining the rank of admiral and becoming Chief of Naval Operations April 23, 1994.
As the admiral was leaving for the Pentagon, he asked Bettie if she needed help carrying a sewing machine to her car and told her he would be home by 8 p.m., following a Joint Chief of Staffs meeting. The US Marine Corps driver of the official Lincoln Town Car held the door open for Boorda and as he got in, he called "I love you," to his wife.
Newsweek.
On that same morning, at 7:16 a.m., the National Security News Service in downtown Washington received a fax from the Navy's Awards and Special Projects office concerning the legitimacy of Adm. Boorda's Combat V's. The Combat V is an attachment to an award and decoration at or below the level of Bronze Star. At issue was whether Boorda had earned the right to wear the two tiny brass V pins, which signified valor for having earned the medals in combat.
Navy Times
had printed an anonymous letter charging that by wearing the V's – to which it was alleged he was not entitled – Boorda had lost the respect of "every officer from four star to the newest midshipman." Boorda won the Navy Commendation Medal for "meritorious achievement ... during combat operations" for his 1971-73 Vietnam tour aboard
USS Brooke
. The award citation praised him for "training, organizing, and directing" a combat-ready crew in a variety of demanding roles including protection of vital units and rescue of downed aviators. Despite these activities,
Brooke
had not fired, or been fired upon, during battle. In 1965, when Boorda won what later became the Navy Achievement Medal during his service aboard
USS John R. Craig
, the award was only a ribbon, which did not qualify for the V device. But when his award was upgraded to a medal in 1967, it became eligible for the V.
Around 9 a.m. in the conference room of the offices of
Newsweek
magazine in downtown D.C., Roger Charles, who was in possession of the National Security News Service fax, presented material regarding Boorda's V devices to Evan Thomas, John Barry (senior defense correspondent) and reporter Greg Vistica. Among the documents Charles passed around the table were six official photographs of Boorda taken between 1977 and 1996. In the 1970s photographs, Boorda wasn't wearing the V's, however, they were present on his uniform during the 1980s through 1994. In the most recent photographs of the CNO, the V's were nowhere to be seen. According to Charles, the Commendation for Achievement award Boorda received in 1965 for his Vietnam service aboard
USS Craig
did not qualify for the V. The Navy had upgraded the award in 1967 to the Navy Achievement Medal, which did qualify for the V in certain circumstances and Boorda received his new medal in 1968. Barry was of the opinion that changing Navy regulations indicated there was confusion within the Navy itself concerning the V device, but felt Boorda's inconsistent wearing of the V's should be questioned.
At 9:55, Lieutenant Conrad Chun at the Pentagon received two telephone calls that sent him racing to his superiors. The first was from John Berry informing Chun he would be accompanying Evan Thomas to the 1 p.m. meeting with Adm. Boorda. The second call was from Heidi Duncan, David Hackworth's assistant, who, according to Chun, said, "David won't be able to make it. He's stuck in an airport in Salt Lake City." Later, the
Newsweek
interview, which was scheduled for 1 o'clock was postponed to 2:30 because Boorda had to meet with Deputy Secretary John White. At 11 a.m., Hackworth – who was not in Salt Lake City as his assistant had claimed, but sitting in his office in Whitefish, Montana – bragged as he concluded a telephone lecture to a journalism class at Southwest Texas State University: "I'm working on a big story. Read
Newsweek
next week." Earlier, he had faxed a 16-page article to Maynard Parker in New York and
Newsweek's
Washington bureau so Evans and Barry would have it before they interviewed Boorda.
At the Pentagon.
Beginning at 10 a.m., Adm. Boorda spent more than an hour with his Flag Officers Casualty Committee during which they discussed an accident at sea in which a chief petty officer had been killed as a boat was being lowered. The sailor's father had complained that he couldn't obtain the Navy's accident report. After reading the father's letter at home over the weekend, Boorda called aides to protest the bureaucracys' lack of responsiveness and indicated he planned to write a directive to correct faulty procedures in the handling of such incidents. As the meeting ended, Boorda brought up the case of a sailor who had committed suicide while standing guard on a submarine. The sailor had been hazed in a now-forbidden ceremony called "tacking on" when he was awarded his "Dolphins" pin as a qualified submariner. Threatened with punishment unless he revealed the identities of his fellow sailors who had hazed him, the man shot himself with his service revolver. Boorda had read all the material on the case and said the sailor's mental state had not received adequate attention. Everyone needed an advocate – one-on-one – leader down to the junior level and he said the sailor clearly had not had that sort of leader. He ordered an investigation of the general climate aboard the submarine, the accountability of its officers and the Navy's responsiveness to the sailor's family. "It's one thing to lose or damage a piece of gear and altogether something else when someone is killed," he emphasized.
From 11:30 until noon, Boorda worked on "flag assignments" – new jobs for his admirals – with Vice Chief of Naval Operations Jay Johnson and Vice Admiral Frank L. "Skip" Bowman. At noon, he spent another 15 minutes talking with Bowman about an orientation session planned for new admirals, a meeting which was jokingly referred to as "the knife and fork school for flag officers." At 12:15 p.m., Rear Admiral Kendall Pease came into the room and announced he had just spoken with Evan Thomas of
Newsweek
and told Boorda the reporter believed "you were wearing V devices you shouldn't be wearing." Boorda replied, "Yeah, we got an FOIA (Freedom of Information Act request) on that. The JAG (Judge Advocate General) came in and told me that the paperwork didn't justify the V's."
Commander Allen Myers, Boorda's administrative assistant, called the Navy's Office of Awards and Special Projects to obtain copies of Boorda's award citations. He spoke with Jean Kirk, the Navy's longtime arbiter on medals, who informed him Boorda was not authorized to wear the V on either medal. The information concerning the CNO's medals had been known to personnel in the awards office since early 1988. During the 10 months Jim Webb had served as Secretary of the Navy, he had questioned the medals worn by so many admirals that the awards office had decided to run a check on the medals of all 257 of them. The review disclosed what the office believed were discrepancies in medals worn by a large number of admirals. Following discussion of the matter, Boorda asked, "What do we do?" But instead of waiting for his aides to respond, answered his own question: "We will tell them the truth."
Boorda's steward brought in lunch, but the admiral said he was going home, instructing Captain Timothy LaFleur to ask Admiral Johnson to represent him at the 1:15 meeting with Deputy Defense Secretary White. He indicated he would return by 2:15 to prepare for the
Newsweek
interview. Noting the look of concern on Pease's face, Boorda joked about what they would do in their retirement: "Don't worry. You'll still have a job in my hardware store."
"You won't need a PAO," retorted Pease.
"You'll be bagging nails," quipped Boorda.
When he was ready to leave, his aides were unable to find his driver and Captain Tom Connelly accompanied Boorda downstairs, intending to drive him to Tingey House in LaFleur's car. However, Boorda discovered his dark blue Lincoln in its usual parking space. His aide, Commander Martin Moke, punched in the code of the door lock and the admiral got into the driver's seat. Moke twice attempted to get into the front seat, but a smiling Boorda said, "No, thank you." Connelly motioned Moke away from the vehicle and said to let the admiral go.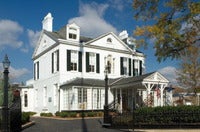 Death at Tingey House. When he entered Tingey House (above), the admiral asked the steward if Mrs. Boorda was home and was told she was visiting their daughter. He then proceeded upstairs to his second-floor study.

Around 1:30 p.m., Moke drove the admiral's driver, Marine Sergeant Seth Hayes, to the Navy Yard and Hayes got into the Lincoln, turned it around in the driveway in preparation for Boorda's departure and waited. At 1:53, Hayes answered the car phone and spoke with Moke, who was concerned the CNO had not arrived for his meeting with the Newsweek reporters. As he spoke with Moke, the driver glanced into his rear-view mirror and observed Adm. Boorda in the yard. As he was watching, the admiral suddenly fell and Hayes yelled, "Oh shit! Gotta go!" Believing Boorda had a heart attack, he rushed to assist and saw blood spreading across the front of the admiral's gleaming Navy whites. Hayes took off his necktie to use as a compress on the chest wound. A lieutenant passing by noticed the commotion and he and the driver administered CPR to the dying man.

The ambulance pulled into the driveway of Tingey House at approximately 2:15 and Boorda was transported to DC General Hospital. A bullet had ripped through his sternum, causing massive damage to the heart before emerging thorough his back. The Chief of Naval Operations was pronounced dead at 2:30 p.m. About two hours later at the hospital where he was pronounced dead, Secretary of the Navy Dalton addressed the press and interested parties, saying, "It is my sad duty to report to you that Adm. Mike Boorda, the chief of naval operations, is dead. ... I had a meeting yesterday with Adm. Boorda concerning our program. He was in great spirits. We had an excellent meeting with him and the commandant of the Marine Corps and senior Navy staff and Marine Corps staff and he was in excellent spirits."

Neither Boorda's family, personal friends, peers nor subordinates suspected he was contemplating taking his own life. In fact, on the morning of his death, he made lunch appointments for the following week. That he chose to drive himself home from the Pentagon to his quarters at the Navy Yard was not particularly unusual. If he suffered from clinical depression or some physical illness, it was not publicly known. Boorda's autopsy has never been released, but according to the few details that were made public, he shot himself in the chest with a .38 caliber Smith & Wesson revolver given him by his son-in-law to "protect" him and his family against possible "intruders." The gun was allegedly loaded with hollow-point cartridges. It was also revealed that in the few minutes before his suicide, Adm. Boorda typed two suicide notes, or letters, on his computer, one to his family and a second, addressed "To my Sailors." The contents of these letters have never been released, officially, but according to Nick Kotz, the second letter read:

"What I am about to do isn't very smart, but it is right for me. You see, I have asked you to do the right thing, to care for and take care of each other and to stand up for what is good and correct. All of these things require honor, courage and commitment ... our core values.

"I am about to be accused of wearing combat devices on two ribbons I earned during sea tours in Vietnam. It turns out I didn't really rate them. When I found out I was wrong, I immediately took them off, but it really was too late. I don't expect any reporters to believe I could have made an honest mistake, and you may or may not believe it yourselves. That is up to you, and isn't all that important now anyway. I've made it no matter in the big scheme of things because I love our Navy so much, and you who are the heart and soul of our Navy, that I couldn't bear to bring dishonor to you."

It has been surmised that in addition to the Combat V scandal, three other issues weighed heavily on Boorda and, collectively, are believed to have contributed to his suicide. The lingering impact of the infamous 1993 "Tail Hook" incident amid ever-increasing reports of sexual harassment in the Navy after women were allowed to serve at sea was a major concern. Additionally, there were budgetary issues and Boorda also had to deal with a cheating scandal at the Naval Academy and the improper behavior (not of a sexual nature) of several senior officers, some of whom were admirals. But every CNO faces problems of one type or another and Mike Boorda was loved and respected by the men and women he commanded. He was revered by politicians as a military man who gave straight answers and made no attempt to cover up mistakes.
Adm. Boorda's funeral at Washington's National Cathedral was broadcast nationally on CNN. He was laid to rest at Arlington National Cemetery in the shadow of the Pentagon, where he had been assigned since April 1994 as the Navy's top officer.

More Questions than Answers. But not everyone believed the "official version" of events and there are those who still doubt Boorda took his own life. Mike Campbell, a now-retired Navy public affairs officer, knew Boorda personally, worked with him and says "no way" did the CNO commit suicide. Retired submariner Mike Keating of Chandler, Arizona, agrees, saying, "Mike Boorda was a better man than that." Mark Carter, a retired Navy petty officer from Richmond, Maine, goes so far as to say the Navy engineered a cover-up. "I wouldn't be surprised if he was murdered," he insists.

If Adm. Boorda intended to take his own life, why did he tell family, friends and fellow officers that he planned to retire in a matter of months? Three days before he died, he told Master Chief of the Navy John Hagen he was planning to retire in August. "I'd like to do something like make money, fly a plane, buy a boat," he told Hagen, and on the very day of his death, the CNO was joking about opening a hardware store. Although it isn't widely known, one of Boorda's four children, David, his first-born son, suffered from cerebral palsy. The admiral was a kind and caring man who dearly loved his family and there are those who insist he would never have abandoned his wife to care for their disabled son alone. In a speech he gave a month before his death, Boorda was quoted as saying: "Can the sailor commit suicide and not have the leader know that he or she was in distress? No, we can't ignore things we must work on. If we hide them, we do everybody a disservice." Do these sound like the words of a man who was, himself, contemplating suicide?

Part of the "official story" is that the admiral became unhinged over the impending Newsweek interview, yet, less than two hours prior to his scheduled meeting with the two reporters, he remarked, "We'll just tell them the truth." In fact, at no time did Boorda exhibit fear, dread, uneasiness, or trepidation concerning the impending interview. A man who has served 40 years in the Navy and climbs all the way from seaman recruit to CNO doesn't kill himself over something so trivial.

But even though he was loved and admired by many, Boorda had enemies, one of whom was the surly former Secretary of the Navy James Webb. In a blistering speech at the Naval Academy, the blunt-speaking Webb attacked the CNO, blaming him for many of the Navy's problems. "Some [Navy leaders] are guilty of the ultimate disloyalty. To save or advance their careers, they have abandoned the very ideals of their profession in order to curry favor with politicians," Webb accused. The snub-nosed Webb knew all about "currying favor with politicians" of both parties. Originally a Democrat, he became a Republican and served one turbulent year as Secretary of the Navy during the Reagan Administration. In recent years, he flip-flopped back to the Democrats and compiled a voting record as senator from Virginia that largely supports the programs of leftist Barack Obama. Webb's verbal assault and the vitriolic unsigned letter published in the Navy Times may have annoyed Boorda, but a man with his strength of character faces things head-on and wouldn't have wanted to damage the reputation of the Navy he loved so much.

Major Glen MacDonald, a former Army public affairs officer, questions many aspects of Boorda's suicide, including the "farewell note" addressed to "My Sailors," citing the fact it was neither signed, nor written in Boorda's style. If the admiral took the time to sit down at his computer and type and print two letters, why not take a few extra seconds to sign those letters? MacDonald also spoke with a retired chief hospital corpsman now living in Florida who insisted Boorda had "two gunshot wounds to the upper torso, not one." If this is correct, how could he have possibly shot himself twice at close-range using hollow-point cartridges? Hollow points are expanding bullets with a pit or hollowed-out shape in their tip that disrupts tissue and organs as it travels through the body. A shot to the torso would disable or kill instantly making it impossible for a person shooting himself to shoot a second time. Furthermore, as just about everyone knows, the swiftest and surest method of killing oneself using a gun is to place the muzzle in the mouth against the soft palate, tilt the head upwards and squeeze the trigger. "Gut-shooting" oneself – even with hollow point bullets – is not a guaranteed method, so why did Mike Boorda choose this method? The gun itself is also questionable. The pistol was allegedly given Boorda by his son-in-law, an NCIS attorney, to protect himself and his family against intruders. The Boordas lived in Tingey House on the Washington Navy Yard, a restricted area guarded by armed US Marines. Why would the son-in-law have thought the family was in danger from intruders – if, indeed, he did?


The Navy's failure to release the autopsy report has fueled conspiracy theories. If there is nothing to hide, why not release the report and put the matter to rest? Kay Griggs, the ex-wife of a Marine colonel, claims her husband was a trained assassin and believes he may have played a role in Boorda's untimely demise. It is strange that Hayes, Boorda's driver, did not hear a gunshot from just a few yards away – unless the person doing the shooting was using a silencer – and there was no silencer attached to the .38 revolver.
Finally, it is incomprehensible that the mainstream media produced no in-depth investigative reports concerning the suicide of the highest-ranking Naval officer in the United States and not one book has been written about his life and bizarre death.
In June 1998, Secretary of the Navy John Dalton placed a letter from Adm. Zumwalt in Boorda's file indicating Boorda's wearing of the Combat V's was "appropriate, justified and proper."
Author:
Graveyardbride.
Sources:
The Philadelphia Inquirer;
The New York Daily News;
Navy Times;
The Baltimore Sun;
"Breaking Point" by Nick Kotz,
Washingtonian Magazine;
and Maj. Glen MacDonald, USAR.