Post by Joanna on Apr 21, 2014 23:52:40 GMT -5
Mazes, Monsters, Charlatans, Satan and Suicide: A Short History of the Satanic Panic
One of my favorite pieces of Satanic Panic-era propaganda has to be Jack Chick's
Dark Dungeons
religious tract. One of hundreds of such tracts created by evangelist Chick,
Dark Dungeons
is the story of two young women led astray by the fantasy role-playing game Dungeons & Dragons. One of them, Marcie, commits suicide after her thief character "Black Leaf" dies and the other, Debbie, is initiated into witchcraft after her cleric character Elfstar advances to eighth level. As the diabolical Dungeon Master "Ms. Frost" leads Debbie farther from the loving arms of Jesus, her mysterious friend "Mike" pops up to tell her she's in grave danger. Following a visit to a mustachioed minister, Debbie repents and burns all her D&D materials instead of saving them to sell on eBay in 20 years when she needs beer money.
Gamers, as well as most people with an ounce of sense, see
Dark Dungeons
for the hysterical kitsch it is, and rather than angering D&D players, it mostly amused them. I know my group loved it ("Where's the real spells?" "No, Black Leaf!") when we were kids. My parents didn't buy into the Satanic rumors that surrounded the game, or anything else I liked. Not all my friends were so lucky: They had to hide fantasy novels, D&D manuals, heavy metal albums and other "Satanic" materials so they wouldn't be burned or thrown away by their parents. Others suffered far worse: They were sent to camps for "troubled youth" or private Christian schools.
The disappearance of James Dallas Egbert III was one of the first sparks of the bonfire that would become the 80s Satanic Panic. Egbert was a highly intelligent, but troubled, young man who happened to play D&D in a group at Michigan State University. He disappeared one day in 1979, leading some to believe he had been driven insane by the fantasy game and wandered off into the steam tunnels beneath the campus to play it in "real life."
Did you ever hear that story? You were supposed to, and soon you'll know why. This is where reality and fantasy started to blur, but it did so for the public and media – not for Egbert and his friends. The Satanic Panic was about to begin, and by the time it was over, innocent people would pay the price of religious zealotry with their professional careers, freedom and in some cases, their lives.
Here's the truth, but you weren't supposed to know it: Egbert had indeed entered the steam tunnels, but with the purpose of committing suicide for reasons entirely unrelated to gaming. He had started college at 16 and crumpled under the intense pressure of his new surroundings. The academic challenges and sense of social disconnect with his peers, drug and mental health issues, along with the fact he was gay, but closeted, were far more likely reasons for his attempting to take his life. After his unsuccessful attempt in the tunnels, Egbert left town. His parents hired a private detective, William Dear, who eventually tracked Egbert to Louisiana, where he had once again attempted to commit suicide. Egbert turned himself over to Dear, who in turn, surrendered Egbert to an uncle.
Dear, along with the Egbert family, wanted to keep Dallas's drug problems and sexuality out of the news, but Dear recognized the high profile case as a fantastic opportunity for self-promotion. Never shy of an opportunity to talk to the press, Dear promoted his D&D theory and the media ate it up. So did their audiences. The D&D theory became gospel and rapidly assumed a place in urban legend. Sadly, Egbert remained suicidal and in 1980, died as the result of a self-inflicted gunshot wound.
Among those following the Egbert case was romance novelist Rona Jaffe. Although she was not at all familiar with D&D, it didn't stop her writing
Mazes & Monsters
, a 1981 fictionalized account of the Egbert disappearance that took Dear's D&D theory to heart. In Jaffe's novel, character Robbie Wheeling was Egbert's stand-in, but rather than committing suicide, he became psychotic and no longer able to distinguish between the game and reality. Meanwhile, uniformed parents, clergy and law enforcement began having problems distinguishing between reality and fantasy: It became "known" that
Mazes & Monsters
was "based on a true story," and over time, Robbie Wheeling and James Dallas Egbert's stories became confused. A made-for-tv movie based on Jaffe's novel was released in 1982, starring Tom Hanks as Robbie Wheeling. Undoubtedly, this contributed to the confusion, leading some to believe D&D didn't just kill people; it drove them insane .
Another tragic suicide occurred the same year that
Mazes & Monsters
came to television screens around the nation and it would have an even greater impact on gamers than Egbert or Jaffe. Virginia teenager Irving Pulling was an avid D&D player, like many young people in 1982, and one day after a game at his high school, he came home and shot himself in the chest. Unlike the Egberts, Irving's mother, Patricia Pulling, really did blame the game for his death and claimed he was the victim of a "curse." The grieving mother filed an unlawful death suit against Irving's high school principal and D&D publisher TSR. Both cases were dropped, but the tragic loss of her son inspired her to form an organization she called BADD (Bothered About Dungeons & Dragons).
Pulling became a self-proclaimed expert on the occult and Satanism, and as the public face of BADD, set out to warn the world about the dangers of the fantasy game. Pulling's increasingly hysterical claims gained traction among conservative Christian groups and soon the "occult expert" was making appearances on national media, including an episode
60 Minutes
in which she confronted the game's creator Gary Gygax. In 1984, she became the president of the National Coalition on TV Violence, but her crusade against D&D continued. Tellingly, around the same time, fellow NCATVer, psychiatrist Thomas Radecki, quoted a letter written by a character in Jaffe's
Mazes & Monsters
as proof of the game's ability to inspire suicide.
Possibly inspired by all the attention Pulling was receiving, William Dear took pen in hand and wrote his own book about the Egbert disappearance.
The Dungeonmaster: The Disappearance of James Dallas Egbert III
was released in 1984. Dear's account focused almost exclusively on the D&D angle. The timing was perfect: Pulling and her ilk had succeeded in terrifying a portion of the public and Dallas wasn't around to tell the true story anymore. The book earned national attention, adding even more fuel to a fire that should have never been lit in the first place.
Also released in 1984 was Chick's aforementioned religious tract
Dark Dungeons
, which as I mentioned, saw brisk circulation among gamers and concerned clergy alike – although for entirely different reasons. Chick, a fundamentalist's fundamentalist, saw the game as part of a worldwide conspiracy organized by Satan. To be fair, it wasn't that hard for anything to be added to Chick's Satanic conspiracy: Pretty much anything that wasn't literally interpreted Biblical fundamentalism was up for grabs and this hasn't changed much.
Chick was inspired by other major players in the Satanic Panic, including John Todd, a former preacher turned occultist turned preacher again who was making the rounds with claims that he had been a Satanic High Priest and member of the Illuminati before turning to Jesus. These, among a great many other claims, were revealed to have been lies. But for the time being, Todd, who had been telling these stories since the 70s, was riding high.
Todd wasn't the only 70s-era "former Satanic High Priest" to come out of the woodwork. Mike Warnke, an opportunistic would-be comedian turned "Christian Comic" had authored
The Satan Seller
in 1972, a book about his supposed experiences as a high-ranking Satanist in a secret organization. The book had been released to coincide with the early 1970s rise of Christian fundamentalism, but with people like Pulling, Chick, Dear and all the rest – plus the growing influence of the "moral majority" – the book gained a new life. Warnke started hawking his book again and giving interviews about his "experiences." Like Todd, Warnke toured churches around the country, passing the bucket – yes, a bucket – for donations, between corny jokes and hair-raising tall tales about human sacrifice. (I remember it well, because a Southern Baptist girl I was dating hoodwinked me into seeing Warnke's traveling show.)
Satanism sold in the 80s and terrified parents dealing with rebellious teenagers – especially Christian parents – practically ate from the hands of people like Warnke and Pulling. As D&D lost its ability to scare and became more mainstream, heavy metal music became a more appealing target. In 1985, Tipper Gore and a group of similarly bored and easily frightened Washington wives formed the Parents Media Resource Center – the PMRC – and succeeded in organizing a series of hearings in which both heavy metal musicians and "experts" on Satanism and other salacious topics, testified for and against claims that music was driving children to suicide, Satan, drugs, or sex. The hearing resulted in the Recording Industry Association of America voluntarily adopting "Parental Advisory" stickers that warned parents of the "explicit content" to be found in the albums to which they were affixed. For kids like me, they might as well have been seals of approval.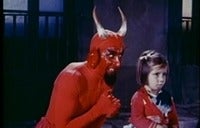 Another troublesome, related trend that had been brewing since the early 80s was the "Satanic Ritual Abuse" scare. What might have just been laughed off or ignored any other time seemed more credible to some, especially with people like Pulling and her ilk making the rounds to talk about the plague of Satanic crime sweeping the country and corrupting its youth.
Supposed victims became popular guests on talks shows, often claiming they had recently recovered repressed memories of the incidents through psychotherapy. Books on Satanic Ritual Abuse and related topics sold well, even if they should have been shelved in the "fiction" sections of the bookstores at which they were sold. Psychiatrist Lawrence Pazder and his patient – and eventual wife after he left his first one – Michelle Smith co-wrote the lurid
Michelle Remembers
, a supposed account of Michelle's childhood victimization and eventual escape from a "Satanic Church" that kept her in a cage, doused her in blood, summoned Satan in the flesh and then reprogrammed her not to remember the events until later.
People
ate it up. And when I say
People
, I mean the magazine – along with tons of other national media sources. Pazder became famous as the person who coined "Satanic Ritual Abuse" and began to offer his services as a speaker and consultant along with Mike Warnke and a few other imbeciles as part of the "Cult Crime Investigation Network."
Another popular example of the genre is 1988's
Satan's Underground: The Extraordinary Story of One Woman's Escape
. Underground's author, Lauren Stratford (a pseudonym) claimed to have been a "breeder" for Satanic groups, birthing babies to be sacrificed and eaten. Stratford wrote a couple other books about her "experiences" and secured her own ticket on the Satanic Panic express.
Both Smith and Stratford appeared on Oprah Winfrey's show together, but strict control of internet content – along with Oprah's mostly successful strategy of distancing herself from her sensationalistic past – has prevented my finding any scenes from that particular episode. I did, however, find Lauren Stratford on
Geraldo
. It's a clip from his hour-long special on "Satanism" – a ratings blockbuster.
Terrified parents had started looking for signs of Satanic Ritual Abuse at day care centers and other places where the left their children. They saw what they wanted to see. Police investigators and social workers did, too. They asked leading questions of young children, who of course told the adults what they thought they wanted to hear. District attorneys, police and media saw these as career-making stories, and innocent people went to prison – in some cases for a decade or more. The McMartin Preschool Trial was the best-known of these travesties (
Michelle Remembers
author Lawrence Pazder served as a consultant on the case), but there were others. Sadly, diverting focus to these cases probably enabled a good bit of real sexual abuse to slip out of public sight. Books like
Don't Make Me Go Back, Mommy: A Child's Book About Satanic Ritual Abuse
by Doris Sanford and Graci Evans probably didn't help, either.
Charlatans and con-men weren't the only ones who saw an opportunity in the Satanic Panic: Satanists did, too, and made the talk show circuits. All the media attention raised their profiles, and frightened Christians were easy enough to play for profit. Show hosts, in turn, saw easy ratings.
Patricia Pulling wasn't done yet and upped the ante in 1989 with the release of
The Devil's Web: Who Is Stalking Your Children for Satan?
The book was written as a guide for parents and law enforcement personnel investigating cases that might possibly involve the occult. The book listed dozens of dubious examples of what parents and police should look for if they believed a young person was involved in the occult, from heavy metal albums to earrings and even the
Necronomicon
, which Pulling treated as a real book. I suspect she must have seen the "Simon"
Necronomicon
paperback at her local Waldenbooks and didn't realize the book was the invention of H. P. Lovecraft. Regardless: if this "occult expert" knew so little about her supposed area of expertise, her readers knew even less. Pulling, along with Warnke, Todd, Stratford and all the rest were about to come under fire.
As the 80s wound down and the 1990s began, promulgators of the Satanic Panic became targets themselves. Artists and entertainers started to fight back, as did investigative reporters who took the time to investigate some of these supposed Satan chasers. So did some mainstream Christian groups. Game designer and author Michael A. Stackpole authored "The Pulling Report," in which he methodically took apart many, if not all, of Pulling's claims about gaming and Satanism.
Cornerstone
, a Christian Magazine, took a look at Lauren Stratford and discovered her real identity, Laurell Rose Wilson, a woman with a very long, documented history of tall tales and mental illness. The magazine then took aim at Mike Warnke and found that he too was a fraud. The magazine also reported on Warnke's fellow traveler, John Todd, but no one had to take Todd down: Pleading guilty to rape and child molestation ended his career as a Satan-chaser. The truth of the Egbert disappearance eventually came to light. Sadly, reason did not return immediately. Some of the men and women wrongly convicted in the McMartin preschool trial lingered in prison for years after the initial hysteria had subsided.
It wasn't just backlash that did in the Satanic Panic profiteers, changes in youth culture also spelled their doom. Heavy metal and hard rock fell out of favor and was eclipsed by grunge, a subgenre of alternative rock, and D&D-inspired video games replaced tabletop role-playing in many circles. High profile scandals involving televangelists (many of whom had helped push the panic) eroded the trust the public had in them. Criminals who tried to blame Satan for their offenses discovered the tide had turned and no one cared to listen anymore.
A few of the Satanic Panic players managed to reinvent themselves with varying degrees of success. Mike Warnke came clean about his Satanic stories and started a new ministry, which he still operates today. William Dear continues his work as a private investigator. He appeared on Fox's
Alien Autopsy
TV special and has written several books claiming that O. J. Simpson is innocent of murder. Tipper Gore seems to have left her role as moral guardian behind. Rona Jaffe continued to write popular fiction until she died of in 2005, but she never again wrote anything about D&D.
After serving time in prison for rape and child molestation, John Todd died of cancer in a state mental institution. He probably would have found it hard to beg forgiveness and resume his ministry even if he had remained a free man. Todd alienated many mainstream Christian groups by accusing them of being Illuminati fronts. Todd's teachings still have a following in conspiracy circles and fundamentalist Christian religious sects. Patricia Pulling continued to operate BADD in well-deserved obscurity until her death from cancer in 1997. Laurell Rose Wilson changed her name once again, this time to Laura Grabowski and began claiming she was a survivor of a concentration camp in which she was subjected to medical experiments conducted by none other than Josef Mengele. Once again, she was exposed as a liar. She died in 2002 at the age of 60.
Some of the last victims of the Satanic Panic are beginning to reclaim their lives. The final victims of the McMartin preschool trial are getting out of prison, and of course, The West Memphis Three – most believe them to be victims of the Satanic Panic, but there are still those who think they are guilty of a horrific child killing – have finally gained their freedom. Regardless, there are probably many others convicted of "occult" crimes they didn't commit.
So why did it all happen in the first place? Sociologists consider the Satanic Panic to be just one episode in a long line of "Moral Panics." These episodes usually occur during times of societal insecurity when threats are arising against the status quo. It's a form of scapegoating – a way to find a target for all that troublesome anxiety. People like Warnke, Pulling and Gore are always around to fan the flames and grab a few bucks by directing the public toward a likely target (or targets) that benefit them individually, or groups or interests they represent. With the Cold War threatening to turn hot, increasing secularization, economic competition from Japan and traditionally safe jobs like factory line work suddenly being shipped overseas or eliminated completely by automation, people were scared. A good old-fashioned bogeyman was probably a welcome distraction.
This isn't to say the Satanic Panic is over. It has just gone underground: Alex Jones and others continue to espouse the belief that an underground organization of child-molesting Satanists run the world. Could we see a resurgence of the Satanic Panic? Probably not, but conditions are certainly right for another moral panic of some sort.
Sources:
Matt Staggs, Disinformation, March 21, 2014; and
Satanic Panic: The Creation of a Contemporary Legend
by Jeffrey S. Victor.