Post by JoannaB on Mar 26, 2022 18:23:56 GMT -5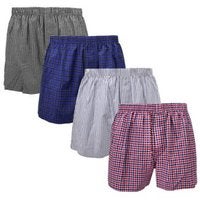 Recession? Look to Men's Underwear Sales
It's all about underwear – men's underwear, that is. At least this is what Alan Greenspan, former head of the Federal Reserve, says.
Longtime NPR correspondent Robert Kurlwich has revealed that Greenspan once told him the most private of garments is "male underpants, because nobody sees it except people in the locker room, and who cares?" Accordingly, he [Greenspan] continued "on those few occasions" when sales decline, it "means that men are so pinched that they are deciding not to replace underpants."
This isn't because Greenspan is preoccupied with men's undergarments, but rather because he considers underwear a key economic predictor ... just one of many strange ways "experts" attempt to calculate booms and busts.
At present, the men's underwear index – yes, it exists – backs up Greenspan's theory: U.S. sales of men's undergarments fell significantly from 2007 to 2009, during the Great Recession, but gained steam again in 2010 as the economy recovered.
Analysts are always searching for signs that might predict a downturn. Just as a stampede of animals fleeing to higher ground can be an early sign of a tsunami, the same rules can be applied to the state of the economy.
Lipstick and Skincare. Another predictor is lipstick. The lipstick index – yes, it exists, too, – was created by Estee Lauder chairman Leonard Lauder during the economic downturn following the September 11 attacks. He noticed the purchase of cosmetics, lipsticks in particular, tend to be inversely related to the economy because women replace more expensive purchases with small pick-me-ups. In the fall of 2001, U.S. lipstick sales increased by 11%, and back during the Great Depression of the 1930s, cosmetics sales overall increased by 25%. But the theory doesn't always hold true. Research group Kline & Company found that while lipstick sales increase during times of economic distress, they also gain during boom times.

In 2020, at the height of the pandemic economic downturn, Estee Lauder's CEO Fabrizio Freda reported the lipstick index had been replaced by a skincare item as customers donned masks and worked from home. "The lipstick index has been substituted with the moisturizing index," Freda said, "but the concept of the index is still there."

Sources:
Nicole Goodkind, CNN Business, March 26, 2022; and JeeYeon Park, CNBC, June 10, 2009.