Post by Graveyardbride on Oct 7, 2021 14:28:08 GMT -5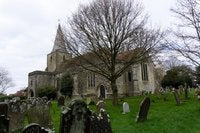 Pluckley: 'The Most Haunted Village in England'
In 1989,
The Guinness Book of World Records
declared Pluckley, a small town with a population of just over a thousand, "The Most Haunted Village in England." Situated approximately 60 miles southeast of London in the county of Kent, the first written reference to Pluckley is from 1086 and a settlement that has been around in excess of 900 years is bound to have accumulated a few spooks. Today, the pastoral village boasts numerous haunted locations, including, but not limited to, the following:
St. Nicholas Churchyard.
Three spirits are said to haunt the atmospheric burial ground surrounding historic St. Nicholas Church (above), which dates to the Norman period. The first, and best-known spirit is that of the "Red Lady," believed to have been a member of the prominent Dering family. She walks the graveyard, endlessly searching for the final resting place of her infant, who died at birth, and whose grave was unmarked because the child was born out of wedlock. But she doesn't walk alone: another member of the Dering family, this one known as the "White Lady," also haunts the graveyard. According to legend, the second woman was very beautiful and when she died at a young age, her grief-stricken husband could not bear the thought of his beloved rotting away in the grave. Thus, he had her dressed in a flowing white gown, placed her in an airtight lead coffin and laid a single rose upon her breast. The lead receptacle was encased in a larger solid oak coffin and interred in Dering Chapel. The White Lady is most often seen on misty autumn mornings, her raven black hair a striking contrast to her milky white skin and gown – a vision in black and white with a blood red rose clutched to her breast. The third churchyard ghost is that of a large, white hound.
The Black Horse Inn.
This pub (above) occupies a 15th century farmhouse once encircled by a deep moat. A mischievous poltergeist who seems to delight in hiding things from both customers and staff haunts the premises and one occasion, locked the landlady out of her establishment. Other supernatural activity includes an unseen hand that lifts cutlery and other items and the spirit of a woman in a red dress observed entering and leaving various upstairs rooms.

Old Bakery.
During the renovation of this property directly across the street from The Black Horse, an old Victorian fireplace was removed, revealing the original hearth and disturbing "something" that had been at rest for many years. The sounds of phantom feet stomping across the floor toward the fireplace disturbed residents and they complained of cold spots near the hearth even on the warmest days. Additionally, the sounds of a phantom coach and horses that haunt the entire village were heard passing the building in the early hours of the morning.
Former Blacksmiths Arms.
This former pub at the intersection of Smarden and Smarden Bell roads is now a private residence. The 15th-century building is so haunted that at one point it was called The Spectre Inn and at another, The Ghost's Arms. Later, while new owners awaited a liquor license, it became The Blacksmith's Forge Tea Room. Among the ghosts are a jovial Cavalier, who wanders about in the upstairs rooms, and the apparition of a Tudor maid who stands beside the fireplace slowly turning a spit.
Dicky Buss's Lane.
Just to the west off Smarden Road, one comes to Dicky Buss's Lane, named for Richard Buss, a local miller. The alleged ghost at this site is suspect, but local legend has it that one morning, a group of children on their way to school came upon the hanging body of Henry Turff, their schoolmaster. Turff was, indeed a Pluckley schoolmaster and he died April 11, 1940, but there's no evidence he committed suicide. Nonetheless, according to the story, on nights of the full moon, when leaves rustle in the breeze, the apparition of a man hanging from a tree is sometimes spotted at the location. According to another tale, a black silhouette of the miller appears just before a fierce storm.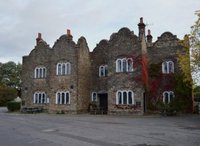 Dering Arms.
Taking Station Road approximately1½ miles south of the downtown area, one comes to The Grove and the Dering Arms (above), now an upscale seafood restaurant and bistro. This former hunting lodge is haunted by an elderly lady wearing a Victorian dress and bonnet. The ghost appears to be of flesh and blood and is so real she has been mistaken for a waitress in period costume.
Pluckley Brickworks.
West of the Dering Arms is a site where bricks and tiles were once produced. In 1877, a wall of drying Weald clay became unstable and buried a man alive. The unlucky worker was Tayler Jay Smith, employed by the Pluckley Brick & Tiles Company. People say that Smith's cries for help can still be heard coming from the location and there have been a few sightings of the man's ghost. Another version of the story suggests he fell into a clay pit and slowly suffocated to death. A second tale is that of a young man who had his arm torn off in machinery at the brickworks and his cries of agony reverberate throughout the area, including Dering Wood.
Elvey Farm Country Hotel.
The main hall on this Medieval farm was built in 1406 and the location has a colorful history. It is believed French prisoners were held on the property during the Napoleonic wars, Sir Edward Dering is said to have hidden at the farm prior to his capture during the English Civil War, and during World War II, a Spitfire crashed into the paddock. The ghosts, however, have nothing to do with any of these events. In 1900, Edward Brett and his family were living on the property and one day, he gave his wife 15 shillings and a penny to each of his children. Then after whispering to his wife, "I will do it," he calmly walked into the old dairy building and shot himself. Both members of staff and guests have reported hearing a disembodied voice whispering, "I will do it." Guests also have reported seeing a spook in one of the bedrooms, but whether this is Brett's apparition, or that of someone else, no one knows. The bedroom ghost is often referred to as "Old Bill."
Greystones.
This large, white house on Station Road was built in 1863 and once served as the residence of the local curate, during which time it was known as Rectory Cottage. The grounds are haunted by a monk, who is observed floating about among the trees. According to legend, during Tudor times, a monk became infatuated with a lady who lived at nearby Rose Court and after she took her own life, died of a broken heart, possibly near the site of the present-day structure.
Rose Court.
The lady to whom the infatuated monk lost his heart lived at Rose Court (above), an old home built sometime between 1660 and 1760. After the young woman's father forbade her to see the penniless monk, she drank a concoction of poisonous berries and died. In addition to the lady's apparition, said to manifest between 4 and 5 p.m. – presumably the time she died – people have reported hearing phantom whispers and indiscernible snippets of conversations in both the house and grounds.
Pinnock Bridge. Just past a sign reading "Smarden and Bethersden," lies a little stone bridge spanning a tiny stream. The story goes that an eccentric old gypsy, who eked out a meager living gathering and selling watercress to villagers, had a habit of sitting on the bridge smoking her clay pipe and drinking from an ancient flask in the early evening. Unfortunately, one night she fell asleep, possibly from too much alcohol, dropped her pipe and her skirts burst into flame. The following day, all that was left of the crone was a pile of ashes, the battered flask and shattered pipe. Shortly after her death, locals reported seeing a flame-engulfed human figure screaming in agony. Over the years, the manifestation gradually became less intense and now, the ghost of the "Watercress Lady" is nothing more than a faint, pink glow hovering near the spot where the old woman burned to death.

Dering Wood. This 308-acre wooded area, consisting primarily of sessile oak and hornbeam, dates to 1600 and possibly earlier. While small by American standards, what it lacks in size, it more than makes up for in ghosts. Also known as "Screaming Wood," those who dare walk the footpaths at twilight are sometimes scared out of their wits by a sudden bloodcurdling, ear-splitting scream emanating from deep within the forest.


Fright Corner.
An ancient hollow tree once stood at the location known as "Fright Corner" at the intersection of Smarden Bell Road and Greenhill Lane on the edge of Dering Wood. This was where Robert DuBois, a notorious, but unimaginative, highwayman, would hide within the hollow and jump out at his intended victim, frightening the individual before robbing him or her. Because he never varied his method and people had grown tired of his antics, one night a group of men accosted DuBois and ran him through with a rapier, pinning his body to the trunk of the tree. The tree eventually rotted away, but local legend has it that sometimes at twilight on winter evenings, the tree with the highwayman pinned thereto reappears. Others claim that on occasion, the spirit of the robber jumps out at those walking along in the area.

Phantom Coach.
In addition to the foregoing haunts, the highways and byways of Pluckley – particularly those in the vicinity of Maltman's Hill – are traveled by a spectral coach and horses. Although a few claim to have seen this phenomenon, most witnesses report hearing the thundering hoof beats of horses and the rattling wheels of a conveyance that never materialize. One night in late November 1997, a Pluckley resident reported her car was filled with the distinct noise of "horse hooves on a cobbled street" as she drove home. On another autumn night, a grandmother driving home from babysitting her granddaughter met a coach pulled by four horses. Initially believing it was someone driving an antique coach, she came to a full stop and noticed bright lights coming from inside the carriage as it passed. It wasn't until she looked into her rearview mirror and saw nothing that she realized she had just seen a ghost.
Sources:
Pluckley Was My Playground
by Frederick Sanders; T
he Good Ghost Guide
by John Brooks; Kent
Urban Legends:
The Phantom Hitch-hiker and other Stories
by Neil Arnold;
Britain's Haunted Heritage
by J.A. Brooks; Jane Lavender and Will Rider, "Pluckley: The 15 Horrifying Ghosts and Chilling Nightly Screams in Kent's Most Haunted Village," KentLive, May 9, 2020; Tim Nixon, The Sun, July 21, 2015; Barry Van-Asten, "A Visit to the Most Haunted Village in England," Ghost Blooms, April 25, 2013; Peter Geekie, "Pluckley - The Most Haunted Village in Britain," Hub Pages, October 8, 2016; Hugh Morris,
The Telegraph
, October 31, 2020; MJ Steel Collins, The Spooky Isles, February 15, 2013; Britain Express; British History Online; The Woodland Trust;
Haunted Inns and Taverns
by Andrew Green; The Lost Pub Project; The Kent Compendium of Historic Parks and Gardens; and Michael Hollan, Fox News, September 20, 2021.
Note:
If you're planning a trip to Pluckley this Halloween, because of the incessant littering by ghost-hunters and others who camp in and/or visit Dering Wood, the parking area is closed.