Post by Joanna on Sept 30, 2013 18:34:18 GMT -5

The Highgate Vampire Revisited

Most Londoners have, at some time, visited Highgate Cemetery, the world class high-Gothic nature reserve on our doorstep, and it is a popular tourist destination. Dating to 1839, it contains 170,000 corpses – that's as many people as the "current living" population of Chattanooga, Tennessee. Most thrilling is the western side, only accessible by guided tour, such is the frailty and beauty of its steep hillside location. Those Egyptian Catacombs! The Cedar of Lebanon! And here you'll find a roll call of "names" from George Eliot to Beryl Bainbridge and Alexander Litvinenko, who was killed with polonium in 2006 and is entombed in a lead coffin to prevent the leakage of radiation from his grave. Equally worth a few hours' wander is the flatter eastern side, which anyone can visit for just £3. It is most famously home to NW5's legendary former resident, Karl Marx, whose tomb was subject to attempted bombings in 1965 and again in 1970. But that's another story.

Among these ivy-covered tombs and decaying statuary, deep in the shadowy woods, which have served as a location for movies such as The Abominable Dr. Phibes, Taste the Blood of Dracula and other cult horror flicks (not to mention recent novels, e.g., Niffenegger's Her Fearful Symmetry), there once lurked a real vampire. In the 1960s the cemetery was dilapidated and prone to vandalism. One intruder was a local bloke named David Farrant who, after spending a night in the graveyard in 1969, wrote to the Ham & High (Hampstead and Highgate Express) about seeing a "grey figure," which he believed was supernatural. In his February 1970 letter, he wrote:

"Some nights I walk home past the gates of Highgate Cemetery. On three occasions I have seen what appeared to be a ghost-like figure inside the gates at the top of Swains Lane. The first occasion was on Christmas Eve. I saw a grey figure for a few seconds before it disappeared into the darkness. The second sighting, a week later, was also brief. Last week the figure appeared, only a few yards inside the gates. This time it was there long enough for me to see it much more clearly, and now I can think of no other explanation than this apparition being supernatural. I have no knowledge in the field and I would be interested to hear if any other readers have seen anything of this nature."

Dozens of others piped in describing all manner of ghosts, from spectral cyclists to disembodied voices. Yikes! Within days, the Ham & High was publishing letters from others who insisted something strange was going on in Highgate Cemetery:

"With reference to the letter in last week's Ham and High, many local people have seen Mr. Farrant's ghost in Highgate Cemetery. The ghost will sometimes appear nightly for about a week, and then not be seen again for perhaps a month. To my knowledge the ghost always takes the form of a pale figure and has been reappearing for several years." – K. Frewin, North Hill

"There is without a doubt a ghost. Of when and how he originated, I do not know. Many tales are told, however, about a tall man in a hat who walks across Swain's Lane and just disappears through a wall into the cemetery. Local superstition also has it that the bells in the old disused chapel inside the cemetery toll mysteriously whenever he walks." – R. Docherty, Highgate West Hill

"A frightening experience occurred on the Heath. I was passing beside the viaduct pond when a figure on the far side beckoned me. As I approached, the figure started wading into the water, staring at me with a horrific look. It continued into the pond, motioning me to follow. I knew that what I was looking at was not human, as there were no ripples in the water around it. With a terrible cry the head disappeared beneath the still water, leaving me trembling." – J. McKennar, Muswell Hill Road

Things took a an even spookier turn when another man, Sean Manchester, claimed the figure haunting Highgate Cemetery was a medieval Romanian nobleman buried in secret in Highgate Cemetery in the 1800s and awakened by modern-day Satanists. Unfortunately, he came out of the tomb a member of the "undead." The Ham & High naturally lapped up all this with headlines such as: "Does a Vampyr Walk in Highgate?"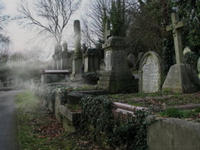 A week or so later, Farrant reported to the paper that he had seen a spate of dead foxes – with no outward signs as to how they died. It is worth adding that Farrant himself was never quick to wade in with the "V" word, although by suggesting the existence of ghosts or vampiric figures, he captured the public imagination in a big way. "If the sky is blue," he writes on his website today, "then who am I to argue the shade? The term vampire was coined by the media. I simply refer to it by its common name, whilst my beliefs as to what it actually is, take second place to the sensationalist headline."
The outcome? Why, a media frenzy of course, focusing on an "official" vampire hunt Friday, March 13, 1970. By this time, arbiters of popular culture ITV had lined up interviews with both Manchester and Farrant, broadcast early on the evening of the 13th – and within two hours, a sizable crowd armed with garlic, crosses, holy water, and stakes pushed through a line of policemen to become part of the hunt. It's not clear exactly what Farrant and Manchester did that night, but there were rumors of attempts to open tombs and garlic being chucked around a bit. But thankfully, no stakes through the hearts of the undead.
Farrant and Manchester persisted in their hunt for otherworldly presences, with the former being found by police soon after carrying a crucifix and wooden stake, and the latter claiming (in his own book) that he forced open a family vault and was about to drive a stake through a body – but was deterred, at the last minute, by a companion.
The cemetery is certainly spooky enough to be the home of a vampire. New tombstones alongside ancient ones crowd the paved and dirt paths that weave through Highgate. Thick vines obscure the oldest markers that jut at angles from the ground deeper into the trees. Many of the stone vaults are broken, or twisted open by encroaching tree roots, giving the impression something has crawled from the grave. However, there is no evidence of Manchester's Romanian nobleman. Nevertheless, in his book
The Highgate Vampire
, Manchester, who claims to be a bishop in the Old Catholic Church, said he tracked down the vampire years later and killed it.
David Farrant, who started the reports, has written many books on the paranormal, including one called
Beyond the Highgate Vampire
.
How did it end? Well, it sort of trailed off, actually, after a duel between Farrant and Manchester scheduled for Friday, April 13, 1973, on Parliament Hill never materialized. Farrant was jailed in 1974 for vandalizing tombs and interfering with the dead, which he insisted was the work of Satanists. He gives his version of the story on his website:
"Eventually David's unconventional methods, and the fascination of the press with his exploits, led to his notorious conviction at London's Old Bailey in 1974 for what amounted to the practice of witchcraft. Despite the fact that the Witchcraft Act had been repealed in 1951, a combination of the then openly corrupt Metropolitan Police and one of the most draconian and conservative judges in Britain led to combined sentencing of 4 years and 8 months. Partly as a result of this trial and David's imprisonment, there were several significant changes to the British justice system in later years. These came far too late for David who continues to protest that although he may be guilty of youthful indiscretion (aren't we all?), his only crime was practicing his then religion. Upon his eventual release in 1976 after a 7 week hunger strike, David continued to campaign to establish his innocence."
In an addendum, Farrant is now president of the rather genteel-sounding Highgate Vampire Society. The people who run Highgate these days call themselves Friends of Highgate Cemetery and are a bit squeamish about vampires and the horror movies filmed there. But visitors still ask about ghosts and the reports of phantom encounters are as prolific as ever.
Sources:
Stephen Emms, Kentish Town Studio;
Vampires Among Us
by Mary Ellen Guiley; QuirkyTravel, and The Undead.