Post by Joanna on Feb 16, 2014 4:59:27 GMT -5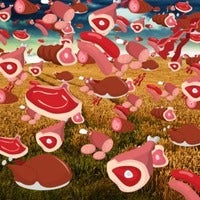 'Meat Shower' Investigated
LEXINGTON, Ky. – If you think all this snow has been difficult, take a moment to consider what fell from the sky in 1876 in Bath County.
Witnesses described it as a shower of meat, something the
New York Times
described at the time as a "flesh descending in a shower".
A phenomenon that remains unexplained.
It supposedly happened south of the Olympian Springs on the property of Allen Crouch.
The incident was corroborated for the
Times
by two sources – one Mr. Harrison Gill "whose veracity is unquestionable" and a correspondent of the
Louisville Commercial
newspaper.
But what exactly was the red flesh? "Two gentlemen" satisfied their curiosity by tasting the meat and determined that it was either mutton or venison, the Times said.
The incident sparked a lot of curiosity, skepticism and several scientific studies at the time.
The Royal Microscopical Society of Great Britain reported the most plausible explanation in its
Monthly Microscopical Journal
in July 1876.
After examining several specimens of meat, one scientist determined what fell out of the sky was in fact of "animal origin" (apparently he didn't trust the taste buds of the locals). Therefore "the Kentucky shower was a veritable 'meat' shower." Beyond that, he admitted he had no explanation.
However, he relayed the most popular local theory: a large pack of buzzards must have flown over the area after having eaten some dead horses, then one of the buzzards disgorged itself and the others followed suit, (as is their custom, according to the journal).
The scientist reported that similar occurrences with buzzards had been known to happen in the past, so "it would seem that the whole matter is capable of reasonable and simple explanation, and we may expect to hear of similar downfalls in other localities."
However, people at the time described the pieces as "perfectly fresh."
A man named Alexander Tannyparker collected several samples and brought them back to Transylvania to be studied according to Professor Kurt Gohde.
Inside the Moosnick Museum at Transylvania University in Lexington is a piece of flesh supposedly from that fabled day in 1876.
"We've also run DNA samples on it to try to figure out what it was," Gohde said. "The DNA sampling came back that it was goat and unfortunately it is contaminated to a point where it's not 100 percent conclusive."
Even if the meat is likely goat, it doesn't explain why it rained on Bath County.
Gohde has heard just about every theory from a twister that sent animal remains flying into the air to the aforementioned bird that regurgitated its food.
"The most fantastic story to think about is that it was cosmic meat from an exploded planet," he said. "That for some reason came down just on this one field in Kentucky."
But even with all the theories, nothing fully explains it.
"I think this is a situation where knowing for sure would make it less interesting," Gohde said.
Source:
LEX18 News, February 10, 2014.