Post by Joanna on Feb 11, 2014 2:16:39 GMT -5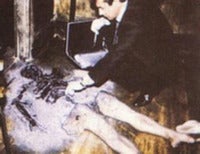 The Facts about Spontaneous Human Combustion
An expert reveals what the evidence shows about the reality of spontaneous human combustion
Can the human body sometimes spontaneously erupt in flames? Despite numerous attempts by skeptics to explain away spontaneous human combustion with far-fetched scenarios and often ludicrous experiments, the real research into the phenomenon shows that the mystery remains.
Larry E. Arnold, author of
ABLAZE! The Mysterious Fires of Spontaneous Human Combustion
(Evans, 1995), has devoted more than four decades to tracking down evidence pro and con for this heatedly argued phenomenon. His answers to my questions about spontaneous human combustion (SHC) follow, copyright © 2014 by Larry E. Arnold, all rights reserved:
Question:
How far back have you been able to trace the phenomenon of SHC?
Larry:
First, our definition of spontaneous human combustion. As a concept, SHC is the smoking, blistering or burning of a person in the absence of a known, identifiable nearby external ignition, caustic chemical, high amperage electricity, radioactive material, or radiant heat source. In what history characterizes as SHC – what we term classic SHC – a human body is consumed almost wholly to ash by what appears to be a high-heat inferno that produces minimal damage to surrounding combustibles; that is, a cremated body within an environ devoid of the attendant effects that fire science mandates should be present, but are not.
The earliest report we have uncovered in the medical literature that relates to the concept of SHC dates to the latter 15th-Century during the reign of Bona Sforza, when the knight Polonus Vortius became "totally consumed" from fire within. Greek, Roman, and Scandinavian texts strongly suggest SHC is a phenomenon with a very long history.
Question:
SHC seems to be a rare phenomenon. Can you estimate how rare, how often it occurs?
Larry:
Mostly, SHC is said not to be a rare phenomenon but an impossible one. It is a medieval superstition; a hoax; a stain upon professional fire-fighting. As incontrovertible proof against SHC, zealous SHC-denier Mark Benecke, Ph.D, states forthrightly in "Spontaneous Human Combustion: Thoughts of a Forensic Biologist" [
Skeptical Inquirer
(Mar/Apr 1998)]: "In forensic practice, there are no known cases in which internal organs of a burned corpse were damaged more severely than the outer parts."
This is simply not true. In 1966, Dr. John Bentley's burned-up legacy consisted of one lower leg upon his bathroom floor's unburned linoleum and not one internal organ amid his few pounds of dry ash. In 2013, Danny Vanzandt left in his puzzling localized incineration one lower leg, a foot, 6 inches of backbone, his heart, upper shoulders and head but no pancreas, liver, or lungs. By Benecke's own criteria, then, SHC must be real. Right?
Fatal (ashen body) SHC is indeed extremely rare. Otherwise, mainstream medicine and fire science could not continue their facile debunking of the concept and the evidence for it. In our database of curious combustion conundrums, even more rare are the cases of survived (partial) SHC.
Some years – e.g. 1905 and 1938 – appear to host several SHC-type fire fatalities; other years, none. By 2013, our database contains about 500 episodes suggestive of SHC that span the past five centuries; 500 of the billions of humans who have lived during that period means the odds of experiencing SHC are, well, infinitesimal. Statistically, one is more likely to be the target of lightning.
That said, we are certain that: (a) history fails to record some (many?) of these events, hence the number of occurrences is higher; and (b) cases exist that currently elude our ability and resources to locate.
Question:
Skeptics have dismissed SHC as the so-called "wick effect," sparked by a lit cigarette or similar source. What does your research say about that theory?
Larry:
How blunt can we be? [
grin
] Okay. This being a family-friendly website, we shall provide a more-than-one-word answer. Along with some important history.
The "wick effect," also known as the "human candle effect," is the prevalent 20th Century explanation – or explain-away – to resolve and eliminate the "alleged" mystery of SHC. [It states] simply [that] an external ignition source – ill-dropped lit match, carelessly disposed cigarette, an arson-murder's accelerant and torch – provides the outside flame that ignites the body's fat, which then becomes the fuel that slowly burns for many hours until transforming the hapless victim into a small localized pile of desiccated powder and perhaps some body extremities. [Skeptics contend that] cases are always fatal and never witnessed, so no one can refute the omnipresent external ignition source (evidence for which has been destroyed along with the body).
Early in our research we tried to verify the wick effect's suitability. After all, why waste time chasing down an unsolved "mystery" for which there is a prosaic, and provable solution? We soaked a ham shank (with bone) in alcohol and exposed it to open flame; the sample would not sustain combustion, let alone burn to ash. We interviewed crematory owners; not one could report an instance of a cadaver burning to powder in the retort. We interviewed hundreds of first-responders and fire command officers; few had any knowledge that humans could ever burn up so completely, even when involved in fully engulfed structure and vehicular blazes.
(Background: When beginning our research, crematory retorts typically ran at 2,200-2,400 degrees Fahrenheit for 60-90 minutes, then at 1,700-2,000 degrees for another 1.5-2.5 hours. What comes out is not wholly powdered residue but ash and bone fragments, the latter then mechanically ground to powder in a cremulator. By contrast, a fire that burns a building to the ground rarely exceeds 1,700 degrees F.; bodies burned within are sufficiently intact they can be transported to morgues to be autopsied for evidence of suicide or foul-play.)
In 1999 we tested the wick theory again, this time for BBC-TV, with another ham shank that had marinated in a brew of whiskey, rum, and vodka for a full year. (Alcohol-saturated ol' sots was the prevailing 19th-Century explanation for SHC-type fire deaths.) Wrapped in flannel fabric and laid on old, fire-enhancing linoleum, the sample weakly supported an externally lit combustion for one hour before self-extinguishing. Ninety-nine percent of the sample remained intact with very minimal surface char. Definitely not what history illustrates as the aftermath of classic SHC.
Others, however, have tried the wick theory for SHC and claimed success. But ...
(a) In the 1980s, BBC-TV aired a "wick experiment" in which a sliver of fat was wrapped in cheesecloth and held over a Bunsen burner flame until the fat charred, enabling BBC-TV to claim the absurdity that this pointless demonstration disproved SHC.
(b) In 1999, BBC-TV tried again, first filming our experiment described above and then using a pig carcass as a stand-in for a human body. As none of the cases we described for the program entailed any fire-enhancing accelerants, we said to the BBC producer: "Do not let the experimenter use an accelerant on the pig." Nonetheless, BBC allowed the experimenter, famed forensic criminalist John DeHaan, to douse his pig with a liter of gasoline before igniting it – necessary to raise the heat of combustion sufficiently to produce a self-sustaining fire, he explained. After many hours, the smoldering carcass was extinguished; severely burned but not to dry powder. DeHaan and BBC claimed success, offering it as proof that only stupid uninformed folk could continue to believe in the mythology of SHC. We call it a dishonest and disreputable experimental model, but others clearly see it differently....
(c) Subsequent televised attempts by DeHaan, Ph.D, and forensics expert Mark Benecke, Ph.D, to demonstrate the success of the wick theory used more pigs. DeHaan also used a fistful of wax candles to duplicate (really?) an adult human body. The results? Either burn samples left significantly intact (certainly not wholly consumed) after many hours or, worse, hasty fire-suppression was used to prevent fully engulfed structure fires. Yet the programs and these gentlemen continue to assert that the wick theory is proof-positive against SHC, despite the experiments' unmistakable failure. Why?
Were the wick effect as successful as SHC debunkers assert, would not crematory owners simply be laying lit cigarettes on cadavers rather than spending scores of thousands of dollars on high-tech equipment?
Definitely a more-than-one-word answer. More we could say, but will hold back.
Question:
What
is
the cause of SHC? Is that known?
Larry:
No, in our humble opinion the cause(s) of SHC remain unknown; certainly nothing provable scientifically.
If
the wick effect has any applicability at all to this discussion, it requires the victim to be naturally
far more inflammable
than is the norm; otherwise, first-responders would commonly find ashed bodies among the thousands of fire fatalities annually around the world, not rarely. Therein would lie another medical anomaly to ponder and research. If one accepts the basis for one of DeHaan's wick demos, has the medical community failed to realize that some humans are comprised wholly of paraffin wax?
Question:
One of the most remarkable cases I've read about is that of Frank Baker, who has survived multiple outbreaks of SHC. Can you briefly tell us about him?
Larry:
Survivors and witnesses form a small but crucial subset in our SHC database. Confounding those who proffer the "human wick" explanation for SHC are the people who claim to eyewitness or/and to survive an SHC occurrence. It has been our privilege to meet, and to interview many whom we believe to be survivors and witnesses of partial spon-com incidents.
If you accept his story, Frank Baker is a witness to and a survivor of SHC. In 1975, several weeks apart, Mr. Baker says that his body – torso and forearm – twice erupted in "flame" for reasons he can neither comprehend nor explain. In the first occasion, he was sitting on a sofa in his Vermont living room conversing with a friend; the second time, when fishing in a small boat on a Vermont lake, again with the same friend. Neither time was either gentleman smoking, nor in the vicinity of an identifiable external ignition source, they avow. Pain was not part of the experience; surprise, horror, and mystery were. Mr. Baker's physician, who examined his patient's scars, diagnosed the burn injuries as "internal" and, not surprisingly, could offer no explanation.
Of course, one can cavalierly dismiss such testimony as fraudulent; a prank; a practical joke; too incredulous to be credible. We don't. The experience he describes, while rare, is not unique.

Question:
Does geographic location appear to be a factor for the likelihood of SHC?
Larry:
Our research suggests there is indeed a geographic component to many fires of spontaneous/unexplained origin. Both of body and of property.
In 1975 we plotted known cases of combustion phenomena on a map of the United Kingdom, looking for patterns. The U.K. has more known cases of pyrophenomena per capita than other locales, making it ideal for the exercise. More than 80% of the cases plotted are linked by at least three-point alignments, several having 4-point alignments, with one particular alignment connecting perhaps a dozen cases of bizarre blazes that occurred over a hundred years and several hundred miles. These alignments we called "fire-leynes" and coined the concept "The Cartography of Combustion," first written-up for
Fortean Times
, then in
Frontiers of Science
, then in
ABLAZE!
It's said that one verification of a theory is that it leads the researcher to new evidence predicted by the theory. By following the plotted fire-leynes during a research trip to the U.K. in 1977, we uncovered an heretofore unpublicized case of classic SHC in Lincolnshire, England; in 1980, the classic SHC fatality of Henry Thomas occurred in the obscure village of Ebbw Vale, located on a fire-leyne delineated five years earlier; in 2010 in Galway, Ireland – a city sited on another fire-leyne linking pre-1975 fire anomalies – Michael Flaherty burned up by what investigating coroner Dr. Kieran McLoughlin eventually declared "fits into the category of spontaneous human combustion."
Question:
I have heard that extremely high temperatures are involved in SHC – hotter even than mortuaries use in the cremation process. Are there theories as to what can cause such intense heat?
Larry:
Actually, we are unaware of any investigation/experimentation that shows "extreme high temperatures" are involved with SHC. The surmise that high temperature
must
be present – "like the after-burner of a jet," one fire chief described an SHC-type fatality to which he responded – is predicated on fire's known impact on the human body from countless cremations, structure fires, and fire fatalities. Dr. Wilton Marion Krogman, a renown forensic anthropologist and experimenter on fire's effects on human cadavers, told us he achieved total human skeletal calcination only at "temperatures of 3,000 degrees F. for 12 hours." So yes, SHC-type fatalities suggest(!) the temperature must be extraordinarily hot... yet nearby combustibles escape significant radiant heat damage, let alone ignite.
ABLAZE!
chronicles accounts in the medical literature of extreme hyperpyrexia: humans whose thermogenesis produces body temperatures as high as 171 degrees Fahrenheit. Furthermore, nanochemistry experiments indicate nano-scale temperatures can attain an awesome 9,000 degrees F. – sufficient to boil instantaneously the 70-75% water content of an adult body.
However, many cases suggest it is likely
not
high temperature that destroys bodies in SHC-type events. If extremely elevated temperatures are present, we submit it is but very briefly, affording no opportunity for radiant heat to reach the ignition temperatures of combustible materials near the victim.

Question:
As you mention above, one of the documented hallmarks of SHC is that while the victim's body burns almost entirely, the surrounding environment is largely unscathed. How is this possible?
Larry:
It is not possible, according to those who dismiss classic SHC-type fire scenes as the result of "hoaxes" or "clever camera angles." They are wrong. The intensely severe destruction of the human body amid an abnormally localized yet ferocious fire is the hallmark of classic SHC is undeniable to those trained professionals who have seen – and photographed – such remarkable fire scenes, ones that belie their training and prior experience at fatal fires. What makes this possible is, we submit, not due to dropping a cigarette onto an alcohol-soused overweight body that then smolders for many hours. If that were indeed possible, crematorium owners would not be spending $100,000 on a retort and cremulator, plus millions of cubic feet of gas or gallons of fuel oil, to cremate their customers; they would lay a match on the corpse, walk away for coffee or lunch, and return to find a pile of dry powder to give to next-of-kin.
If one gets beyond thinking of SHC as an oxidizing combustion, many possibilities emerge: biochemistry, bioelectricity, other quasi-bioelectric energies such as prana and kundalini, microwave (natural or man-made) sources, unquantified telluric and cosmic energies, events at the quantum level, the state of consciousness of the victim, and more. Our book
ABLAZE!
offers more than 120 avenues to consider.
Question:
Closing thoughts? Where do you hope research into SHC to lead?
Larry:
It's far past time for SHC-naysayers to put aside their smug condescending dismissals, denials, debunkings, dubious demonstrations and, in some instances, outright dishonesty, and face the facts that so displease and disconcert them. If there is a conventional explanation within conventional fire science and mainstream western medicine for the hundreds of cases of fantastic fires spanning many centuries in our database, find it and kindly show it to us. We have painstakingly searched for it. We have failed to find it. We remain open to one but, frankly, far more likely the answer(s) to SHC will be found in new knowledge and insightful revelation.
What do we hope for our research?
First, to an increased courage to report the phenomenon. People having a personal familiarity with this phenomenon are extremely reluctant to speak about it, due to xenophobia or fear of ridicule. Solving the mystery of SHC, if such is possible, can best be accomplished by: a) availability of more data to SHC researchers, which requires the cooperation of fire professionals as well as openness by family members having personal experience with cases; b) inquisitive minds willing to assess the evidence honestly and explore frontiers.
Second, to discovering new understanding about human biology; insight into the interplay between human bio-energy and eco-energy; and of energy, generally.
Third, to saving lives. Continued documentation and research of SHC just might lead to saving of life. So long as mainstream medicine and fire science reject the legacy of these abnormal combustions, people will continue to experience – and some will die from – SHC-type incidents.
Fourth, to Nobel Prizes in Medicine and in Physics. Why not? How many researchers can claim to have discovered an entirely new "disease" that has plagued mankind for centuries if not millennia? Its "cure" – its mere investigation – challenges, and will likely extend, the boundaries of current biophysics, physics, even cosmogony.
Thank your for your interest in our research and viewpoints, and excellent question set.
Source:
Stephen Wagner, ParanormalPhenomena, February 2014.