Post by Graveyardbride on Dec 2, 2019 21:15:18 GMT -5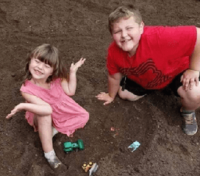 Mother of Hanged Children Arrested, Charged with Murder
It was announced today that Lisa Rachelle Snyder, 36, the mother of two children (above) found hanged in their home in Albany Township, Penn., has been arrested on charges of first-degree murder, third-degree murder and endangering the welfare of children. Her son and daughter, 8-year-old Conner and 4-year-old Brinley, were discovered in the basement hanging from a dog leash on September 23.
While on the phone with the 911 dispatcher, Snyder claimed Connor was suicidal from being bullied in school and suggested he took Brinley with him because he "didn't want to go alone."
In a news conference, Berks County District Attorney John Adams said, "This was a horrific, tragic incident. ... Eight-year-olds, generally, that I am aware of, do not commit suicide, so of course, we had questions almost immediately." Snyder, he added, didn't even return to the basement where paramedics were working to save her children. "I would agree that we all may think that a mother of children who are found hanging would make every effort possible to save them," he continued. "That was not done in this situation."
First responders reported finding the children "hanging approximately three feet apart from a single wired cable with plastic coating." It was later discovered the dog leash wrapped around the main support beam was purchased the day before. Two dining chairs were knocked over, indicating the children had stood on the chairs.
Paramedics were successful in reviving the children and transported them to the hospital, however, both were removed from life support and died three days later.
During the investigation, a person who lived in the Snyder house told authorities Connor wasn't suicidal, nor had he been bullied. School officials and classmates also denied anyone had bullied the boy. Additionally, troopers obtained video footage from the boy's school bus security cameras and he showed "no signs of distress."
Police seized the cellphone Snyder (above) used to make the 911 call, a computer and an iPad. According to investigators, the day before the children were hanged, their mother conducted a Google search for "hanging yourself" and visited a website detailing an effective method of hanging. She also searched "how long to die" from carbon monoxide poisoning and "almost got away with it," a reference to an Investigative Discovery TV show.
Snyder explained that when Connor came home, he wanted to play on his iPad or laptop, but couldn't find the charger, so he asked his sister if she wanted to go downstairs to build a fort. "He loves building forts, that's his thing," she said. "They play downstairs in the basement all the time." He also asked if he could take the kitchen chairs downstairs and for permission to use the dog leash she had purchased online and picked up at the Hamburg Walmart the day before. She told police the chairs were heavy and Connor had to take them downstairs one by one. She heard the "plump" of the first chair on the step, followed by the creak of the steps, indicating it was a "slow go," she explained. He then came back for the second chair and got a drink.
According to Snyder, she was putting away laundry, took the dog outside and had a cigarette. She threw the dog's toy for the animal to retrieve and estimated she was outside around 10 minutes. She then went downstairs to see if the children wanted frozen pizza or Chef Boyardee for dinner and "observed both hanging."
She allegedly attempted to lift her 40-pound daughter, but said when her "anxiety spikes," she sweats profusely and was unable to get the leash off the child. She then tried to lift Connor, who weighed 151 pounds, but was unable to do so. Her next step was to call 911.
Snyder later created a private Facebook Page called "Remembering Conner & Brinley" on which she wrote: "Everyday it gets harder. I miss you both so much. I just wanna hold you n kiss you. All I do is cry. I love you both with all my heart. I just want you back."
Also, during the weeks leading up to the hangings, Snyder sent at least three photos of herself engaging in sexual activity with her black and white pit bull and animal abuse was added to the other charges.
Sources:
Robert Gearty, Fox News, December 2, 2019; David Mekeel,
The Reading Eagle
, December 1, 2019; and Jim Vasil, WFMZ.