Post by Graveyardbride on Jan 22, 2014 11:41:31 GMT -5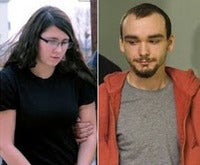 Ex-roommate: 'Thrill kill' suspects into Satanism
SUNBURY, Penn. – On the eve of Miranda Barbour's formal homicide arraignment, a former roommate said that during one of three police searches of her home, a Satanic Bible was removed from under the 19-year-old's bed. Authorities also collected two large knives and clothes worn the night of the slaying.
The man, who asked not to be identified, said police also found drug paraphernalia when they conducted the searches after the slaying of Troy LaFerrara.
LaFerrara, 42, of Port Trevorton, was found dead on November 12 in an alley behind Catawissa Avenue in Sunbury.
Police charged Miranda Barbour, 19, and her husband, Elytte Barbour, 22, both of Selinsgrove, with the murder, saying LaFerrara was choked and stabbed to death.
"They (police) came three different times," the former roommate said Monday. "One of the things they found was a Satanic Bible, although Elytte (Barbour) was not a Satan worshiper."
Police would not discuss what was found inside the Barbour residence and the search warrant has been sealed by a Snyder County judge.
Police believe the Barbours plotted to kill "someone, anyone" in what has been described as a thrill killing.
Night of slaying.
Elytte Barbour told police the newlyweds had planned to kill before but didn't get the opportunity. They found LaFerrara through a Craigslist ad placed by Miranda Barbour, authorities have said.
Police contend that on the night of November 13, 2013, Miranda and LaFerrara agreed to meet for sex. LaFerrara got into the red Honda CRV that Miranda Barbour was driving, and after a signal was given, Elytte Barbour jumped out from under a blanket and wrapped a cord around LaFerrara's neck while Miranda stabbed him repeatedly.
The couple later washed blood from the car and drove to a strip club to celebrate Elytte Barbour's birthday.
Miranda Barbour told police LaFerrara (above) tried to grope her and that she blacked out and began to stab LaFerrara and then drove around Sunbury until she found an alley where she could leave his body.
Occult fascination.
Several weeks ago,
The Daily Item
spoke with the mother of Elytte Barbour's child in North Carolina, a woman who said Barbour was infatuated with Satanism.
Aimee Vaneyll, of Coats, North Carolina, said: "People will say he was a devil worshiper. That isn't true. What he believed in was Satanism."
"Satanism isn't about being scary," Vaneyll said. "It's about believing in yourself, and not oppress the instincts you were born with."
Vaneyll said Elytte Barbour just loved to hang out with his friends and play video games. Some of those games included "Triforce Zelda," "Silent Hill," a horror survivalist video game based on a person attempting to defeat the evil forces in the fictional town of Silent Hill, based on the town of Centralia in Columbia County. Another game Elytte Barbour liked was "Skyrim," a game based on a fictional world, where characters work to defeat evil forces, Vaneyll said.
The former roommate agreed with Vaneyll about the Barbours' fascination with the occult.
"She had told him they needed to perform rituals to become closer to each other," he said.
He also said that when police arrived a second time and entered the room where the Barbours were living, they removed two knives, one of which was a hunting knife with jagged edges. They also took a black dress and other articles of clothing.
The man said police came back a third time and went through the entire house and took other pieces of evidence.
The man said the Barbours came to Pennsylvania because Elytte Barbour may have gotten into using hard drugs.
"He told me he smoked crack," the man said.
When his former girlfriend, Vaneyll, learned Elytte married Miranda, Vaneyll said she was shocked.
"They came back from getting married and never told anyone," she said. "Miranda still lived with her aunt and uncle, and Elytte was still with his parents."
Vaneyll said she is still in shock over the allegations against the Barbours, but she is certain of one thing.
"Elytte is a bad liar," she said. "He doesn't know how to lie."
Miranda Barbour is expected in Northumberland County Court at 9 a.m. today.
Source:
Francis Scarcella,
The Daily Item
, January 21, 2014.