Post by Graveyardbride on Oct 6, 2019 23:21:03 GMT -5
Haunted House on Hobo Hill Available as Short-Term Rental
Though Aaron and Erin Clark remained in their haunted home six months longer than George and Kathy Lutz stayed in the Amityville Horror house, if the Clarks are telling the truth, one wonders why they didn't leave as soon as the ghosts and demons showed up.
Back in 1910, Adolph Brandenberger, a druggist, and his wife Beulah, built a rather plain 2½-story, red-brick house on Hobo Hill overlooking the downtown area of Jefferson City, Missouri. The pair lived at the residence until 1922 when they relocated to St. Louis, where they opened and operated a drug store. William C. and Pauline Dallmeyer Hoefer bought the house from the Brandenbergers and family members lived at 500 E. Miller Avenue until 1962. The property wasn't sold again until 1997, when it was purchased by Brice E.J. and Lori C. Imsland, who lived in the residence off-and-on until around 2014.
So far as is known, no one ever reported any ghostly activity in the dwelling and unlike the Amityville house, where Butch DeFeo shot and killed his parents and four siblings, nothing untoward ever happened at the address.
When the Clarks, a mixed couple (he's black), bought the 5,000-square-foot structure, known as Hobo Hill House, in August 2017, it had been gutted down to the studs. Still, the couple was interested. "My wife's family lives in California, Missouri, and we wanted to move closer to family, especially for our children," Clark, who is a professional photographer and the owner of Boy Aaron Photography, explained. His wife works from home in the alternative/personal shopping field. "We were looking for investment properties and saw this home on the internet. With this house, we thought we might be able to make this our home. We saw the potential in it," Clark continued. "We knew it needed a lot of work, but we were excited to get our hands on it. We liked the feel of it and wanted to keep the originality it had. Our vision was to make it as original as it was. It has an antique look with a modern look."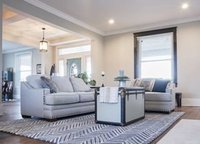 Though they didn't skimp on the modern amenities, the Clarks attempted to maintain and restore many aspects of the old home, including the hardwood floors. "My wife and I were able to bring back a lot of the original floors," Aaron said. "I patched them and she stained and waxed them. There was also a unique size of the original floor trim. We kept that and/or tried to replicate it. We loved the original flavor of the house." The new owners also retained the exceptional stained glass window in hues of orange, red and blue on the second-floor landing.
In September 2018, the Clarks received the Historic Jefferson Golden Hammer Award and they and their two children – Raena, age 7, and Titus, 2, – moved into their dream home with the intentions of becoming a part of the Hobo Hill Historic District.
But this was not to be for shortly after they settled in, things began to happen. The television, lights, space heaters and garbage disposal would suddenly turn on and the family's pet pit bull refused to go near certain areas of the house, including the stairs. There were also frequent loud knocks, bangs and creaks – much more than is normally associated with the settling of a hundred-year-old building. Then the voices started: At times when they entered their home, a disembodied voice would distinctly call out "Hi," even though no one else was around.
Still, the noises and phantom voices were minor in comparison to what happened to their daughter. The little girl, who by this time had turned 8-years-old, began having nightmares and walking in her sleep. "She was standing outside of her bed staring out the window and she was still crying, just sobbing," Aaron recalled in a KRGC interview. "I could see her shoulders going up and down, and I was like 'Raena, what's wrong? Are you okay? Are you okay?' And she turned around – and it scared the life out of me because it went from crying to this Cheshire [cat] big smile, kind of like The Joker," he claimed, describing his daughter as "wide-eyed and shaking" like she was "possessed."
Another incident convinced the couple their house was definitely haunted. "The craziest thing, besides my daughter, at least in my opinion, was both my wife and I, from the corner of our eyes, saw a tall man in a suit and top hat," Aaron added.
All this was too much for the Clarks and a short seven months after moving in, they vacated their Hobo Hill home, but instead of attempting to unload a haunted house, they advertised it as a short-term rental and emphasized its ghosts. "We didn't think it would be right selling to another family knowing what we know," Aaron explained. So they decided to "turn lemons into lemonade," he continued, adding they thought "since the prison is so close and people in Jeff are interested in that sort of thing [the paranormal], we'll just turn it into a short-term Airbnb, and people can stay and have experiences." Nevertheless, he claimed the first group that rented the property "couldn't stay the whole night."
While the revelations about the home's haunted status will certainly deter many, it's a magnet for so-called paranormal investigators and amateur ghost-hunters. And since August 1, when the house was featured on
The Dead Files
in an episode called "Not My Child," in which it was suggested the dwelling is, indeed, infested by other-worldly beings, there has been an even greater interest. "I was happy to know we weren't crazy," Clark admitted, "that what we were feeling and experiencing was correct."
Sources:
Nicole Roberts,
The Jefferson City News-Tribune
, July 25, 2019, Jordi Lippe-McGraw,
The New York Post
, August 31, 2019; Elizabeth Gulino,
House Beautiful
, September 4, 2019; KRGC-TV; and Airbnb.