Post by Graveyardbride on Oct 5, 2019 15:51:58 GMT -5
The Ellis Estate: The House by the Cemetery
The old Ellis home in Scituate, Massachusetts, starred in both
The House by the Cemetery
(1981) and
Ghosthouse
(1988). Built in 1874, the grand mansion at 709 Country Way has been restored and is now home to the Scituate Arts Association.
If you've seen the films, you know
The House by the Cemetery
is a horror tale by an Italian producer about Dr. Norman Boyle, a New York researcher, who moves his family from the city to an old home in the fictional town of New Whitby, Massachusetts. Boyle's intention is to continue his investigation of a recently-deceased colleague who committed suicide after spending time in the dilapidated manse, the front lawn of which is scattered with headstones. Before long, it becomes apparent there's "something" in the cellar.
In
Ghosthouse
, a group of unlikely companions respond to a radio call that leads them to a deserted and ultra-spooky old home from the Victorian era with a grisly past. After exploring the building, the group foolishly decides to split up, which leads to encounters with severed heads, exploding light bulbs, creepy children and a demonic clown doll. The primary evil force is attached to the doll that an unscrupulous undertaker snatched from a child's coffin and gave to his own daughter.
Why would anyone bury a child with a clown doll?
The home was occupied by the Ellis family, prominent Boston merchants, until 1969, when they sold their residence to the Town of Scituate. The house remains part of a town-owned historical property called the Ellis Estate that includes 120 acres of publicly-accessible forest and trails. The edifice, surrounded by thick woods, is situated well back from Country Way. If you visit, don't look for tombstones in the front yard – those were props – members of the Ellis and Bailey families are buried in Groveland Cemetery, some 1,500 feet to the east of the home.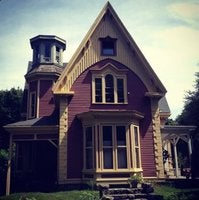 Instead of the once sedate grey, trimmed in white, the historical dwelling is now painted a garish red and yellow and no longer appears haunted – or rather, it doesn't look as haunted as it did when the movies were filmed.

For those interested in visiting an actual haunted house, so far as is known, no ghosts stalk the corridors of the old Ellis house.
Sources:
The Town of Scituate; The Scituate Arts Association, Inc.; and Atlas Obscura.