Post by JoannaB on Aug 11, 2019 9:14:44 GMT -5
Dog-Owners Discard Bags of Waste on Graves
British dog-owners in the village of Powik, Worcestershire, are walking their dogs in the cemetery and leaving bags of waste on graves.
Gary Crellin, vicar of St. Peter's Church (below), is extremely upset about the disrespectful practice and has posted photos on the Powick Village News Facebook page. "I am the custodian of the yard for all those families that have entrusted their loved ones to God's care in such a beautiful and special place," he said. "This is a perennial problem in the churchyard and what I saw earlier this week is the most upsetting."
Many have responded to the vicar's post:
"Absolutely disgusting and disrespectful - this person/s shouldn't be allowed to own a dog - they're obviously clueless, lazy and clearly have no respect." –
Lynne Williams
.
"Unbelievable – have some people got no respect – very sad." –
Jenny Roberts
.
"That is appalling – what is the matter with some people?" –
Maggie Miles Quinn
.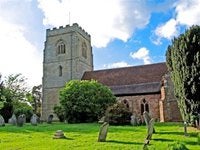 "I am heartened by the support I am getting from my post but really regret the need to having had to post such upsetting images," Rev. Crellin added. "As a church, we got involved in the great British litter pick earlier in the year – we cleared out the church bins and yard with help from Malvern Hills District Council. We don't have bins in the yard for dog waste – people were previously using a garden refuse bin which is what the spring clear up cleared out. As a church we have a number of modest notices in situ to ask folk to politely keep their dogs under control and tidy up etc. I am saddened that it has little affect."
"Not disposing of dog waste appropriately is irresponsible behavior," said Amanda Smith, community services manager at Malvern Hills District Council, " and it is not only an eyesore but it is also dangerous to health. We enforce a Public Space Protection Order (PSPO) for dog fouling which, if breached, may incur a fixed penalty notice of £100 or result in the individual responsible being taken to court. We are currently working with partners, parish councils and members of the public to identify hotspots and increase patrols around these areas."
Source:
Halesowen News
, August 9, 2019.