Post by Joanna on Mar 18, 2017 1:28:07 GMT -5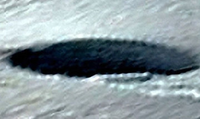 Former Navy Man Tells of Seeing Entrance to UFO Base in Antarctica

A former US naval petty officer has shockingly claimed to have seen the entrance to a secret alien base and UFOs while on duty in the Antarctic. The former military man, who is said to have seen 20 years of service, has allegedly revealed the startling story to US conspiracy theorist investigative journalist Linda Moulton Howe.

Mrs. Howe, 75, from Albuquerque, New Mexico, who has received awards for her paranormal research through website Earthfiles.com, says she was contacted several times by the whistleblower she has referred to only as Brian. In a series of videos released on YouTube, Mrs. Howe is heard interviewing Brian about what he allegedly saw.

Brian, 59, who claims to be a retired US Navy 1st Class Petty Officer flight engineer serving in a squadron called Antarctic Development Squadron Six, reported he was a part of a crew that flew through a "no fly zone" above Antarctica and saw UFOs, aliens and a giant entrance hole to an alien base. He said he was stationed there between 1983 and 1997 (according to the video, he was in Antarctica in 1995 and 96), and on several occasions saw "aerial silver discs" flying over the Transantarctic Mountains.

In the videos, he claimed there is a top-secret collaboration between humans and aliens, with Antarctica a major research ground for the projects. He claimed the large hole was five to 10 miles from the South Pole, in the supposed no fly zone. He also said a group of scientists had gone missing for a week and came back terrified and refusing to speak. Then at a camp near Marie Byrd Land, some dozen scientists disappeared for two weeks and when they reappeared, Brian's flight crew received the assignment to pick them up. He said they would not talk and "their faces looked scared."

In an email to Mrs. Howe, he wrote: "Another unique issue with South Pole station is that our aircraft was not allowed to fly over a certain area designated five miles from the station. "The reason stated because of a air sampling camp in that area. This did not make any sense to any of us on the crew because on two different occasions we had to fly over this area. It was on the opposite side of the continent and we had to refuel at South Pole and a direct course to this Davis Camp was right over the air sampling station," he continued. "The only thing we saw going over this camp was a very large hole going into the ice. You could fly one of our LC130s into this thing. Talk among the flight crews was that there is a UFO base at South Pole and some of the crew heard talk from some of the scientists working with and interacting with the scientists at that air sampling camp/large ice hole."

Earthfiles has published a redacted DD-214 document and Antarctic Service Medal awarded to Brian, November 20, 1984, in a bid to confirm his credentials. The claims have caused ripples in the UFO community. An article on unsilentmajoritynews.com said: "Over the years, there have been a ton of articles on the Internet dealing with the mysteries and anomalies that involve the Antarctic. Many of them have been debunked, or at least the person writing claims to have debunked various stories.

"I too have personally written about the mysterious activity alleged to be taking place on the frozen continent, but the following story should be elevated above all others in my humble opinion. Why?

"What makes this story far more credible than many others is who did the research. Linda Moulton Howe isn't some internet hack; She's an Emmy Award-winning TV producer, investigative reporter for radio and internet, and author, who goes directly to the men and women at the forefront of science and environmental breakthroughs and to firsthand eyewitnesses of high strangeness."

However, Nigel Watson. author of the UFO Investigations Manual, dismissed the account, saying: "Antarctica is often cited as the base for UFO activity, but like this story, the evidence is based on rumors and information from anonymous or unreliable sources. So I wouldn't give it much credit."

Video: www.youtube.com/watch?v=o4COgRtvias

Source: Jon Austin, The Express, March 16, 2017.