Post by Graveyardbride on Oct 23, 2016 8:02:21 GMT -5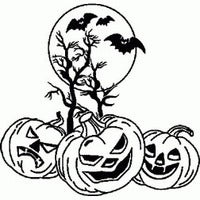 Halloween Superstitions
A Dangerous Look.
Anyone who has to leave his house on Halloween night and walk for any distance, should stare straight ahead, regardless of what he hears behind or on either side of him. If he turns to investigate, he may look directly into the eyes of an evil spirit and if this happens, he could drop dead, even if the spirit is invisible.

Fending Off Evil Spirits.
If you have to be outdoors after midnight on Halloween, carry a strong flashlight or torch and keep it lit until you are safely inside your house again. Spirts are able to perform their evil deeds only in complete darkness and a light of any kind destroys their power.

Sleeping with an Apple under the Pillow.
A girl who catches an apple with her teeth when she bobs for apples on Halloween will dream of her future husband if she sleeps with that apple under her pillow that night.
Raising an Apparition.
If a girl who catches an apple while bobbing eats it slowly while standing alone in front of a mirror at midnight on Halloween night, she will see the apparition of her future husband in the mirror behind her. However, she must not turn around, for if she does, the apparition will disappear along with her chances of marrying him.
The Midnight Assembly.
At midnight on Halloween, the dead gather at a prearranged meeting place as soon as they hear the signal, usually the long, drawn-out hoot of an owl. When they are all assembled, they are told where they will have to meet at dawn and are then allowed to do anything they wish until sunrise.

Evil Spirts Turned into Crows as Punishment.
Evil spirits who do not arrive at the designated meeting place by sunrise on November 1 will be turned into crows and must subsist on carrion until the following year. Although it is impossible to kill any of these crows, they do not pose a threat to mankind for they do not have the power to hurt anyone.
Source:
Strange Beliefs, Customs and Superstitions of New England
by Robert Ellis Cahill.