Post by Graveyardbride on Mar 8, 2016 12:05:43 GMT -5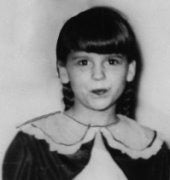 One Silent Voice: The Jeannie Singleton Story
KALAMAZOO, Mich. – While her killer will never be brought to justice, two local authors hope their book will ensure that Jeannie Singleton's story is not forgotten.
One Silent Voice: The Jeannie Singleton Story
was released in December by authors Nicole and Robert Du Shane, of Kalamazoo. The 120-page effort, which was released by the Du Shanes' Hopkins House Publishing, is the result of more than two years of researching Jeannie's unsolved May 23, 1955, murder. The book is available in paperback and Kindle editions at Amazon and also for sale at Kazoo Books. It will also be sold by Barnes & Noble Booksellers, Robert said. "It's doing great," Nicole Du Shane advised. "We've gotten really good reviews on it, especially from people who knew Jeannie."
Jeannie was eight-years-old when she disappeared in 1955 while walking home from Woodward School. A schoolmate, Robert Holderbaum, last saw the second-grader as she proceeded up Blakeslee Street from Douglas Avenue. She never made it to her house, which was a short distance away at 1310 Blakeslee. Her disappearance prompted what, at the time, was the largest organized search ever in the Kalamazoo area. The girl's body was found nine days later, on June 1, 1955, by a group of children who were playing a game of hide-and-seek on a pine-covered hill in Allegan County, 15 miles north of Kalamazoo. Jeannie had been sexually assaulted and strangled.
The Du Shanes recount the case in their book and the time spent was "absolutely worth it," Nicole insists. "We've heard back from some people who went to school with Jeannie, former best friends," she adds. "They deeply appreciate that we did the book and kept her memory out there."
No arrests were ever made in Jeannie's killing, although police zeroed in on Stanley B. Edgerton, a 29-year-old electrician from Kalamazoo. Edgerton was never charged and, according to public records, died in 2014 in Arizona at the age of 88. Police also looked at other suspects who didn't pan out.
Michigan State Police maintain an open file on Jeannie's case and last year, Detective Sgt. Mike Spring said he and his boss, Detective 1st Lt. Chuck Christensen interviewed "a very, very good candidate" as a suspect in 2012, but never had enough evidence to present a case to a prosecutor. Spring and Christensen declined to name the man, but said he lived in a southwestern state. Last year, Christensen said he believes they were face-to-face with Jeannie's killer during the 2012 interview.
Nicole Du Shane says she hopes the book about Jeannie's case will help people remember her. "The people who lived through it back in 1955 have obviously never forgotten, but the majority of Kalamazoo either does not remember her, or has no clue she even existed," Nicole said.
Source:
Rex Hall Jr., MichiganLive, February 22, 2016.