Post by Graveyardbride on Nov 10, 2013 15:49:26 GMT -5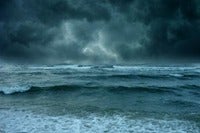 Beware the November Witch

If you thought all the "witches" packed it in after extorting candy from you on Halloween night, think again! Oz's Wicked Witch of the West has nothing on the dreaded "November Witch," the cruelest witch of all. The November Witch, sometimes phrased "The Witch of November," is a popular name for the frequent and brutal system of windy storms that come screaming across the Great Lakes from Canada every autumn.
Though termed "lakes," North America's Great Lakes are all large enough to create their own weather systems, making them, more accurately, inland seas. In fact, collectively, the Great Lakes chain makes up the Earth's largest system of freshwater seas. Each year, right around mid-November, violent gales occur when the low pressure from the frigid arctic air comes into contact with warmer from the Gulf of Mexico. These storms can be so severe their force is equivalent to a low-level hurricane, with winds above 80 miles per hour and towering 20-foot seas. This year, the November Witch made an early appearance, with gale-force winds battering Minnesota and Wisconsin bringing record low barometric pressure during the night and early morning of October 26 and 27, though this is unlikely to be the last we see of this season's "Witch."

The term "Witch of November" was famously used in the song "The Wreck of the Edmund Fitzgerald" by Canadian singer-songwriter Gordon Lightfoot, a poetic tribute to one of the most well-known Great Lakes shipwrecks in recent memory. On November 10, 1975, the SS Edmund Fitzgerald, a massive ore freighter that had once been the largest in its class, sank to the bottom of Lake Superior during a particularly violent autumn gale, killing all 29 of its crew members.

Although one of the most infamous, Edmund Fitzgerald is far from the only ship to succumb to the November Witch. The bottoms of all five Great Lakes are littered with thousands of wrecked vessels. More than 6,000 ships were lost on the Great Lakes between the years 1878 and 1897 alone. Over the last 300 years, an estimated 25,000 mariners have lost their lives on the Great Lakes, with the vast majority of those casualties occurring within the icy grip of the November Witch.

Source: Jaime McLeod, Old Farmer's Almanac, November 8, 2010.