Post by Graveyardbride on Oct 31, 2015 6:11:13 GMT -5
Haunts of Central Florida
If you love a good scare, this article is for you. What better day to indulge our love of local lore than Halloween? I'm not much for hokey ghost stories. Don't believe in the stuff. So I made sure these tales of haunts have a hint of real history. Some of my favorite creepy Central Florida yarns come just in time for trick-or-treating:
A cat named Brutus.
One thing you should know about Pam Redditt is that she doesn't believe in ghost stories either. At least, that's what she thought. "I definitely was a nonbeliever when I started working here and when I bought the business," she told me. Redditt owns the Cottage Gift Shop, a lovely little boutique located in Longwood's Inside-Outside House (above). The 142-year-old home is known for its wood railings on the front porch that are as ornate and delicate as the filigree in a fine ring and the house is thought to be one of the oldest prefab residences in the country. It was built in Boston about 1873 by sea Captain W. Pierce. He had the dwelling shipped to Sanford and, according to the city's historical guide, mule-carted to Altamonte Springs. It was moved to Longwood in 1973 when it faced demolition. For decades, the home has served as a gift shop and, if you believe the stories, continues to be occupied by the captain and his cat, Brutus. "Every once in a while, there are things that happen that you can't explain," says Redditt. A silhouette in the upstairs window when no one is there. Items that rearrange themselves on shelves. And, it's been said, the feeling of Brutus brushing up against your legs. "I have become respectful of spirit," Redditt admits, and leaves it at that.
Oviedo Lights.
There have long been campfire tales of ghost lights appearing off Snow Hill Road near Chuluota and Oviedo. People say it's the apparition of a lost Boy Scout with a lantern. At least one scientist theorized the glow is just swamp gas caught by moonlight. Back in 1969, a group from the University of Central Florida, then known as Florida Tech, researched the lights, but concluded there was "insufficient information" to form a scientific opinion. I've never talked to anyone who has actually seen the lights, but maybe there's a UCF grad student out there willing to reopen the case.
I-4 Dead Zone.
Interstate 4 is a frightening place, no doubt. But I don't give much credence to the stories that a particular stretch near Lake Monroe and the St. Johns River Bridge is any worse than the rest. It does appear, however, that a family of German immigrants died of yellow fever in 1886 and their graves were paved over by the interstate. Charlie Carlson, a local historian who died earlier this year, was the first to talk about the so-called "I-4 Dead Zone" in his books such as
Weird Florida
. The Weather Channel aired a segment on it last year because Carlson credited the zone with attracting Hurricanes Donna and Charley. "There are graves under the interstate," said local historian and former
Sentinel
writer Jim Robison. "But there are graves all over Florida. I don't believe any of this stuff."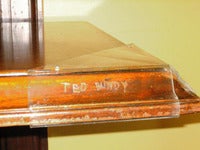 Autograph of a serial killer? Anyone who's been on a tour of the Orange County Regional History Center might have noticed Ted Bundy's name scrawled into an old wooden table in the courtroom. The center is the old courthouse and one courtroom was preserved as an exhibit. But how did Bundy's name get etched into the table? Some speculated it was the killer himself. Lynn Thompson, a public defender who assisted in Bundy's defense in his 1980 trial for the kidnaping and murder of Kimberly Leach, doubts his client was the woodcarver. Thompson, who now practices in Crawfordville, south of Tallahassee, says he doesn't recall Bundy's ever being in the old building, but he isn't absolutely certain. Two historians – Joy Dickinson, who writes the Sentinel's Florida Flashback column, and Tana Porter, who worked for the history center – decided to do some sleuthing. Bundy's trial and holding cell were actually in the old annex building, which once stood where the plaza in front of the history center is today. They talked to judges and bailiffs and none could remember the table's ever being in that building – but the trial was 35 years ago, so how could they be sure? "Plus, it's gouged in there pretty good – like with a paper clip or a knife," Porter said. "There would have been people around. They wouldn't have let him do that." Seems logical. So who did it? No one knows. Perhaps it was a prank done before the old courthouse closed. Michael Perkins, the center's executive director, doesn't believe in ghost stories, but says, "I have staff here who are absolutely convinced the building is haunted."
Source:
Beth Kassab,
The Orlando Sentinel
, October 30, 2015, and HauntedBundy.