Post by Joanna on Oct 13, 2015 0:19:34 GMT -5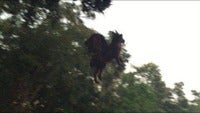 Is the Jersey Devil Real?
Is the Jersey Devil Monster real or a hoax? New sightings captured on video and in photos of a mysterious winged creature flying through the New Jersey Pinelands has gotten residents of Galloway Township in New Jersey wondering if the legend of the Jersey Devil Monster might be real.
Though residents of the Pineland regions in southern New Jersey have long told tales of a legendary creature or cryptid they call the Jersey Devil, few have given much credence to the tale. That is, until recent sightings, including photos and video footage by Dave Black, a security guard from Little Egg Harbor Township. According to Black, "I was just driving past the golf course in Galloway on Route 9 and had to shake my head a few times when I thought I saw a llama," he wrote in an email to NJ.com. The creature Black mistook for a llama initially was running in and out of the woods. Then, suddenly the "llama" revealed a pair of leathery, bat-like wings which it used to propel itself into the sky. "It spread out leathery wings and flew off over the golf course," he said. The security guard could hardly believe what he was seeing, so he pulled out his cellphone and decided to capture as many photos (see above) as he could of the creature.
After the creature disappeared Black found himself thinking "I've just seen the Jersey Devil Monster." Unsure if his mind was playing tricks on him, Black spent a few hours examining the photos again and again, before deciding to email them to NJ.com to be shared with readers. "I swear it's not Photoshopped or a staged thing," he told NJ.com. "People have said it's fake, but it's not. I'm honestly just looking for an explanation for what I saw."
Soon after Black's report made headlines at NJ.com, another post appeared on the Weird New Jersey website where yet another New Jersey resident called "Emily" sent in a video clip, claiming she, too, had seen the New Jersey Devil. Here's what the message accompanying her video of the Jersey devil said: "I realize this sounds crazy but I saw a red animal with a long neck and horns. I swear on my mother's grave, this is not a joke. I pulled over to take a video and as I started filming it got on its hind legs and flew away. I am an middle school teacher but moonlight tutoring algebra for high school students. Was driving home from an appointment on Old Port Republic Rd in Leeds Point when I took this video. So excited, had to share with someone. I searched online and a few others have similar stories. Channel 12 posted a photo online of it." Watch the video:
www.youtube.com/watch?v=cXjUDCA2ovI
While we're not sure what to make of the separate claims by Dave Black and "Emily," that the Jersey Devil is real and roaming southern New Jersey, one thing we do know: it's perfectly delightful. After all, who doesn't love a good mysterious devil sighting during the Halloween season?
Source:
Cammy Harbison, iDigitalTimes, October 12, 2015.