Post by Graveyardbride on Nov 23, 2014 16:02:52 GMT -5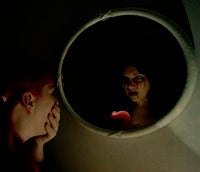 Urban Legends You Were Right to Believe
Urban legends are generally a letdown: There are no alligators in the subway, the Pop Rocks will not kill you and the telephone call is probably not coming from inside the house. When was the last time someone actually called you, anyway?
But, plenty of these classic myths are actually true – and the truth is often more ghastly and macabre than the fiction. Even more interesting is how some of these fables originated. Myths have to start somewhere and oftentimes it's a dark chapter in history or a strange effect of our own minds. Sometimes, the boogeyman is real. Sometimes, those campfire stories and old wives' tales were right to scare the beejesus out of you. You may have had some sleepless nights over these spooky tales, but your nightmares were not in vain. And that face you saw in the bathroom mirror may not have been your imagination.
Bloody Mary. The Myth: According to the legend, if you turn off the lights, light a candle and stare into the bathroom mirror chanting "Bloody Mary," her specter specter will appear.

The Origin: This type "mirror witch" legend goes back centuries, but is largely associated with Queen Mary I of England. Often called "Bloody Mary," she was a staunch Catholic who put many Protestants to death during her reign. One version of the Bloody Mary mirror trick claims the phantom appears holding a dead baby. This is likely another reference to Mary I, who never had children, but suffered false ("hysterical") pregnancies in her desperation to produce an heir to the throne. So, why is she showing up in our bathroom mirrors?
The Truth:
The answer has less to do with chanting her name and more about turning off the lights. The Caputo Effect is a spontaneous reaction that happens to our brains in this sort of sensory deprivation. Psychologist Giovanni Caputo placed subjects in a dimly lit room and directed them to stare in a mirror. After about a minute of staring, they began to see a facial apparition in the reflection. The truth is, what we see in such a situation is a distorted version of our own faces, but the illusion is so startling the imagination can instantly fill in the details. So, why are you seeing an evil face in the mirror? Because that's what you want to see.

The Body Under the Bed.
The Myth:
A motel guest complains of an overwhelming stench in the room only to discover a dead body underneath the bed.
The Origin:
The people who investigate such things date this legend to 1991 when folklorist Jan Harold Brunvand investigated a report of such a gruesome discovery in a Las Vegas hotel. That particular case turned out to be false, but this is one case where truth is grosser than fiction.
The Truth:
This has happened more than once. You wouldn't believe how many reports of corpse under the bed complaints turn out to be true. For example, on March 15, 2010, a couple staying in Room 222 of the Budge Lodge in Memphis, Tenn., discovered the body of a woman missing since January 27. In June 2013, a rotting corpse was discovered beneath the bed at a Motel6 in Hickory, N.C. There are others: December 1982, North Bergen, N.J.; 1988, Mineola, N.J.; 1989, Alexandria, Va.; March 1994, Miami, Fla.; August 1994, Fort Lauderdale, Fla.; June 1996, Pasadena, Calif.; June 1999, Atlantic City, N.J.; June 2003, Kansas City, Mo.; and the list goes on. Moral of story: when you check into a hotel or motel, look under the bed.
Lightning and the Telephone.
The Myth:
People routinely get killed while talking on the phone during thunderstorms.
The Origin:
Lightning legends have probably been around as long as lightning. But this one emerged when telephones became a common household item in the late 19th century. You probably grew up with your mom reminding you to get off the phone when thunder started rumbling. She was right!
The Truth:
Lightning is no joke. Every year, a thousand people are struck in various ways and many of them die. Getting struck via telephone isn't as likely today as it once was, but it happens. Do yourself a favor and stay away from corded electronics, concrete walls or floors, windows and plumbing (yup, the shower myth also true).
Cropsey.
The Myth:
An escaped mental patient haunts an abandoned institution, sneaking out at night to troll suburban neighborhoods, murdering children.
The Origin:
In a decades-old legend throughout the Northeast, "Cropsey" was the boogeyman
du jour
. True, the backstory of this specter fits the traditional boogeyman bill, but the history behind it is darker than any camp tale.
The Truth:
Andre Rand was not a patient but an employee at the Willowbrook State School on Staten Island – essentially a dumping ground for New York's disabled and disturbed children. The place was exposed for its monstrous abuse and neglect of patients and eventually shut down in 1987. That's when local residents reported seeing someone lurking on the abandoned grounds. The local Cropsey legend emerged and as more and more children went missing on the island, many suspected it had something to do with Willowbrook and the mysterious lurker. One year later, Rand was arrested for the kidnapping and murder of an 8-year-old girl. He was later convicted in another girl's disappearance and though never brought to trial on any other cases, he is suspected of killing many more. It's a strange and complex story explained in the in 2010 documentary
Cropsey
. Joshua Zeman and Barbara Brancaccio made the film about growing up terrified of this boogeyman and learning the truth concerning his identity.
Corpse Mistaken for Halloween Decorations.
The Myth:
In the age of over-the-top Halloween decor, trick-or-treaters often mistake actual dead bodies for decorations.
The Origin:
This rumor likely got its start as a spinoff of the old munchkin-hanging-in-The-Wizard-of-Oz myth. The only difference is, this one (eventually) came true.
The Truth:
On at least two recent occasions, passersby have mistaken a corpse for decorations. In one instance, a 75-year-old California man was shot on his patio and remained there for five days before anyone realized what had happened. "He looked fake," his neighbor insisted. "It looked like somebody had thrown a dummy over the back of a chair."
Shoelaces + Escalator = Chopped-off Foot.
The Myth:
"Tie your shoelaces or else the escalator will eat your feet/suck you in/chew your shoes off," depending on what sort of mom you had.

The Origin:
Legitimate fear of modern technology. In our hubris and sloth, we created stairs we don't have to actually climb. This is our punishment.
The Truth:
Seems like manufacturers might build in some sort of safety feature that would, oh, stop it at the point of consuming human bodies. But, no! Every year, thousands of people (mostly children and the elderly) go to the ER for escalator-related injuries, including mangled limbs and the occasional amputation. It doesn't stop at shoelaces either. Fabric, high heels, hair and fingers, can also be caught in escalators. Bottom line: Take the stairs!
Source:
Kelsey Miller, Refinery29, October 28, 2014.