Post by Graveyardbride on Feb 1, 2014 1:50:57 GMT -5

January 31, 1974: The Disappearance of Lynda Healy

On the afternoon of Thursday, January 31, 1974, Lynda Ann Healy, a tall, slender woman of 21 with long dark hair, pulled on her red backpack, dialed the numbers to unlock her bicycle and headed for the supermarket. It was her week for kitchen duty and she'd forgotten to do the shopping. She made her way through the aisles at Safeway, placing noodles, an onion, hamburger and a few other items in her shopping cart. She'd decided to make what her mother called "company casserole" for herself and the four women with whom she shared a small house (pictured above) located at 5517 Northeast 12th Street in Seattle's University District. Her parents were coming for dinner the following night, but she would return and shop more thoughtfully for the meal she would serve them. There was also the party she and her roommates were throwing Saturday night, which would require some planning. The checkout clerk helped Lynda wedge her purchases into her backpack. She'd gotten through the line just in time. Students, woozy from an afternoon of classes and studying were starving by 5 p.m. and they were beginning to stream through the automatic doors. Lynda slipped into traffic on Northeast 50th, then turned onto 12th.

The house where Lynda and her roomies resided was like hundreds of others near the University and similar to thousands near campuses across the US – drafty with peeling paint and obstinate plumbing. Lynda occupied one of two rooms in the basement that had been half-way turned into bedrooms and there was a common kitchen, livingroom and bath. Elise, known as "Ellie," slept in the other basement room, two of the women occupied the two upstairs bedrooms and the fifth slept in the bedroom on the main floor. The five women ate their meals together, each taking her week in the kitchen.

Lynda was the first to arrive home that afternoon and let herself in the side door, secured her bike on the landing and began unloading the groceries from her pack in the kitchen. The place was sparsely furnished and equipped, but at least it was clean and orderly – certainly more so than any male communal house they knew. Just a little more than an hour after her arrival, Lynda set her company casserole on the table.

After dinner, the women scattered to the library, to a friend's house ... and it wasn't until sometime after 10 p.m. that Lynda went upstairs to say goodnight to Carolyn. They spoke briefly of their families – each was the eldest of three children – then turned their conversation to Saturday's party. Lynda's ex-boyfriend was coming from Olympia, possibly with a date.

"You feel all right about that?" Carolyn asked.

"That's really over. It's fine." Lynda insisted. "I'm fine."

"Lord, I wish I didn't have to get up in the morning." Carolyn said as she clapped her book shut and rolled over on the bed.

Both women had early morning jobs. Carolyn worked a shift at the hospital and Linda broadcast a ski report for a local radio station.

"G'night, Carolyn."

A half-hour later, Ellie came home, went to the kitchen, then peeked into Carolyn's room. The two women were chatting when Elise thought she saw something through the window at the side of the house. "A shadow," she said, her voice tightening. "It moved."

Carolyn followed Ellie to the window without a word. Ellie was easily the most security-conscious member of the household (conscious to the point of paranoia the others sometimes thought) and it was best to play along with her. They peered out at a tree branch moving gently in the cold wind.

"All right, all right," Ellie smiled. "So I'm seeing things. I'll see you tomorrow." She had drunk a couple schooners of beer in celebration of her 21st birthday and was sure to sleep soundly. She decided not to disturb Lynda on the way to her room.

Friday, February 1st was no different than any weekday morning at the house on 12th Street. Yanking on their clothes, combing out their hair, swinging open the refrigerator door for a glass of juice, the women were off to their various jobs or classes. Shortly after 7 o'clock, however, one roommate who had a later class staggered out to answer the phone. It was Lynda's boss, wondering why his reliable employee hadn't shown up to read her ski report on the air. Checking downstairs, the roommate discovered Lynda was not in her room, nor was there any sign of her. But there was no reason for alarm and she dressed for class.

That afternoon around 3, when the women began drifting back to the house. Lynda still hadn't made an appearance. Carolyn sat slumped in a faded armchair, listening to her roommates' speculations. Maybe she'd gone to the gym. Or to Olympia to visit what's-his-name. Elise mentioned the "shadow" she'd seen outside the window the previous night. Carolyn did not comment, but got up and pulled the phone around the corner. She'd make a few calls before jumping to the conclusion that something was wrong, but somehow, with Lynda's parents due for dinner in a few hours and Lynda unaccounted for all day, she knew something wasn't right. Just as Carolyn guessed, none of her friends, not even the ex-boyfriend, had seen her. Her next call was to Lynda's mother and then she called the police.

Missing-person reports, especially around a university campus, are almost as common as jaywalking. The police have learned to be businesslike and patient because such "cases" have a way of solving themselves when the missing woman shows up on the arm of a new boyfriend several days later. But everyone – Carolyn, her roommates, Lynda's parents and her boss – insisted Lynda Ann Healy hadn't wandered off of her own accord. They were worried – it was now after dark – and they wanted someone to do something.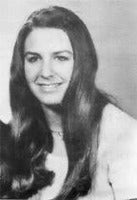 A patrol car was dispatched at last and two officers clomped up the wooden steps to record the minimal data. Lynda Ann Healy (above), white female, 21 years, 5'7", 115 pounds, long brown hair, blue eyes, pierced ears ... They went downstairs, pulled back the curtain Lynda used as a "door," saw nothing suspicious and left. It wasn't until two hours later that an excited call from one roommate's mother (a friend of the police chief) brought a homicide detective to the scene. He moved quickly, as if he knew what he'd find. Carolyn, holding her breath was behind him.

The detective tugged at the bedspread and pulled back the top sheet and they both saw the blood. It stained the pillowcase and there was a large spot on the sheets. Without a word, the officer turned and opened the closet door. There, neatly hung on a peg, was Lynda's blood-smeared nightgown. "Step back from the door," he barked at Carolyn. "Don't touch a thing."

The next few hours, Carolyn later recalled, were surreal, with everything moving in slow-motion, repetitive, eerily deliberate. A careful search of the room, the yard and the slanting alley that ran behind the house turned up nothing. Steadying themselves. Carolyn and Lynda's mother inventoried the closet to see what was missing: a pair of jeans, a blue-trimmed white smock, waffle stomper boots, a belt, several turquoise rings and Lynda's red backpack. The details were coldly sinister. Someone, it seemed, had made his way into the house, attacked Lynda while she was lying in bed and carried her off without a trace. But the Seattle police department detective was not committed to this story. Upstairs in the livingroom, he asked if Lynda ever had nosebleeds, if she ever went for late night walks. If, if ... He closed his notebook and left.

Back in his cubicle filling out a report, the detective recalled another University District incident a few weeks earlier in which Karen Sparks, an 18-year-old dancer and University of Washington student, was attacked in her sleep and left for dead. Sparks lived on 8th Northwest – just 11 blocks from Lynda Healy's residence – and around midnight on the night of January 4, someone entered her basement room and bludgeoned her about the head with a metal rod from her bed frame. The young woman was sexually assaulted by having a speculum (of the sort used by gynecologists) shoved into her vagina with such force it caused extensive internal damage. She remained unconscious for 10 days, but was recovering.

Within a few days, police had exhausted the neighborhood search in hopes of a possible eyewitness, checked out the old boyfriend in Olympia, even paid a call on Lynda's new tennis partner, a regular at a neighborhood occult bookstore. There was nothing, absolutely nothing extraordinary about Lynda Healy's life or activities. If police wanted to fish for suspects, they might as well have started on the University of Washington campus, a sea of 37,000 students, most of whom, with their backpacks, down jackets and lofty ambitions, were as unlikely to be involved in crime as was Lynda herself. The investigation stalled before it got started.

Frightened and frustrated, Lynda's roommates and friends initiated a search of their own that weekend. They fanned out through the neighborhood, then came together for a walk through Ravenna Park, a steep, wooded ravine that twisted through the city. At first they called Lynda's name, but slowly, one by one, they began timidly looking beneath brush and nudging at piles of leaves. At night, the four women left in the house all slept on the floor of the livingroom, their respective boyfriends taking turns keeping watch. This arrangement went on for only a week after which all four abandoned the house and moved elsewhere.

The cryptic stories in the papers made women in the University District wary and uneasy. Doors were locked and strangers got more than a second look. The Healys in Newport Hills and Lynda's roommates and friends faced a different, more agonizing uncertainty.

But as February warmed into March, no one could have guessed that Lynda Ann Healy's disappearance on a windy January night was just the beginning. The Northwest, emerging again from its winter rains and assuming the pale, transparent green of spring, was on the edge of a nightmare. The waking would take years and it would be more improbable and terrible than the dream when it finally came.
During the coming months, other young college women began disappearing in Washington and Oregon and on March 1, 1975, Lynda Ann Healy's skull was discovered on Taylor Mountain, a wooded location west of Seattle. The remains of five other women were found in the same place and there may have been more.

It wasn't until August 1975 that investigators began to suspect Theodore "Ted" Bundy as the killer of Lynda Healy and seven other missing and murdered Washington and Oregon women. After he became a suspect, investigators discovered he had lived just a few blocks from the house where Lynda Ann Healy was attacked and abducted and on the day she disappeared, had cashed a check at the Safeway where she had purchased the ingredients for her casserole.

While he was incarcerated at Florida State Prison, Bundy "speculated" regarding what "might" have happened in various abductions during which time he said the killer of the women in Washington and Oregon most likely stalked some of his victims for days, making certain the time was "right" before assaulting them.

No one will ever know how many days Bundy stalked Lynda Healy, or if his was the shadow Elise saw outside the window that fateful night 40 years ago.

Author: Graveyardbride.
Sources: Ted Bundy: The Killer Next Door by Steven Winn and David Merrill; The Deliberate Stranger by Richard W. Larson; The Seattle Post-Intelligencer; The Seattle Times; The Only Living Witness by Stephen G. Michaud and Hugh Aynesworth; and Personal Files.


See also "July 14, 1974: Murder on a Sunday Afternoon": whatliesbeyond.boards.net/thread/4028/july-1974-murder-sunday-afternoon
"November 8, 1974: Encounter with a Killer": whatliesbeyond.boards.net/thread/520/november-8-1974-encounter-killer