Post by Graveyardbride on Apr 22, 2019 9:31:35 GMT -5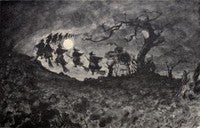 St. George's Eve

It is the eve of St. George's Day. Do you not know that to-night, when the clock strikes midnight, all the evil things in the world will have full sway? Do you know where you are going, and what you are going to? – Bram Stoker, Dracula (1897).

Spring brings new life, the days become longer and the powers of those who dwell in darkness begin to wane. The blossoming of flowers, sprouting of sweet basil and sunshiny days bring with them an end to malevolent forces. But in a last hurrah, on the Eve of St. George, these evil beings desperately glean whatever powers they can before they are banished by the dawn.

For centuries in Romania, one of the most important days of the year was the Feast of St. George, the 23rd of April.* The eve of St. George's Day was long believed to be a night when witches congregated in remote locations, such as the ruined walls of ancient castles, to feast and dance with the devil.

Those not involved in the dark arts also feasted, celebrated and took measures to keep evil at bay. Squares of green turf were placed in front of each door and window in the home, as well as the entrance to stables and barns, where livestock animals were kept, to bar witches intent upon making mischief. As an extra precaution, many peasants in rural areas kept watch over their sleeping cattle.

The Eve of St. George was also a time when many countryfolk wandered the hills in search of treasure, for on this night, buried gold and silver "bloomed," that is, gave off a bluish light resembling the color of burning spirits of wine. Though it was considered extremely difficult for those who hadn't been born on Sunday, or at midday when the bells were ringing, to discover such treasure, it didn't convince ordinary mortals to stay home on the one night of the year they might strike it rich. Thus, when anyone caught a glimpse of such a light, he immediately stuck a knife through the swaddling rags on his right foot and then threw the knife in the direction of the flame. If two or more were present when such a light was sighted, it was imperative they not speak and if a treasure was found, filling the hole from which it was extracted ensured a speedy death. Also, treasure lights seen prior to midnight were guarded by benevolent spirits, while those espied in the wee morning hours held treasures presided over by spirits of a questionable or pernicious nature. Many earthen jars of old Dacian coins and gold ornaments of Roman origin have been discovered in the hills of Transylvania, keeping the legend alive.

In England, from the early 15th century, St. George's was a major feast day and national holiday on a par with Christmas. In 1497, the Cross of St. George was flown by John Cabot on the voyage in which he discovered Newfoundland. Sir Francis Drake and Sir Walter Raleigh also flew the flag of St. George. And in 1620, it was the flag flown by the Mayflower carrying the Pilgrims who landed in what is now Plymouth, Massachusetts.

In Bulgaria, the Feast of St. George was believed to be a magical day when all evil spells could be broken. Farmers depended on St. George to make the crops grow and bless the morning dew, so early on the morning of St. George's Day, they walked the pastures and meadows, washing their hands, faces and feet in the dew for good luck. In some rural locations, it was customary to roll naked in the morning dew.

Sources: The Land Beyond the Forest by Emily Gerard; Ema Timar, "Beware Saint George's Eve," Supernaturally Speaking; Jason Colavito, Transylvania Superstitions; and Stephen Morris, "St. George's Day," April 23, 2014.

*The Eastern Orthodox Church celebrates St. George's Day May 6, not April 23.