Post by Graveyardbride on Dec 13, 2018 20:03:30 GMT -5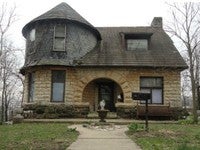 For Sale: The Most Haunted House in Joliet
If you're interested in owning a lovely old 5-bedroom, 2-bath, 3,280-square-foot, Romanesque Revival-style home, this may be the house for you. Built in 1897 by noted architect Frank Shaver Allen, the limestone block and shingle dwelling at 608 Morgan Street boasts an unusually large turret, arched entrance and still has its original hardwood floors and woodwork. Though the residence will require a little (perhaps a
lot
) of TLC, it is easily the most-impressive home in the neighborhood, standing on a large, elevated lot nine steps above the sidewalk. It is hoped someone will rescue the historic property and restore it to its former glory. It can be yours for a mere $84,900.
Frank Shaver "F.S." Allen, born in 1860 in Galesburg, Illinois, was a renowned architect in his home state, California and other locations. In the late 19th century, his preferred style seemed to be Richardsonian Romanesque, but he also designed in other styles. Some of his most notable public buildings are Kenosha High School, Sioux City Central High School, Lincoln High School (Racine, Wisconsin), and San Diego High School in California. Among the private homes he designed in Joliet are the Marcus Krakar residence at 225 N. Hickory Street, and the Patrick C. Haley mansion at 17 S. Center Street, both in the Romanesque style. Allen was also an Egyptologist and avid collector of fine art.
Allen's first wife, Mary Hendries, died in childbirth in 1895 and never lived in the Morgan Street house. The widower remarried and he and his second wife and five children, as well as a succession of nannies and servants, remained in the home until 1904. At that time, Allen, 44-years-old and wishing to broaden his horizons, relocated to California, where he continued designing schools, other public buildings and private homes, one of which is the Craftsmen-style residence at 1100 New York Drive in Altadena. He was as popular in the west as he had been in Illinois and was instrumental in founding the Tournament of Roses Parade, of which he served as grand marshal in 1906.
Then a young boy disappeared for a period of time and when it was discovered the lad had been in the company of Mr. Allen, the architect fell from grace with a resounding thud. There were allegations of moral corruption, but somehow, the architect managed to avoid charges. According to some reports, there was at least one other incident in which the husband and father of five was accused, or at least suspected, of a crime against nature. By 1920, he was divorced, had closed his architectural firm and was listed as a salesman of sound machines.
Ghosts.
According to Haunted Rooms, the house is one of the 10 most haunted locations in Illinois. The supernatural activity first came to light in the 1970s when a reporter heard the family living in the home at the time had reported seeing at least three apparitions: that of an elderly lady, a nanny and a little boy. The family's young son allegedly had several encounters with the spirit child, whom he claimed wanted a playmate. The living inhabitants also complained of doors slamming of their own accord, disembodied voices and screams, and shadowy figures. Though such activity would be enough to scare off most buyers, Steve Roake, a realtor handling the listing, said the home's reputation has actually generated interest among those with an interest in the paranormal.
Some wonder if the strange occurrences could be the result of a haunting by Allen himself, who returns to the house in spirit form to a more pleasant time before his reputation was ruined and he was shunned by society.
Sources:
Joseph Horsey, The Patch, April 4, 2017; Trulia; P. Seth Magosky," Shocking News," Living History, November 13, 2009; Susan Z, "Haunted Houses are Hot Real Estate," 7th Sense Stories, April 29, 2017; and Lisa Roppolo, "Haunted Joliet: A Guide to the City's Most Haunted Locations," Exemplore, September 12, 2016.