Post by Graveyardbride on Jan 17, 2018 19:35:27 GMT -5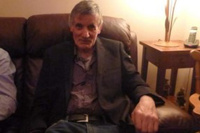 Did British Pensioner Spontaneously Combust?
Spontaneous human combustion (SHC) is a phenomenon as rare as it is puzzling. But such is the bafflement surrounding the death of a pensioner who caught fire on the street that some are now speculating that the gruesome scientific anomaly is to blame. John Nolan, 70, died from "horrific" burns after being discovered ablaze near his home in North London in September 2017. Detectives now say that after weeks of investigation, there is no obvious cause for the fire.
Spontaneous human combustion is a fiercely-debated topic, characterized by near-total destruction of the body with little surrounding damage. Historically, it has been attributed to fewer than 200 deaths and was famously depicted in Charles Dickens'
Bleak House
wherein the alcoholic Krook combusts from no apparent cause.
No acclerants were evident on the Nolan's body, according to police, and fire investigators found no source of ignition. Yet relatives, who describe Nolan as a "gentle, nice man," later said he suffered burns to his internal organs. Originally from County Mayo, the former construction worker was airlifted to Colchester hospital and died surrounded by family members after doctors withdrew life-support.
Police Constable Damien Ait-Amer, who is investigating the death, said, "Mr. Nolan was a well-liked member of the community and none of our enquiries so far have indicated that he had been involved in a dispute of any sort, nor does any account given by witnesses suggest that he had been in contact with another person at the time of the fire." Police are now appealing for witnesses to assist in solving the case.
Bernard Knight, who conducted more than 25,000 autopsies during 31 years as a Home Office pathologist, said the "wick effect" can explain the phenomenon whereby the clothing of a victim soaks up melted fat and insulates a fire. But he added, it was "ridiculous" to suggest a body could ignite without an external cause. "For someone to walk out onto the streets and just burst into flames is extremely peculiar," he told
The Daily Telegraph
. "In the course of my career," he continued, "I saw maybe three or four cases of so-called spontaneous combustion, but they were all indoors near an open fireplace. In once case the body had burnt through the floor. This is very unusual because it took place outside, but a failure to find a cause does not mean there isn't one."
In 2011 an Irish coroner designated spontaneous combustion as the cause of death of 76-year-old Michael Faherty. His body was found badly burnt in the fireplace of his home, but experts said this had not been the cause of the blaze. More recently, a Mauritian woman burst into flames while sitting on a bench in Flensburg, Germany.
Professor Knight said that, statistically, alcohol was a common factor in deaths attributed to spontaneous human combustion.
Nolan's nephew, Kevin Byrne, told the
Irish Sun
, "His face and head were swollen and his hair was burnt off, it was really horrible stuff. How does a man just go on fire in the middle of the street? My uncle had a stroke many years ago and he was vulnerable. He wasn't working and he wasn't even a great conversationalist. He was quiet and needed care."
Source:
Henry Bodkin,
The Telegraph
, December 15, 2017.
See also:
"The Facts about Spontaneous Human Combustion":
whatliesbeyond.boards.net/thread/1133/spontaneous-human-combustion
"Man Lying on Sofa Bursts into Flames":
whatliesbeyond.boards.net/thread/192/spontaneous-human-combustion-survivor