Post by Graveyardbride on Dec 13, 2013 14:06:51 GMT -5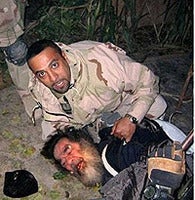 December 13, 2003: Was the 'Saddam' Captured a Double?
Ten years ago on Saturday, December 13, 2003, Americans received the news that Saddam Hussein, president of Iraq, who had been on the run for several months following the US invasion perpetrated by George W. Bush, had been captured. According to reports, the former leader was discovered in a hole (which quickly became known as the "spider hole") following a raid on a farmhouse near Tikrit, his hometown.
The man pulled from the hole had a full, grey beard, long hair and looked much older than the vain and fastidious Saddam Hussein. Images broadcast around the world revealed a bedraggled old man being checked for lice by a US Army medic, followed by reports that throngs of people in Baghdad were celebrating the final victory in their war against oppression. The fact people living in Baghdad at the time failed to see more than a few men in the streets being instructed where to stand and what to do by photographers suggested any "celebration" was staged, but these reports never made it to the American public and to this day, few realize the dancing in the streets after the "capture" of Saddam – like the toppling of Saddam's statute following the invasion – was choreographed by Bush Administration officials to convince the folks "back home" that America had been right to attack a tiny, defenseless country in which the average age of the population was just 15. In fact, members of the Administration were so dismissive of the ability of the American people to think for themselves, they did not even bother to explain why, if Saddam had, indeed, possessed weapons of mass destruction, he didn't use them to defend his country – and the few who asked were dismissed as kooks and traitors.
The day following Saddam's capture, Former UN weapons inspector Scott Ritter, reached at his home, said, "It's great that they caught him. The man was a brutal dictator who committed terrible crimes against his people. But now we come to the rest of the story. We didn't go to war to capture Saddam Hussein. We went to war to get rid of weapons of mass destruction. Those weapons have not been found." Ray McGovern, senior analyst and 27-year veteran of the CIA, echoed Ritter's perspective: "It's wonderful that he was captured, because now we'll find out where the weapons of mass destruction are. We killed his sons before they could tell us."
The Administration's push for war was based on Saddam's alleged possession of 26,000 liters of anthrax, 38,000 liters of botulinum toxin, 1,000,000 pounds of sarin gas, mustard gas and VX nerve gas, along with 30,000 munitions to deliver these agents, uranium from Niger to be used in nuclear bombs – and let us not forget the alleged al Qaeda terrorists closely associated with Saddam who would use all this weaponry on the main streets and back roads of the United States. Yet, when Saddam was discovered hiding in a hole in the ground, all he had was a pistol and an AK 47 assault rifle. One would think a man with a stockpile of weapons of mass destruction would at least have a few hand grenades lying around so he could "take out" some of his captors in the process. Additionally, although Saddam has been painted as the devil incarnate by his detractors, no one ever accused him of cowardice, which begs the question: Why didn't he use the pistol on himself rather than face the embarrassment of being taken into custody and a public trial in what would surely be a kangaroo court?
Years of searching by American forces has never revealed the location (or locations) where all these weapons of mass destruction were stockpiled. And as for the al Qaeda agents working for Saddam, well, they were never found either because, unlike what George W. Bush falsely led the majority of American people to believe, Saddam had no connections whatsoever to al Qaeda and his alleged purchase of Niger uranium was later debunked. In fact, Saddam was unpopular in the Islamic world where it was widely rumored that he wasn't Muslim at all. For example, his vice president, Tariq Aziz, was Christian, he protected Iraqi Christians and had donated hundreds of thousands of dollars (possibly more) to the Catholic church. His government also included women, he did not force the women of Iraq to wear the veil or even the abaya, his wife taught school and the women in his family often appeared in public and on television, all of which was criticized by staunch Muslims. Saddam's mother was a fortune teller and there had long been talk that Saddam believed himself to be the reincarnation of King Nebuchadnezzar II (who was neither Arabic nor Islamic), creator of the legendary Hanging Gardens of Babylon. One of Saddam's pet projects was to rebuild the ancient city and move the Iraqi capital from Baghdad to Babylon. Prior to the American invasion, he had completed the famous Ishtar Gate and in September 2002, appeared at a celebration officially opening the Ishtar Temple. He also had "pagan" images featured on Iraqi paper currency. Osama bin Laden and other Muslim extremists despised Saddam, branding him a "pagan devil" and "The Great Satan."
Today, 10 years after the capture of the old man in the spider hole, all but the most hard-headed and/or uninformed US citizens realize the so-called weapons of mass destruction and other materials weren't there and the allegations of the Bush Administration were nothing more than a lot of overblown rhetoric and outright lies, designed to terrify the American people into supporting an unnecessary war. Nevertheless, a few Bush cronies became rich beyond their wildest dreams of avarice while allowing a few Defense Department chicken hawks to play at empire-building. In the process, hundreds of thousands of Iraqi citizens – mostly women, children and the elderly – were killed and others went without the basic necessities such as shelter, food, water and electricity.
After his capture, Saddam was placed in a small cell where he was forced to wash his clothing in a basin and hang them to dry. It wasn't long before the British
Sun
published a photograph of Saddam clad in nothing but tighty (often misspelled "tidy") whities – Saddam wore boxers. This, of course, was a violation of the Geneva Convention, which forbids the subjection of prisoners to "insults and public curiosity." The photograph of the scantily-clad dictator was published in May 2005 and broadcast worldwide, but there were much more significant incidents kept from the American people.
While the dazed and bedraggled man was being displayed in front of the cameras, Jassim Abu Ahmed almost spat his disgust at the television set. "It's not him," Ahmed insisted, waving his hand and looking away from the screen. "Everybody knows it's not him. Why do they keep showing this?"

As Iraq's new leaders were planning for what they dubbed "the trial of the century" and claiming a great victory over the Ba'athist remnants that were still fighting the US-led occupation, many Iraqis remained deeply skeptical that the former dictator had been caught. In a country where the press was always controlled by the state and then by an invading foreign power, people had learned not to trust what they saw or heard in the media. They had watched television news reports during the war that spoke of Iraqi military victories – even as US troops entered Baghdad – and when they saw a weak old man the US claimed was their former leader, many felt they were still being fed lies. For example, a fuel tanker that exploded in Baghdad killing 10, was first reported as another suicide bombing – then downgraded by US military officials to a mere accident, further adding to the disbelief surrounding Saddam's arrest.
Ahmed, an athlete who had known Saddam's eldest son Uday personally, said he was positive the person the United States was parading about as their prize catch was not the former dictator. Saddam, he said, was known to have a tiny tattoo on his left hand, but in the relentlessly replayed video showing him having his throat checked by an army medic – the video that most of the world accepted as footage of the humbled former dictator – the markings were not apparent as the old man stroked his straggly beard. But this wasn't the only detail that disbelievers cited as proof the Americans had the wrong man. Others found it strange the man's hair was black in the footage, while his beard was white. Diaa, a 37-year-old taxi driver remarked, "Everyone knows that Saddam dyes his hair, but after eight months hiding in a hole, it's still black? Tell me how this is possible? When they captured [former information minister Mohammed Saeed al-Sahhaf] after a few weeks, his hair was already white."

Rumors that the man captured was merely a look-alike sparked celebrations in the Sunni Muslim town of Fallujah. Waleed Ibrahim, a 25-year-old tire repairman, told the Associated Press: "It [the capture of Saddam] is a trick to help President Bush get reelected." Before long, US armored vehicles were rolling along the town's main streets blaring in Arabic: "The coalition forces have arrested Saddam Hussein. Reports that it is a Saddam double are false. The old regime will never come back. This is the end of the Ba'ath Party."

Saddam's family, particularly his eldest daughter Raghad, had been complaining to all and sundry they were not allowed to see her father. Under pressure, American authorities arranged for Saddam's wife Sajida to visit her husband in prison. She was the first of his relatives to see him following his capture the previous December. Toward the end of March, Sajida Heiralla Tuffah, accompanied by Sheikh Hamad Al-Tani, flew from Syria to Quatar aboard Hamad's private jet. Upon arrival, she was escorted into the prison where she was to meet the man to whom she had been married for 25 years, but the reunion did not go as expected. Shortly after entering the room where "Saddam" sat waiting, Sajida came storming out in a rage. "This is not my husband! It's his double! Where is my husband? Take me to my husband!" Following her display of outrage, several reporters noted that live footage and photographs of the man being tried as Saddam revealed he had bad teeth and an under-bite, unlike the real Saddam, who possessed near-perfect teeth and an over-bite, prompting dissident reporter Joe Vialls to comment: "This single forensic fact alone proves that 'Saddam' is not the former president."

Even though his captors allegedly conducted DNA testing that proved the man in custody was Saddam Hussein, some questioned the speed at which the results of this testing were completed. Those who insist the man captured was, indeed, Saddam, say he had simply changed after being on the run for so long and spending most of his time underground lying in a hole. But the invasion of Iraq occurred in March 2003 and "Saddam" was captured in December. Could living in adverse conditions a mere nine months have wrought such a change that his own wife of 25 years did not recognize him? And if she did not recognize him from his appearance, would she not have at least recognized his voice? Back to the DNA testing: After American officials crowed about capturing Saddam, admitting they had the wrong man would have been an insurmountable embarrassment, and if the government had captured the wrong man, there was the possibility the American people would begin to question everything else and arrive at a conclusion that could have resulted in the impeachment of both George W. Bush and Dick Cheney.

Saddam Hussein had at least three "doubles" or stand-ins, two cousins and a close friend, all of whom possessed similar facial characteristics and were of about the same height and weight. One of the stand-ins, a cousin, was seen on Iraqi television April 4, 2003, picking up a child, laughing and waving to the crowds. However, his mannerisms were nothing like those of Saddam himself. Additionally, the end of his nose was broader and he had moles on his temple and forehead – identical to those of the captured man. At that time, reporters and others were openly questioning the identify of the man in the video. The American government countered with the claim that DNA samples taken from the man in captivity proved he was Saddam because they contained "some of his genetic features." But how did they know? What were they using for a comparison? If the man in captivity were a cousin of Saddam's, his DNA would also contain some of Saddam's genetic features. From the beginning of the Iraqi invasion, the now irrefutable misinformation campaign perpetrated by the Bush Administration, particularly that pertaining to weapons of mass destruction, renders any information disseminated by the US government questionable.

Many believe Saddam was killed shortly after the March 2003 invasion and secretly buried and this is a distinct possibility. Another possibility is that he managed to escape and is now living quietly somewhere far from Iraq. He had billions of dollars and could certainly have made such arrangements and bought the silence of anyone who suspected his true identity.
Author: Graveyardbride.
Sources: William Rivers Pitt, Rense, December 15, 2003; David Williams and Matthew Bayley, The Daily Mail; The Sun; DemocraticUnderground; Al Jazeera; and Personal Files.