Post by Graveyardbride on Nov 19, 2017 16:55:19 GMT -5
November 19, 2016: Something Rotten in Bardstown
Traveling south on 3rd Street toward Bardstown's resplendent old courthouse with rows of distinctive buildings from the not-so-distant past on either side, it isn't difficult to imagine one has stepped back in time to a more genteel era. And no one is surprised to learn such an idyllic little city in Kentucky's Bluegrass region was named "Most Beautiful Small Town in America" by Rand McNally/USA in 2012. But while driving around admiring the many Federal, Greek Revival and Queen Anne homes and business establishments, one can't help noticing signs on poles and in yards, some of which read "Solve These Murders," that seem out-of-place in such an otherwise agreeable setting.
The fall of 2016 brought campaigns for national, state and local offices with signs and posters in support of various candidates cluttering cities, towns and rural communities throughout the country. But in Bardstown, Kentucky (population 11,700), interspersed among Donald Trump's "Make America Great Again" messages were those of a different sort: signs that featured the photo of a young blonde woman and the question: "Brooks Houck where is Crystal Rogers?" Something strange was going on and there were those who said the "Bourbon Capital of the World" was well on its way to becoming as well-known for its unsolved murders as it was for its distilleries.
Folks were already concerned about a string of cold murder cases and when Crystal Rogers vanished the previous year, for some, it was the final straw. One of those most affected was Tommy Ballard, Crystal's father, who was spending every extra dollar and devoting every spare moment to the search for his missing daughter. Sadly, he wasn't successful and less than two weeks after election day, his efforts ended with a gunshot on Saturday, November 19, 2016.
The Disappearance of Crystal Rogers.
On Friday, July 3, 2015, Crystal Rogers, a 35-year-old mother of five, vanished. That afternoon, relatives saw her with three of her children at Walmart, where a receipt verified that at 4:36 p.m., she had purchased food, a T-ball plate, a junior sniper air rifle and two boys' T-shirts. So far as is known, she was last seen at the farm owned by the family of her boyfriend, Brooks Houck – a real estate manager who unsuccessfully ran for sheriff of Nelson County in 2014 – and the couple's toddler, Eli, was with them. When Ms. Rogers' parents, Tommy and Sherry Ballard, attempted to call their daughter the following day – the 4th of July – there was no answer and they were unable to locate her. While the distraught parents were frantically searching for their missing family member, Mrs. Ballard met Houck on the road and asked if he had seen Crystal and if they'd had another fight. "I told him, 'I'm going to the police department to report her missing,'" Mrs. Ballard recalled, "and he said, 'That's what you should do.'"
The Ballards waited until Sunday, July 5, to report Crystal missing and that night, her 2007 maroon Chevrolet Impala was found on the shoulder of the Bluegrass Parkway with a flat tire and the keys in the ignition. Her purse, cellphone and a diaper bag were inside the vehicle. Though the Ballards immediately blamed Houck for their daughter's disappearance, Nelson County Sheriff Ed Mattingly initially said Houck wasn't a suspect, telling reporters: "I want everyone to know he has been completely cooperative with this investigation and has tried to assist us in any way that he can."
After the Impala was processed and examined, it was revealed that traces of blood were discovered on a blanket inside the car. But this wasn't the only place technicians found blood – there was also blood inside the trunk of a Bardstown police cruiser – a vehicle that was registered to Nick Houck, Brooks Houck's brother. Detectives surmised Brooks accused Ms. Rogers of cheating on him and she was accidentally killed during the ensuing altercation, after which he called his police officer brother to help him get rid of the evidence – including the body.
But Houck told a different story. He claimed he and Crystal left the family farm a little before midnight, got home around 20 minutes later and his girlfriend was playing games on her cellphone when he went to bed and fell asleep. The following morning, he awakened around 7 o'clock with his son sleeping beside him. He also told investigators he received a call from one of his employees, Danny Singleton. When asked about awakening and finding the mother of his child gone, Houck replied, "I was not in the least little bit alarmed in any way, shape or form." In a telephone interview with Nancy Grace, Houck admitted his relationship with Crystal was "stressed" and at times she would stay at her cousin's house. "I'm 100 percent completely innocent in this," he insisted. Nonetheless, Shirley Ballard was adamant that Crystal "would not have got up and left and disappeared and not called anybody. That's not her. She would not have left her baby at home."
In October 2015, both brothers failed FBI-administered polygraph examinations while answering questions concerning the whereabouts of Crystal Rogers, and Nick Houck was subsequently fired from his job for interfering in the investigation. But despite the evidence, including the blood in the trunk of Nick's car, neither man was charged and this led to accusations of police corruption. In a videotaped interview, Nick became angry when told he had failed his polygraph exam, denying any involvement in the woman's disappearance and questioning the validity of the test. "I don't give a goddamn what your fucking computer said!" he shouted. "You're calling me a fucking liar. ... I don't like it when people call me a liar!"
Following the extensive investigation by local authorities, the FBI and Kentucky State Police, Mattingly issued another statement. "Crystal Rogers was extremely close with her family," he asserted. "She has had no contact with her family ... she has vanished from the Earth." It was his opinion the young woman was likely dead and this time, he named Brooks Houck as the prime suspect. The Ballard family contended Houck and his family never assisted in the search for their daughter and refused to allow police access to their farm.
When the Ballards realized neither Brooks Houck nor his brother Nick would be charged with Crystal's murder, Tommy Ballard and his wife commenced an aggressive campaign for justice. Tommy Ballard searched the entire county, wading into bodies of water, scouring fields and woodland with neither the cold of winter, heat of summer, rain nor snow deterring him from his mission. He even converted his red pickup into a missing person's advertisement and he and Sherry held regular vigils at which they prayed for their daughter's safe return.
In December, Danny Singleton, the employee who called Houck on the morning of July 4, was indicted on 38 counts of perjury by the Nelson County Grand Jury, stemming from previous grand jury testimony in reference to Crystal Roger's disappearance. On January 21, 2016, two other men, Vincent D. Nethery, 22, and Donald L. Howard, 27, were charged with making false statements implicating Singleton in Ms. Rogers' murder with both admitting they had lied. Singleton eventually pled guilty to 38 counts of false swearing and was sentenced to 360 days in the county jail. He was released in July 2016.
Also in January, Tommy and Sherry Ballard petitioned the court to prevent Houck's fleeing the state and taking their grandson with him. One of their allegations was that Houck had been "attempting to sell all of his real estate holdings below market value."
Anna Whitesides, Houck's great-grandmother, owned a white Buick that witnesses reported seeing at the farm when Rogers vanished. The vehicle was sold to a dealer in early 2016, but officers were able to locate and search the car. According to Tommy Ballard, DNA evidence was recovered from the vehicle, which investigators believed was used in the crime. Mrs. Whitesides' residence was also searched and in June 2016, the elderly woman was subpoenaed to testify before a Nelson County grand jury, however, she pled the Fifth.
In August 2016, authorities with at least 14 cadaver dogs searched the 300-acre farm belonging to Brooks Houck's mother, Rosemary Houck. It remains unclear what, if anything, was found, though at the time, Deputy Jonathan Snow, lead investigator, vowed the case would go to trial.
Ambush Shooting of Officer Ellis.
But Crystal Rogers' disappearance was by no means the first unsolved incident in Bardstown. On Friday, May 24, 2013, when Officer Jason Ellis of the Bardstown Police Department began his shift, it was like any other, with the exception that Figo, his K9 police dog, wasn't with him. Between routine calls, he exchanged text messages with fellow officer Andrew Riley, who was also his best friend. Early in the evening, Ellis responded to a domestic disturbance and then escorted an inebriated citizen to the hospital before booking him into the Nelson County Jail. After leaving the jail, he signed out around 2 a.m., May 25, and began the 15-mile drive home to his wife and two children in Bloomfield. He left the Bluegrass Parkway on Exit 34 and while rounding the bend, was halted by some tree limbs in the road. He stopped, blocked the exit to traffic and proceeded to clear away the debris. Suddenly, a barrage of gunshots slammed into his arms and torso. He had no chance to react and crumpled to the pavement.
About a half-hour later, Chad Monroe, who worked nearby, stopped behind a car waiting for the road to be cleared and exited his truck to see if he could help. As he approached, he saw the body of Officer Ellis and immediately checked for signs of life, noting the man's skin was already cool to the touch. He yelled for the people in the other vehicle to call 911.
Officer Riley was one of the first on the scene and when he saw Ellis lying in the road with streaks of red emanating from his body, he assumed his friend was the victim of a hit-and-run. Not wanting to believe his fellow officer was beyond help, he removed his shirt and vest in an attempt to revive him. That's when he noticed the small pellets on the pavement were buckshot and realized he was looking at something much more sinister than a traffic accident.
The Bardstown Police, with the help of Kentucky State troopers, launched a full-scale investigation. Murder, outside domestic situations, was almost unheard of in the small town and people didn't ambush and kill police officers. The scene yielded nothing beyond discarded shotgun shells and no one came forward with information, despite a hefty reward. Police Chief Rick McCubbin had little to offer and when questioned, could say only that Officer Jason Ellis was ambushed and murdered by a person, or persons, unknown. He couldn't say if the intended target was Ellis himself, or if someone had simply set out to kill a law enforcement officer and Ellis was the unlucky victim. Investigators questioned family, friends and acquaintances, but came up with nothing of a suspicious nature. Members of the Bardstown Money Gang were scrutinized because Ellis had arrested at least three of its number, but produced no suspects.
Then came the threat. The Bardstown Police received a letter indicating Ellis was merely the first victim and other officers would be targeted; this brought the FBI into the investigation. Agents examined the document and concluded it wasn't written by the killer. The reward leading to an arrest was increased; still, no one came forward.
Two months later, on August 10, 2013, when Brant Sheckles, a 23-year-old black thug, was arrested for fighting at a party, he hinted that he was either involved in the shooting of Officer Ellis, or knew who did it. "You saw what happened to one of you all when you crossed us," he boasted. A known member of the Bardstown Money Gang who had a string of arrests for drugs and violence, Sheckles was known to "run his mouth," nevertheless, his allegations were taken seriously. The State Police found no evidence that Sheckles was involved in, or knew anything about, the death of Jason Ellis. But there were those in Bardstown who wondered if there were other reasons law enforcement dismissed the gang member's claims. He was, after all, the nephew of Bardstown mayor, Bill Sheckles, and, according to some, everybody knew the Sheckles administration and police were rotten to the core.
(In November 2014, Sheckles lost his bid for reelection to John Royalty, but in 2016, Sheckles was elected to the city council. In December 2016, Mayor Royalty was criticized for his plan to reorganize the police department in the wake of the murder of Officer Ellis, other unsolved killings and the disappearance of Crystal Rogers.)

In the months following the policeman's murder, Bardstown residents reacted differently to what seemed to be the senseless killing of a local man. Some were terrified, others grief-stricken and all seemed to have an opinion. There were those who were convinced it was an inside job after Chief McCubbins admitted that, based on the bullet trajectory, a "degree of tactical precision" was required. This meant whoever did the shooting had to be well-versed in the use of firearms and an excellent shot – and who knew firearms and could shoot better than officers of the law? People also questioned why the shooting occurred on the one night Ellis was without his police dog – an animal that could easily have scaled the hill on which the shooter was hidden and taken him down. Who would have known better than Ellis's fellow officers that the dog wouldn't be in his car at that time? A number of locals insisted that because he was shot on his regular route home, it was reasonable to assume he was the intended target. Another tale making the rounds was that some members of the Bardstown police force were in cahoots with a Mexican drug cartel and Ellis found out what was going on. There was even a foul rumor that Ellis's wife, Amy, was having an affair with McCubbins and the police chief was behind her husband's murder.
Others dismissed what they labeled "wild theories" suggesting scandal and corruption in local law enforcement. Instead, they preferred to believe Ellis was ambushed by someone he had arrested, perhaps a member of the Bardstown Money Gang, because he was interfering with their drug business. Even if a member of the gang didn't do the actual shooting, they could have hired a professional killer who would certainly have possessed the "degree of tactical precision" alluded to by the chief, some citizens reasoned. Still, there was the possibility the person, or persons, who set up the attack intended to kill whomever happened to stop and that individual just happened to be Officer Jason Ellis. While such an attack made no sense whatsoever, it didn't deter the gossip. However, there was no escaping the fact investigators were accomplishing nothing and both the local and state police were devoting less manpower and time to the case that was becoming colder with each passing day.
More than a year had passed when on July 8, 2014, Danny Earley, 33, an inmate at the Louisville Corrections facility, threatened a guard, saying, "You'll be pushing up daisies like Jason Ellis, the Bardstown cop that was killed." Later, WHAS TV reported that Earley was arrested for public intoxication and mumbled something about Officer Ellis and the Cornbread Mafia, a crime ring allegedly involved in drugs and violence. Unfortunately, this possible lead – like all the others – went nowhere.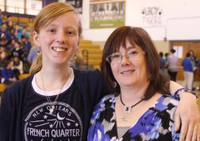 A Mother and Daughter Murdered.
By the time Earley mouthed his enigmatic comments, the good citizens of Bardstown had two other senseless murders to ponder. Eleven months after the killing of Officer Ellis, on the morning of Tuesday, April 22, 2014, Nelson County school officials called Norris Hardin, the father of Kathy Netherland, 48, and reported the special education teacher had not appeared for work or called and she wasn't answering her phone. Hardin went to his daughter's home on Springfield Road, where he saw Kathy's car parked outside, but there was no answer to his knocks. Fearing something had happened to his daughter and granddaughter, Samantha, age 16, Hardin entered the house and walked into a scene of horror that would remain embedded in his mind for as long as he lived. Both were dead – their eerily white corpses encircled by congealed blood – and he could see both had cuts to the throat area. He didn't look any farther. It was obvious they were beyond help and he notified the authorities.
It wasn't until the bodies were removed and examined that people learned the mother and daughter had died around 8 p.m., April 21, and in addition to having their throats slit, Mrs. Netherland had been shot several times and Samantha was badly beaten about the head. The brutality of the slayings and the fact most of the violence was directed toward Samantha led some to believe the killer was a man or boy whom she had rejected, or possibly someone who had become fixated on the teenager, i.e., that the attacks were personal. "That's not something we've ruled out either, that's a good possibility," admitted Trooper Jeff Gregory of the Kentucky State Police.
Samantha was described as a likeable, personable teen who loved to sing. A sophomore at Bardstown High School, she was preparing for the prom which was just days away. "She was going to go to the prom this weekend," said Barbara Donahue, the girl's aunt. "Had her dress, shoes, earrings, everything laid out to go and now this has all come to an end." Mother and daughter were buried April 30, 2014, and two days later, on May 2, a vigil was held in remembrance of the beloved teacher and student at which dozens of purple and baby blue balloons were released – purple was Kathy's favorite color and Samantha's was blue.
Shortly after the murders, Trooper Gregory released a statement indicating several detectives were working the case and following leads. The only real "lead," however, seemed to be a black 2006-2013 Chevrolet Impala caught on video, traveling north on US 150 from Botland into Bardstown. Law enforcement officials published a still from the video and requested the public's assistance in identifying the owner or occupants of the vehicle. Thus far, no one has come forward with information.
As had happened following the death of Jason Ellis, some in Bardstown began to speculate and before long, someone had suggested the Netherland killings might have been an "inside job." The only other immediate member of the family was 19-year-old Holly, who was away at college. According to an ugly rumor making the rounds, Kathy had received a "pile of insurance money" when her husband, Robert H. "Bob" Netherland, 51, died of colon cancer in July 2013, just eight months before his wife and daughter's gruesome murders. Holly, they surmised, aided and abetted by a conniving boyfriend, could have been involved in the slaughter of her mother and sister. There is no evidence Holly Netherland, nor anyone she knew, had anything to do with the murders.
The Strange Murder of Daniel Cahoe.
Many in and around Bardstown insist whatever is going on started well before Officer Ellis was ambushed and shot in the wee hours of the morning back in May 2013. These people haven't forgotten the murder of Daniel Dale Cahoe, a 34-year-old Bardstown man found dead of a gunshot wound in neighboring Spencer County. On Thursday, January 5, 2012, a passer-by notified law enforcement officers after spotting what appeared to be a body in an old, abandoned barn on Bowman Lane near its intersection with West River Road in the city limits of Taylorsville, Kentucky. There was no identification on the dead man and the corpse was transported to the state medical examiner's office in Louisville.
It was the second time in less than a week that Roger Cahoe, Daniel's father, was notified that one of his sons had been shot. On New Year's Eve, Roger Allen Cahoe, Daniel's identical twin, was shot in the stomach by Edward "Eddie" O'Bryan during an altercation, but survived. During an interview, Mr. Cahoe said, "We're going about it as best we can, trying to cope with the problems. It's pretty rough when they knock on your door and tell you your son has been shot."
Daniel Cahoe was something of a free spirit who did odd jobs for several companies and individuals around Bardstown. He was an outdoors type and in warm weather, had been known to sleep under the stars, but all who knew him agreed he seldom left Nelson County and his father was adamant that his son had "never been over there." The last time the family saw Daniel was on Christmas Eve night. Why he was in Spencer County remains a mystery. Many assumed the murder was drug-related, though Daniel, who was known to smoke a little pot now and then, wasn't a dealer and was never involved in anything likely to have gotten him killed. "I want to know these people," Roger Cahoe continued. "I'd ask them, why would you take somebody's life over a little money or something like that? That's if he owed them money. I've heard it was drugs. I've heard it was stealing. But I've never known the boy to take anything. He worked for all kinds of rich people that had money. He stayed in their house and they trusted him. I just don't think he stole anything. … But no matter what it was, it wasn't worse than taking someone's life."
Three years later, in 2015, when the Kentucky State Police failed to mention Daniel Cahoe during a press conference concerning ongoing murder investigations, Mr. Cahoe expressed disappointment. "When it came out in the paper, I just couldn't believe they left a Nelson County guy out," he remarked. "I know [Daniel's murder] isn't high profile, but he was still a person." He then offered a $5,000 reward for information pertaining to his son's death. "This is one thing ... we're just going to have to get down to the bottom of it," he insisted. "We're going to have to find these people. If they done it to him, they'll do it to somebody else." He also admitted he had visited the barn where Daniel died on three different occasions and each time, being near the spot where his boy breathed his last gave him an eerie feeling. Later, the family posted a photograph of Daniel near the spot as a reminder that a life had been taken. Daniel Cahoe left behind a son, Daniel Dale Cahoe Jr., who is now 16-years-old.
Revenge Killing?
But did it – whatever
it
is – begin with the mystifying murder of Daniel Cahoe? Or did whatever is going on in Bardstown start even earlier? On September 10, 2009, Derek Downs, 28, was shot and killed by 54-year-old Michael Wayne Unseld while the two were squirrel-hunting near Boston Road and Westland Drive. Unseld, a Navy veteran whose wife had recently died, had committed a few petty crimes, but so far as anyone knew, had no reason to kill Downs. When the matter was presented to the grand jury, the result was a "no bill" and members of the Downs family weren't happy. They insisted a crime had been committed and launched a campaign to have the case reopened.
By June 2016, almost seven years had passed since Downs was killed, and Unseld, 61, was living in an apartment above the Broken Tee Nite Club at 709 West Stephen Foster Avenue that he shared with Joseph Cahoe. On the night of Saturday, June 4, Cahoe answered the door and a man attempted to force his way inside. Cahoe was pushing against the door to keep the stranger out when Unseld entered the room and allowed the visitor to enter. Cahoe, believing the two men had business to discuss, went to his bedroom and shortly thereafter, heard five gunshots. "I waited five minutes and then I came out ... and I figured Wayne was going to come back through that door, you know, but I just came down and saw his feet and I went and looked at him ...," Cahoe told police. He then knelt down and checked his friend. "He took like two breaths and that was it. I knew he was dead. So I went around him and went to get help. I could have grabbed a machete or something like that. I mean, I wasn't going to go down," the badly shaken man continued. "I ain't never seen anybody die like that. It really ain't even sunk in yet. He was a good guy. I liked him." Cahoe refused to spend another night in the apartment. "I go to funerals," he stammered, "but I don't want to be
in
a funeral."
Three days after Unseld's murder,
The Kentucky Standard
requested the sheriff allow the newspaper to inspect the file on the Derek Downs investigation and though the case had been long closed, Sheriff Mattingly denied the request, claiming opening the files could jeopardize an ongoing investigation. The newspaper appealed the decision, charging that Mattingly had violated Kentucky's open records law. In August 2016, the assistant state attorney sided with the sheriff because investigators believed the Downs shooting could be related to Unseld's murder. Mattingly told the state Unseld had been "threatened by family of Mr. Downs" and in its decision, the attorney general's office wrote: "... Sheriff Mattingly maintained it was 'possible the Downs investigation could contain information related to the Homicide of Unseld.'"
While
The Standard
found no evidence of threats against Unseld, some who knew the Downs family conceded there might have been some "talk" when the grand jury failed to indict Unseld. "Some folks around here still act like the Hatfields and McCoys and feuds can go on for years," one elderly citizen observed. "But it just don't make sense that after six years, a member of the family would all of a sudden decide to up and kill Wayne Unseld." Some, citing the fact Unseld's wife was a Mattingly, seemed inclined to believe the sheriff was covering up something about the murder. Others are quick to mention that Unseld's sister, Kathy, is married to Mike Ballard, Tommy Ballard's brother, possibly a veiled suggestion the murders and Crystal Rogers' disappearance are somehow connected.


A New Crystal. A few months after Crystal Rogers disappeared, Brooks Houck took up with Crystal Dawn Maupin (above), a 41-year-old mother of three, and on July 8, 2016, Maupin announced on her Facebook page that the two were an item. A month later, Maupin had quit her job at American Rental, a rent-to-own company in Bardstown, to work at Houck Rental, owned by her boyfriend. A favorite topic of conversation among some Bardstown citizens is which of the two bleached-blonde Crystals is/was more attractive, with a few describing Maupin as "hot" and others insisting she's "ugly as homemade sin" with "a neck like that of a male body builder."

November 19, 2016. Despite Deputy Snow's promise of a trial in the Crystal Rogers case, fall 2016 came and still no one had been arrested. Undeterred, Tommy Ballard continued his search for evidence of what happened to his missing daughter. On November 19, the Saturday before Thanksgiving, Ballard went hunting and took Crystal's 11-year-old son, Trenton Rogers, with him. They left early that morning and by 8 o'clock, the boy had returned to the truck, while his grandfather continued hunting in a family-owned field near Ed Brent Road. The location was in close proximity to the Bluegrass Parkway, not far from where Crystal's car had been abandoned 16 months earlier. Suddenly a shot rang out and Ballard crumpled to the ground. Trenton immediately called his grandmother. He was "hysterical and says Papaw's been shot," Sherry Ballard remembered. "I heard it, but I didn't hear it." Dazed and distraught, Mrs. Ballard later said she didn't even realize she had dialed 911 until the dispatcher answered. After repeating what her grandson had told her, she rushed to the scene. "There was a police officer down the hill with his lights on," she recalled, "and I could see my husband lying on the ground." Autopsy revealed Ballard had been shot in the chest and the bullet exited his back.

Casey Ballard, Tommy's son, was in another field and heard the shot that killed his father, but because it was hunting season, thought little of it. He said later he had never caught any poachers on the family's property.

Sherry Ballard was convinced the person responsible for her daughter's disappearance shot and killed Tommy. "I don't think my husband's death was an accident," the grief-stricken widow declared. "I'll never think it was. I think someone wanted my husband out of the way because we were getting close to Crystal and they knew he was the driving force behind her."

Trooper Jeff Gregory disagreed. "I have no reason at this time to believe they're connected, but it's not something that we're discarding either," he announced. "We're looking at all angles and trying to figure out how everything fits."

But Mayor Royalty was more inclined to believe Mrs. Ballard. "Tommy Ballard," he said, was "an avid hunter and I just don't think that this kind of stuff is an accident." He also appealed to residents to refrain from floating conspiracy theories on social media and to "let the police do their work." Nevertheless, shortly thereafter, Royalty called for the removal of the numerous "Prayers for Crystal's Safe Return" and "Solve These Murders" signs. The Ballard family and many other Bardstown residents were incensed and sarcastically accused city leaders of wanting the signs removed because the messages were hurting the feelings of law enforcement officers, who were either too incompetent to solve the murders, or were themselves somehow involved in all, or some of, the killings.

Of interest, on the morning of November 23, a three-bedroom rental house owned by Brooks Houck was heavily damaged by fire. The tenants were away and many suspect the blaze was deliberately set.

The Year 2017. In April, Mayor Royalty, who had reorganized the police department, was voted out of office by the city council for allegedly attempting to gain access to the iPad and email accounts of a councilwoman. He denied the charges and labeled the investigation a "witch hunt." Nonetheless, he was subsequently indicted on charges of perjury, official misconduct and false swearing and is awaiting trial.

The following month, two retired Kentucky state troopers were hired to investigate the ambush killing of Jason Ellis as well as the Netherland murders, the disappearance of Crystal Rogers and the shooting death of Tommy Ballard.

In July, Sherry Ballard gathered with family members and friends to commemorate the second anniversary of Crystal's disappearance and observed someone had been taking down and destroying signs seeking information about her daughter. "On July the 8th," Mrs. Ballard announced, "someone had took a bunch of signs, broke them in half and threw them on the ground. Just to find out the signs are being taken out, it's very disrespectful to my daughter." On that same day, sheriff's deputies arrested Crystal Maupin, the current girlfriend of Brooks Houck, for the "unlawful taking" of the signs in question. (On September 5, Maupin was sentenced to two years probation, with the stipulation that she write a letter of apology to Sherry Ballard, stay out of trouble with the law for a period of 60 days and refrain from any contact with the Ballard family.)

Tommy Ballard's brothers, Mike and Roger Ballard, spoke publicly for the first time about their brother's death in August 2017. "I think we've all been discouraged for quite a while now," Mike told Lauren Adams of WLKY. "Maybe he [Tommy] was close in his search, whatever area he was looking in. Whoever is responsible for Crystal knew Tommy wasn't going to give up. I think they walked the fence line to Tommy's land. They knew where it was and I think [they] crossed the fence 10 to 15 feet across in the wood line and they shot him when he got out of his truck. They were waiting on him." The brothers are offering a $20,000 reward for information leading to an arrest. "There's no price tag," Roger Ballard added. "It's one of those things you have to do and we want to see that justice is being done, whatever it takes." The brothers ask that anyone with information pertaining to the shooting of Tommy Ballard, or the disappearance of Crystal Rogers, email the family at tipsfortommy@outlook.com.

Meanwhile, locals gossips are as dogmatic and malicious as ever, with those who stand with the Ballards launching attacks at Brooks Houck's supporters and vice versa. On one occasion, members of the Ballard faction drove, en masse, past Houck's home honking their horns and generally disturbing the peace. Not to be outdone, the Houck people retaliated by posting on social media sites that Crystal Rogers was a slut who had five kids by four different men and on the night she disappeared, told a friend she was "child-free" and intended to "enjoy" herself. They also pronounced Sherry Ballard "crazy" and posted that her "boob job" and "Botox injections" were a waste of time and money because she has no better sense than to wear shorts revealing the varicose veins in her "ugly legs," which are "more blue than white." Even the deceased Tommy Ballard isn't immune: According to the scandalmongers, he was so "low down" that he had an affair with a woman who was part of a Florida group that came to Kentucky to assist in the search for his missing daughter.

Perhaps a contentious citizen summed it up best. After reading on social media where a Boyle County resident, who had spent a few days in Bardstown, wrote: "The whole town feels like it has a dark shadow over it," the opinionated lady disagreed vehemently. "It's not a 'dark shadow,'" she scoffed. "It's pure rot! Have you ever cut into a peach that looks all juicy and delicious and discovered that below the skin, it's rotten to the core? Well, that's Bardstown to a T. Beautiful on the outside and rotten to the core just beneath the surface."

Author:
Graveyardbride.
Sources:
Maria Ansari, WAVE; Jillian Czerniawski,
Sword and Scale
, May 19, 2016; Chris Sutter, WDRB;
The Kentucky Standard
; Kate Briquelet,
The Daily Beast
, November 23, 2016; Matthew Fogle, PLG TV13;
The Nelson County Gazette
; Michaela MacDonald, Kasey Cunningham and Kayla Vanover, WAVE; Jennifer Corbett,
The Kentucky Standard
, January 27, 2015; Forrest Berkshire,
The Kentucky Standard
, August 9, 2016; Lauren Adams and Carolyn Callahan, WLKY, June 7, 2016; Fallon Glick, WDRB, December 15, 2016; WHAS-TV, February 17 and July 30, 2017; Valerie Chinn, WDRB, March 27, 2017; Katrina Helmer, WDRB, July 3, 2017; Michael Whelan,
The Unresolved Podcast
; WBRT Radio, WKYT; UnresolvedMysteries; nilskido, "The Bardstown Conspiracy," May 14, 2017; Sam D., darthstupidious; and anonymous Bardstown citizens.