Post by Graveyardbride on Oct 9, 2017 14:30:55 GMT -5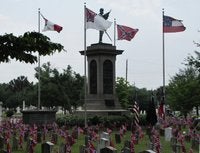 28th Annual Confederate Ghost Walk Oct. 11-12, 2019
Once again the night will come alive with the history of the past presented by reenactors in period attire revealing a day in the life of some of those buried at Magnolia Cemetery. The 28th Annual Confederate Ghost Walk will take place Friday and Saturday, October 11-12, 2019, at Charleston's Magnolia Cemetery. The night will come alive as you are guided among the graves of those who lived and died during those tragic times more than a century-and-a-half ago. All scenarios are historically researched for accuracy. Magnolia Cemetery is located at 70 Cunnington Avenue.
Please note:
• Tours leave every 30 minutes beginning at 7:00 p.m., with the last tour leaving at 9:30 p.m. Each tour lasts approximately 1½ hours.
• Tickets must be purchased in advance for a specified tour. Purchase tickets
here
.
• No flashlights, cameras or video equipment allowed.
• Tours are not recommended for children under age 12.
Magnolia Cemetery is located at 70 Cunnington Avenue, Charleston, S.C., and the event will take place rain or shine.
The Confederate monument in the photo above stands watch over the graves of hundreds of Confederate soldiers, including five generals and the bodies of 84 men who died at Gettysburg. South Carolina ranks third in Confederate lives lost and it is estimated that more than 3,000 Confederates are buried in the Soldiers Ground and privately-owned plots at Magnolia Cemetery. Many families lost more than one member in the War of Northern Aggression. For example, in the Huger family, Daniel Elliott Huger II and his wife, Carolina, lost three sons: Joseph Proctor Huger, killed in action at Fort Sumter; Stephan Proctor Huger, killed at Shiloh; and Daniel Elliott Huger III, killed at Chickamauga.
PS:
While you're listening to the stories, if you happen to see a child in old-fashioned attire walking with a man in a Confederate uniform that your tour guide doesn't mention, don't be alarmed. What you're seeing is an actual ghost: the spirit of a little girl who drowned in the nearby Cooper River after dropping her doll and jumping in to retrieve it. The Confederate soldier is believed to be her father.

Sources: The Confederate Heritage Trust; Magnolia Cemetery; In the Arms of Angels: Magnolia Cemetery - Charleston's Treasure of History, Mystery and Artistry by Patrick Harwood; and Ghosts and Legends of Charleston by Denise Roffe.