Post by Joanna on Nov 28, 2013 0:23:55 GMT -5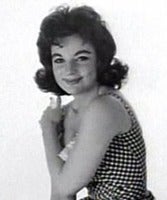 Karyn Kupcinet 1963 Death Still Unsolved
On Thanksgiving Day 1963, as the nation was still reeling from the assassination of President John F. Kennedy, a 22-year-old woman was murdered in Hollywood and it was three days before neighbors discovered her body. Although she was a struggling, little-known actress, her death was banner-headline news in Chicago. Her name was Karyn Kupcinet and she was the daughter of longtime
Chicago Sun-Times
columnist Irv Kupcinet and his wife, Essee. Karyn had been working in Los Angeles for a while and like thousands of other pretty girls, waiting for the break she was certain would catapult her to stardom.
On Saturday, November 30, Karyn's nude body was discovered on the couch in her West Hollywood apartment. The coroner determined she had been strangled to death approximately three days before she was found. The door was unlocked, the television was on and the coffeepot, a lamp and a bowl holding cigarettes were on the floor.
The
Tribune
story on Sunday, December 1, was a mess. It got her age wrong and quoted anonymous police sources "considering the possibility that the death was a suicide." Later in the story a detective called her death murder and said, "The apartment was all torn up. There must've been a tremendous struggle."
Very little about the case would prove simple. The second-day coverage, under the headline, "4 Face Quiz in Starlet's Slaying," focused on four male friends, including boyfriend Andrew Prine, and revealed the autopsy showed she had been strangled. Prine told investigators he had talked with her twice by phone on Wednesday (November 27), trying to patch up a "lovers' quarrel." Two of the men, who knew her through Prine, said they visited her apartment Wednesday evening and left when she turned in for the night.
Police then revealed that Prine and Kupcinet had been the target of anonymous death threats in letters composed of characters cut from books or magazines à la Agatha Christie's
The Moving Finger
. But even this didn't lead anywhere. Two days later,
The Tribune
reported police found Kupcinet's fingerprints on the sticky side of a piece of tape used to create the threatening letters. She apparently had been sending the notes to herself and Prine, hoping it would bring them back together.
Because of its proximity to the Kennedy assassination, Kupcinet's death got wrapped up in one of the more farfetched conspiracy theories wherein it was claimed she was attempting to warn officials the president was in danger. In his book
Forgive My Grief
, conspiracy theorist Penn Jones claimed a telephone operator overheard Karyn say, "The president is going to be killed" approximately 20 minutes before JFK was shot in Dallas. He alleged Kupcinet was the caller and she was murdered November 24, not November 28, as the coroner had determined.
Her presumed advanced knowledge of the Kennedy assassination has never been satisfactorily explained. In 1992, when NBC's
Today Show
included Karyn Kupcinet's name on a list of mysterious deaths associated with the Dallas shooting, her father wrote a column lambasting the inclusion, branding such a connection "an atrocious outrage."
More than 1,500 people attended services at Temple Sholom on Chicago's North Lake Shore Drive, including Gov. Otto Kerner and Mayor Richard J. Daley. The eulogist described her as a beautiful person with a warm heart who "moved across the stage of life too quickly."
Karyn began her acting career on stage doing summer stock. She was discovered by Jerry Lewis, who encouraged her to try her luck in Hollywood. It wasn't long before she was cast in bit parts on
Hawaiian Eye
and
Perry Mason
and in 1961, she played the role of "Carol" on
The Gertrude Berg Show
. During her short career, she also appeared in two movies, playing the part of Tammy Windsor in
The Little Shop of Horrors
(1960), and
The Ladies' Man
(1961) with Jerry Lewis.
In 1971, eight years after their daughter's death, Karyn's parents founded the Karyn Kupcinet International Science School in Chicago.
Her murder remains unsolved.
Sources:
Stephan Benzkofer,
The Chicago Tribune
, November 24, 2013, and Find-a-Grave.