Post by Graveyardbride on Nov 22, 2013 13:49:55 GMT -5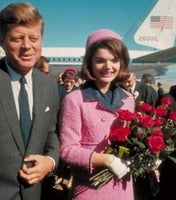 Did Oswald Kill JFK?
A few months after the assassination of President John F. Kennedy, Jacqueline Kennedy recorded a series of tapes, which run 8½ hours. One of the things she recalled was the preparation for the Dallas trip in November 1963:
"There are going to be all these rich, Republican women at that lunch," her husband told her, "wearing mink coats and diamond bracelets. And you've got to look as marvelous as any of them. Be simple – show these Texans what good taste really is." Although Kennedy usually trusted his wife's sense of fashion implicitly, on this occasion, she spent an inordinate amount of time between her closet and her husband's room holding up one outfit after another for his approval. Those finally chosen – weather permitting – were all veterans of her closet: dresses in beige and white, suits in shades of blue and yellow, and for Dallas, a pink wool suit trimmed in navy and a pink pillbox hat.
JFK had been warned to cancel the Texas trip. Evangelist Billy Graham had a sense of foreboding concerning the visit and attempted to contact the president to warn him, and Senator William Fulbright of Arkansas begged JFK to reconsider, saying: "Dallas is a very dangerous place. I wouldn't go there. Don't you go." But Kennedy, never one to flinch in the face of perceived danger, ignored the warnings. Ironically, the last words John F. Kennedy heard before he was shot were those of Nellie Connally, who turned from the front seat and said, "Mr. President, you can't say Dallas doesn't love you." Then the shots rang out and 50 years later, there is still controversy as to who fired those shots and whether or not the shooter acted alone.
Lee Harvey Oswald.
Following the shooting, Lee Harvey Oswald, a 24-year-old employee at the Texas Book Depository, was observed by both his employer and a law enforcement officer on the second floor of the building calmly drinking a Coke. Shortly thereafter, he was one of the first employees to leave the building following the shooting and some claim he was making a getaway. When he was apprehended, he claimed there was no more work for him that day and this was corroborated by his supervisor and co-workers. In other words, he had no reason to hang around. He did not run, or even walk fast, but he did retrieve a pistol and ammunition from his lodgings and this is suspicious.
Was he afraid because there had just been a shooting in Dealey Plaza? Or was he preparing for a confrontation with law enforcement?

After obtaining the pistol, Oswald walked several blocks and for some reason, boarded a bus heading back toward Dealey Plaza. When the bus was held up in traffic, he got off and proceeded to a location where taxicabs were parked. He did not seem in a hurry and allowed an elderly woman to take the first taxi. He instructed the driver to stop several blocks away from the building where he was renting a room and continued on foot. All this is documented in the
Warren Commission Report
, but many deny its accuracy because some of the witnesses were less than credible and the timeline is dubious.
Nevertheless, Oswald's retrieval of his revolver shortly after the assassination is difficult to explain as the action of someone who had no connection whatsoever to the assassination and it is the nature of this connection that is still open to speculation. Did he arm himself in order to defend himself in a confrontation with law enforcement that he knew was imminent because he had shot the president? Or was he wary because as an avowed Marxist, who had lived in the Soviet Union and was married to a Russian woman, he knew he would be targeted? But this begs the question:
If Oswald did, indeed, commit the crime, why didn't he already have the pistol on his person?
According to the official interpretation of the assassination, Oswald's motive for committing the crime was his desire to become famous. In the words of Senator Richard Russell, one of the members of the Warren Commission: "He [Oswald] was a general misanthropic fellow ... he had a desire to get his name in history and all."
But if the motivation was to get his name in the history books, wouldn't he have boasted about his deed instead of denying it? Did he change his mind after he was arrested? Or was he nothing more than a "patsy" as he claimed?

Rifle, Sniper's Nest and Oswald.
A rifle, three empty cartridge shells and one intact bullet were discovered on the sixth floor of the Texas School Book Depository. Although the origin of the shells was undetermined, ballistic tests allegedly linked them to the rifle and the rifle was plausibly linked to Oswald. Otherwise, the evidence does not indicate Oswald played an active role in the shooting. There is no concrete proof he brought the rifle into the building; two other guns were also discovered in the building and which rifle was discovered where is in dispute. Additionally, at the time the gunman was seen on the sixth floor, Oswald was observed either on the first or second floor. If Oswald brought the rifle into the building, it must have been on the morning of November 22 and on that day, three witnesses saw him arrive and all denied he had been carrying a rifle, or a package in which a rifle could have been concealed. Furthermore, several boxes were moved about on the sixth floor during construction of the sniper's nest in the southernmost window and although these boxes were dusted for fingerprints, the prints did not match Oswald's.
There was no credible eyewitness evidence placing Oswald on the sixth floor during, or immediately before or after, the shooting. Several witnesses in the street below saw one or two men in one or more of the windows. One witness described a man that could have been Oswald, but was unable to identify Oswald when face-to-face with him shortly thereafter. Other witnesses described a different man and one TSBD employee, Carolyn Arnold, saw Oswald elsewhere in the building at the same time the gunman was observed on the sixth floor.
Officer Tippit.
Helen Markham, the only person with a clear view of the shooting of Officer J. D. Tippit, estimated it occurred at 1:06 or 1:07 p.m. She left her home, about one block from the site of the incident, just after 1 p.m. to catch the 1:12 bus. Officer Tippit's murder was reported to the police by a witness, who used the radio in the police cruiser. The two witnesses who were involved in making the call said they did so several minutes after the shooting. Domingo Benavides, the nearest eyewitness, watched the gunman as he walked from the scene, waited "a few minutes" for his own safety, checked the fallen officer and tried unsuccessfully to use the car radio. T. F. Bowley came upon the scene, noticed the body of Officer Tippit lying in the road, parked his car and looked at his watch, which indicated 1:10 p.m. He initially attempted to assist Tippit, then took the radio from Benavides and used it to call for help. The dispatcher noticed the call came in at 1:16pm.
The only confirmed sighting of Oswald around the time Officer Tippit was shot was by Earlene Roberts, Oswald's landlady. She saw her tenant at a bus stop outside his lodgings, waiting for a bus heading north. The location of Tippit's murder was almost a mile to the south (.9 to be exact). Mrs. Roberts insisted she saw Oswald no earlier than 1:03 p.m., a maximum of seven minutes prior to Tippit's shooting. The FBI and Secret Service independently measured the time it took to walk briskly from Oswald's lodgings to the site of Tippit's murder and both agreed it took approximately 12 minutes.
So how did Oswald, who was seen at 1:03 p.m. at a bus stop, make it to the location of Tippit's shooting in three minutes?

Lyndon Baines Johnson.
According to Jacqueline Kennedy's tapes, President Kennedy was so "worried for the country" concerning the prospect that Vice President Lyndon Johnson might succeed him as president that he had engaged in private conversations with Bobby Kennedy and others as to who should become the standard-bearer for the Democratic Party in 1968. "Bobby told me this later," Mrs. Kennedy said, "and I know Jack said it to me sometimes. He said, 'Oh, God, can you ever imagine what would happen to the country if Lyndon was president?'" It seems JFK did not seriously consider dropping LBJ from the 1964 ticket, but was attempting to ensure Johnson did not run for president in 1968, at the end of what would have been Kennedy's second term. "He didn't like that idea that Lyndon would go on and be president because he was worried for the country," she continued. "Bobby told me that he'd had some discussions with him. I forget exactly how they were planning or who they had in mind. It wasn't Bobby, but somebody. Do something to name someone else in '68." Robert F. Kennedy never believed the Warren Commission's report. Jackie was convinced Johnson was behind her husband's assassination and said so on the tapes she recorded.
In a 2009
Vanity Fair
article,
Death of a President
author William Manchester questioned why two middle-aged Secret Service agents with "slowing reflexes" were assigned to President Kennedy in Dallas and wondered why such agents were not routinely tested. The driver of the limousine was 54-years-old and the agent beside the driver was 48. "They were in a position," Manchester wrote, "to take evasive action after the first shot, but for five terrible seconds, they were immobilized."
Who decided which agents would be assigned to protect the president on this occasion?


One Last Question.
Like many young couples in the early 1960s, Lee and Marina Oswald were obsessed with the Kennedys. Priscilla Johnson McMillan, in her fascinating 1977 account of the Oswalds,
Marina and Lee
, reports that Marina's schoolgirl crush on the youthful president – her mooning over magazine photographs of Kennedy strolling on the beach and her insistence that Oswald translate any articles about the Kennedys – was becoming a sore point in their already volatile marriage. "He is very attractive," Marina Oswald told her husband. "I can't say what he is as president, but I mean, as a man ...." McMillan writes, "It got so that she would flip through the pages of every magazine she could lay her hands on asking, 'Where's Kennedy? Where's Kennedy?'"
Was Camelot destroyed by something of no more substance than male jealousy?
Author:
Graveyardbride.
Sources:
ABC News,
Death of a President
by William Manchester, 22November1963,
Vanity Fair
(October 2009),
Jacqueline Kennedy: Historic Conversation on Life with John F. Kennedy,
and
Marina and Lee
by Priscilla Johnson McMillan.