Post by Joanna on Nov 23, 2016 7:36:15 GMT -5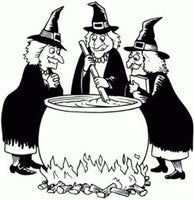 Witchcraft for Writers
E. B. Wheeler has a master's degree in European history and an MLA in historical landscape architecture. Her work writing about history and historic preservation includes the scripts for Letterpress Software's award-winning Exploring America series. She also writes historical fiction and fantasy and
The Haunting of Springett Hall
is her first novel.*
Witchcraft for Writers.
When people think of witches, they often picture something like the scene from Monty Python and the Holy Grail, with peasants crowding around a woman with a long, warty nose, shouting, "She's a witch! Burn her!" They also might imagine Hallowe'en witches with their pointed black hats and green skin, or modern Wiccans worshiping a mother goddess in covens. None of these images is true to historical European witchcraft – though witches were sometimes depicted flying on broomsticks. Witchcraft is so buried in stereotypes that its historical facts take a little digging to uncover.
The idea of magic – the ability of certain men and women to control the natural world through supernatural powers – is probably as old as humanity. Witchcraft in Europe, however, belongs mostly to the 1500s and 1600s, a time when the Black Death had shaken traditional beliefs and institutions and Europe was torn apart by religious and political upheavals.
Witchcraft in the Renaissance.
Prior to the Renaissance, many Europeans believed some people had the ability to talk to spirits, locate lost or stolen objects, create love charms, see the future, control the weather, interfere with livestock and harm other people through supernatural means. This type magic involved a blending of earlier pagan beliefs with those of Christianity and was frowned upon by authorities but rarely prosecuted (often seen as merely superstitious). These activities continued into the Renaissance – the age of witchcraft – when practicing magic came to be seen by many as a form of devil worship.
Earlier magic often invoked either benevolent or malevolent spirits, but the Renaissance idea of witchcraft stemmed from the growing fear that practitioners of magic made pacts with the devil to gain supernatural powers. Those who practiced folk magic may not have considered themselves in league with Satan, but church and political leaders decided they were. Even those authorities who did not believe witches had any real power (and they were often in the minority) viewed attempts to practice magic as a serious crime.

Signs of the Devil.
This focus on the devil changed notions of what was involved in magic, sometimes becoming quite colorful. Having sex with the devil or with demons was considered a common rite of passage in witchcraft. Witches were thought to harm people and livestock by touching or looking at them, by concocting magical brews, or by sending evil spirits to harass them. One of the signs of a witch was a mark like a mole, but without sensation – an "extra nipple," which witches were supposed to use to give sustenance to their familiars. There were also things which it was said witches were unable to do, such as recite the Lord's Prayer perfectly.

Trials and Confessions.
Witch trials sometimes revealed a sharp disconnection between the views of common people and the beliefs of political and religious authorities. Many executed for witchcraft insisted they were innocent or confessed only after being "cleansed" by torture – the Inquisition was often involved in Continental witchcraft trials. A minority accused of witchcraft confessed freely to making pacts with the devil in hopes of gaining power. Others practiced older forms of folk magic and did not view their activities in the same malevolent light as their accusers. In Italy and other parts of southern Europe, some confessed witches claimed their consciousness left their bodies while sleeping to battle other witches and protect the harvests. Their accusers struggled to make such confessions fit into the accepted view of witchcraft.
Targets of Witch Hunts.
Concern about witches wasn't reserved for political or religious leaders; the common people also feared those who might further disrupt the order and safety of their communities. Outsiders were often the targets of witch hunts – those who were on the margins of society, especially single or widowed women, the mentally ill, thieves and the poor. Women were suspected of witchcraft more often than men, but men were also accused and executed.
The old stereotype that midwives were often viewed as witches is probably false. Midwives filled an important role in society – sometimes even having the power to baptize children if it seemed likely they would die at birth – and though the growing, male-dominated medical profession began to chip away at the authority of midwives, the women were still important enough in their communities that they were seldom persecuted.
Advice for Writers.
If you're writing historical fiction, it is best to research the exact time period and location you're writing about and find out which trials and punishments were practiced, because they varied greatly as to time and place. Some witches were executed by burning at the stake, but many more were hanged, especially in Britain and its colonies. Another form of execution in Britain and America was
peine forte et dure
, in which the victims lay beneath a board on which stones were placed until the person was crushed to death. Those who refused to enter a plea were sometimes subjected to this form of punishment.
People accused of witchcraft were sometimes subjected to this slow, agonizing execution by refusing to enter a plea of guilty or not guilty. Pressing was a punishment for silence in the face of the judges, but because people could not be tried or convicted without entering a plea, in some locations, the victims saved their family's property from a government seizure.
The Salem Witch Trials.
The Salem witch trials provide an interesting case study in witchcraft. A group of girls in Massachusetts, perhaps influenced by slave folk beliefs, claimed to be persecuted by witches whom they saw in visions. They accused almost 200 people, and 20 were executed for witchcraft before the trials were halted. Nineteen of the victims died by hanging and one, Giles Corey, by pressing. At least four others died in prison as well as a baby born to accused witch, Sarah Good. Thirteen of those executed were women – slightly more than half.
The accused ranged in age from their late teens to their 80s, though the majority were on the older end of the spectrum. Some fit the typical descriptions of witches – socially marginalized and/or involved in illegal activities (or possibly mentally unbalanced) – but many had lived respectable lives and had families and community members who vouched for them (to no avail). Several of the accused were couples wherein one spouse attempted to defend the other. Another, George Burroughs, was a Harvard-educated minister, who recited the Lord's Prayers while standing on the gallows, causing a stir among the crowd. A few women escaped hanging by "pleading their belly" – pregnant women were not executed to spare the unborn child.
Lessons from Witchcraft Trials.
Witchcraft trials give insight into a mind-set that is mostly lost to the modern word. They came about in part because of an active belief that God and Satan, saints and demons, were not abstract concepts or distant religious figures, but actively involved in the everyday life of man. During times of political and religious upheaval, particularly, people felt themselves involved in a war between the forces of good and evil – not just in a metaphorical sense, but as a literal, day-to-day, physical reality. The lines between the spiritual and physical world were blurred at best. Spectral evidence, e.g., dreams and visions of accusers, were as important in detecting witchcraft as eyewitnesses and confessions. Understanding this can help us come a little closer to understanding the "foreign country" of the past and creating settings and characters that will transport readers to this lost world.
Source:
Dan Koboldt, February 19, 2015.
Quill Pen and Blotter
quillpenandblotter.wordpress.com/
See also:
"Ghosts of the Salem Witch Trials":
whatliesbeyond.boards.net/thread/2734/ghosts-salem-witch-trials
"Sept. 19, 1692: Hard and Forceful Punishment at Salem":
whatliesbeyond.boards.net/thread/2460/september-1692-forceful-punishment-salem
"The Violent Wizards of Salem":
whatliesbeyond.boards.net/thread/7288/violent-wizards-salem