Post by Graveyardbride on Nov 15, 2013 17:40:26 GMT -5
The Clutter Family Murders
It was around 9 o'clock, Sunday, November 15, 1959, when 16-year-old Nancy Ewalt and her father arrived at River Valley Farm near the small town of Holcomb, Kansas. Nancy Clutter, the Clutter's daughter, also 16, was Nancy Ewalt's best friend and she always rode with the Clutters to church on Sundays. She ran to the front door and rang the bell, but no one answered. Both the family cars were in the garage and her father motioned her toward the side door that led to Herb Clutter's office. She knocked and called out, but still, no one appeared. She got back into the car and her father drove to the Kidwell home down the road where Nancy used the telephone to call the Clutters. There was no answer.
Susan Kidwell, the same age as Nancy Ewalt and Nancy Clutter, and a mutual friend, accompanied Nancy and her father back to the Clutter farm and after several knocks failed to rouse anyone, entered the home through a kitchen window.
"We saw right away that the Clutters hadn't eaten breakfast," Susan Kidwell recalled. "There were no dishes, nothing on the stove. Then I noticed something funny: Nancy's purse. It was lying on the floor, sort of open. We passed on through the dining room and started up the stairs. The sound of our footsteps frightened me more than anything, they were so loud and everything else was so silent. Nancy's door was open. The curtains hadn't been drawn, and the room was full of sunlight. I don't remember screaming. Nancy [Ewalt] says I did – screamed and screamed. I only remember Nancy's teddy bear staring at me. And Nancy. And running ...."
Less than an hour later, Sheriff Earl Robinson, Undersheriff Meier from nearby Garden City and Larry Hendricks, a 29-year-old English teacher who lived with the Kidwells, entered the silent Clutter home. Upstairs, Robinson and Hendricks found the walls of Nancy Clutter's room splattered with blood. The girl lay on the bed, her face to the wall, the back of her head blown away. Her wrists were tied behind her and her ankles bound with what looked like cord from a Venetian blind. She was wearing a bathrobe, pajamas and slippers and appeared to have been killed before getting into bed. Because she was fully dressed, there seemed to be no signs of sexual assault, for which the men were grateful.
Nauseated and dreading what awaited them in the other rooms, the men opened the next room, that of 15-year-old Kenyon Clutter, but although the bed was rumpled and his eyeglasses were lying on the covers, there was no sign of the boy. At the end of the hall, the men opened a door where they were confronted by the corpse of Bonnie Carter, 45, in a white nightgown drenched in blood. "She'd been tied, too," Hendricks said. "But differently – with her hands in front of her, so that she looked as if she was praying ... The cord around her wrists ran down to her ankles, which were bound together, then ran on down to the bottom of the bed, where it was tied to the footboard – a very complicated, artful piece of work. ... She'd been shot point-blank in the side of the head. Her eyes were open, wide open, as if she was still looking at the killer. Because she must have had to watch him do it – aim the gun."
Meanwhile Sheriff Robinson had found the bodies of Kenyon and Herbert Clutter, 48, in the basement. Kenyon, in blue jeans and T-shirt, had been tied in the same intricate pattern as his mother, then roped like a captive steer to the davenport on which he lay. His face had been erased by a shotgun blast. The body of Herb Clutter, in his pajamas, was in the furnace room and he likely had suffered the most, because there was evidence of torture. "I took one look at Mr. Clutter," recalled Hendricks, "and it was hard to look again. I knew plain shooting couldn't account for that much blood. ... He'd been shot all right, the same as Kenyon – with the gun held right in front of his face [but] his throat had been cut, too. His mouth was taped; the tape was wound plumb around his head ... He was sprawled in front of the furnace. On a big cardboard box that looked like it had been laid there specifically ... A thing I can't get out of my mind. There was a steam pipe overhead and knotted to it, dangling from it, was a piece of cord. Obviously, at some point, Mr. Clutter had been tied there, strung up by his hands ...."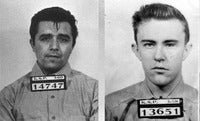 Richard Eugene Hickock (born June 6, 1931 [above right]) and Perry Edward Smith (born October 27, 1928) were in prison when they heard from a prisoner named Floyd Wells that Herb Clutter, a rich farmer in Holcomb, Kansas, kept thousands of dollars stashed in a safe in his farmhouse. Following their release, the pair soon made plans to travel to Holcomb and rob Clutter. In the early morning hours of Sunday, November 15, 1959, the two ex-convicts, armed with a 12-gauge Savage Model 300 shotgun, arrived at the Clutter residence, where the occupants were sleeping. After entering the home through an unlocked door, they discovered there was no safe where they had been told it was located. They aroused Herb Clutter, who told them there was no such safe and gave them the few dollars he had, but Hickock and Smith weren't satisfied and awakened the other members of the family. They ransacked the entire house, but the take was no more than $50.00, a pair of binoculars and a transistor radio.
* * *
Following the bloodbath at the Clutter home, Hickock and Smith headed for Kansas City where Hickock passed a series of hot checks. After overstaying their welcome, the pair traveled to Mexico, where they pawned the binoculars before eventually hitchhiking their way through California en route to Omaha, Nebraska. After a short stay in Omaha, the killers made their way to Iowa, where they stole a car and returned to the Kansas City area. From Kansas City, they eventually traveled to Florida and Nevada. It was in Nevada where the KBI (Kansas Bureau of Investigation) eventually caught up with them December 31, 1959.
During the time Hickock and Smith were traveling around the US, KBI agents were able to piece together evidence which was corroborated by Floyd Wells, the prisoner who had told them about Clutter's safe. He quickly ratted out his former inmates in exchange for the ransom money. Wells was later killed during a prison break in Mississippi. When the two fugitives were captured in Nevada they were still driving the car they had stolen in Iowa and a boot in their possession matched a bloody footprint in the Clutter home. Once word got out the killers had been captured, agents solicited a confession from the two men, after which they were returned to Kansas. They two were tried in the Finney County Court in Garden City, Kansas, and on March 29, 1960, an all-male jury found the pair guilty and recommended the death penalty. For the next five years Hickock and Smith were housed on death row at the federal prison in Leavenworth, Kansas, just north of Kansas City.
On the night of Tuesday, April 13, 1965, Hickock and Smith ate spiced shrimp, french fries, garlic bread, ice cream and strawberries with whipped cream in separate rooms. It was their last meal. At midnight, the two men were escorted to the gallows on the prison grounds. Hickock went first and as he stood on the gallows awaiting eternity, addressed the witnesses: "I think it is a hell of a thing that a life has to be taken in this manner. I say this especially because there's a great deal I could have offered society. I certainly think capital punishment is legally and morally wrong. Any apology for what I have done would be meaningless at this time. I don't have any animosities toward anyone involved in this matter. I think that is all." He was pronounced dead at 12:41 a.m.
When Smith was asked if he had any last words, his initial reply was: "No, I guess I don't." Then, he motioned for KBI Agent Roy Church to come closer and said: "You're sending me to a better pace than this," adding that he did not bear any grudge against Church for his role in the case. He shook the agent's hand and said, "Goodbye." Smith was pronounced dead at 1:19 a.m.
The state of Kansas paid for the executed men's burials, however, Smith's cost $250.00 less than Hickock's because Smith, as an honorably discharged Korean Conflict veteran, was entitled to a $250.00 veteran's burial allowance. They were both interred at Mount Muncie Cemetery in Leavenworth County, Kansas.
It's one of America's most haunting crime stories: four members of a Kansas family brutally murdered at their rural farmhouse. The Clutter slayings – chronicled in Truman Capote's book,
In Cold Blood
– have overshadowed the town of Holcomb for more than a half century and the trial and execution of the culprits brought little, if any, closure. For many townsfolk, the wounds have been slow to heal, partly because of Capote's critically acclaimed, nonfiction novel that spawned a new literary genre. The book has been reviled in its birthplace by residents because of its recreation of events that never happened and what they say is commercial exploitation of the victims. The subsequent movies have also been unpopular among those who knew the Clutters. "They made a tremendous amount of money off our great tragedy," said Bob Rupp, who as a teenager dated Nancy Clutter.
The hunt for their killers – parolees Dick Hickock and Perry Smith – mesmerized the nation, drawing journalists from across the country to this rural outpost on the Kansas prairie. Then when Capote's book hit the shelves, it forever linked the small town with a crime now known around the world. Alan Schwartz, a longtime friend of the author's, said many Holcomb residents didn't really grasp that Capote was not writing a purely factual account, but was using the basis of facts to show what it was like to live in such a town and confront this crime. "It is different than what they expected, but it is a work of art. It is not simply a matter of historical reporting ... I can imagine that a lot of people who were freaked out by what happened in the middle of Kansas never understood that," Schwartz said. "The book stands on its own as a major work of American literature and a major description of how a small town dealt with an incredible, horrible tragedy," he added.

When Holcomb residents gathered a few years ago to dedicate a memorial to the Clutters, a lingering bitterness against Capote's book intermingled with an unwavering sense of loss for their beloved neighbors. "I wish the book had not been written. I didn't like the book – the little bit I read," said Shirley Clutter. Her father-in-law was Herbert Clutter's brother. The 80-year-old woman found reading about the killings was too painful.

Beyond the infamy wrought by their murders, the Clutter family also left a legacy of community leadership. Engraved in the stone memorial is a litany of the family's accomplishments in local community groups, school and church. "He [Herbert Clutter] was beginning to be a national figure in agriculture on some committees in Washington, D.C. Who knows what he might have done had he lived out his life," said Dolores Hope, the city editor of the Garden City Telegram at the time of the murders.

In Cold Blood became a literary sensation soon after the first copies rolled off the press in 1965. The book has been translated into numerous languages. In 1967, a black-and-white film by the same name was released. A CBS television miniseries followed in 1996. Capote's writing of the book became the focus of a 2005 movie, Capote, for which Phillip Seymour Hoffman won an Academy Award for best actor. Book sales that year spiked to 1.5 million. A year later, the movie Infamous hit the silver screen with a similar theme, but it centered more on the town.

One friend of the Clutters, Fielding Hands, said Capote "sure made an interesting book. I think he did the family justice for the things he said about them and what they did for the community," said Hands, 83.

A few years ago, Paul Irsik sat in a lawn chair thinking about the Clutters. Irsik grew up on the Clutter farm, where his father was a hired hand. He was 15 on that fateful morning when he, his brother and father milked the Clutters' cows and went into the kitchen to separate the milk. They were oblivious to the fact the Clutters' bodies were inside. It was the first day of pheasant season and they were anxious to finish the chores and go hunting. Irsik spoke haltingly about that day. It's because he promised his father that he wouldn't discuss anything about November 15, 1959. "It is something we haven't talked about in my family for 50 years," he explained.


* * *

While Richard Hickock and Perry Smith were driving their stolen car around the state of Florida, the Walker family, consisting of Fred Walker, 25, his wife Christine, 24, and their two children, ages 3 and 2, were murdered near Sarasota December 19, 1959. According to witnesses, Hickock and Smith were seen in Tallahassee just two days later. The pair always denied having anything to do with the Walker murders. In December 2012, the bodies of Hickock and Smith were exhumed for DNA testing. Unfortunately, blood samples from the crime scene were contaminated and too deteriorated to prove or disprove their involvement. Nevertheless, the Clutter killers remain the most viable suspects.
Author:
Graveyardbride.
Sources:
Crime Library;
In Cold Blood
by Truman Capote; Garden City Police Dept.;
The Hutchinson News;
and Criminal Minds.
See also
"The Walker Family Murders":
whatliesbeyond.boards.net/thread/3020/december-1959-walker-family-murders