Post by Joanna on May 9, 2016 23:32:48 GMT -5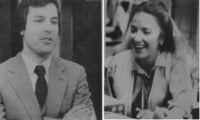 Police Reopen 1982 Axe Murder Case
The Brighton police, FBI and Monroe County District Attorney's Office are jump-starting an investigation into one of the region's most notorious unsolved homicides: the 1982 slaying of Brighton housewife Cathleen Krauseneck (above right), killed by an axe blow to her head.
In recent months, police have conducted a new round of interviews, including a meeting with Krauseneck's husband, James (left), who now lives in Tacoma, Washington. The police and DA's office are also looking at physical evidence for possible DNA testing, including the axe that was driven into Krauseneck's skull. "The murder weapon ... has never been tested" for the presence of DNA, DA Sandra Doorley said in an interview in late April.
The homicide was so violent and its locale so unusual – Brighton's Evans Farm neighborhood of Colonial homes and backyard barbecues – that the story of the slaying circulated nationally. The Krausenecks had just moved to the neighborhood and Cathleen was just 29-years-old. James Krauseneck, who was employed by Eastman Kodak in 1982, told police that on the morning of February 19, 1982, he left the house, as usual, around 6:30 and did not return until approximately 5 o'clock that afternoon. He discovered his wife lying in the couple's bed with an axe embedded deep inside her skull. Their 3½-year-old daughter, Sara, had been wandering about the house for hours as her mother's corpse grew ever more cold and stiff. According to the autopsy, Cathleen had been killed in the early morning hours.
James Krauseneck now lives in Mercer Island, Washington, and did not respond to email and telephone requests left at his workplace. Sara could not be reached for comment.
FBI assisting investigation.
Brighton investigator Mark Liberatore spoke with Krauseneck in Washington state in late April, according to Brighton Police Chief Mark Henderson. Liberatore was accompanied by an FBI agent; the FBI has been assisting with the investigation. "It was a very young mother whose life was taken then," Henderson said. She and her family – her parents still live on their Michigan family farm – deserve justice, he said.
Cathleen Krauseneck's sister, Annett Schlosser, said she and her parents "are more hopeful than we've been in the 34 years since her death." Her father, Robert Schlosser, is 90, and still works the family farm in Michigan. He and his 88-year-old wife, Theresa, often ask if there are any new updates with the investigation, said Schlosser, who lives in Michigan and has remained in contact with the Brighton police. "I really want this case to be solved for my parents, who have been living this nightmare now for 34 years. Justice needs to be done," she said. "She was like my best friend," Schlosser, who is 10 years younger than her sister, explained. "She was the most genuine, intelligent loving person. There isn't a bad word that you can think about when describing my sister and to have her die like that is so unfair."
Liberatore first contacted Cathleen Krauseneck's family about a year ago, alerting them that investigators planned to take a fresh look at the case, Schlosser reported. The FBI has since digitized the ample criminal files on the case, and investigators are readying evidence for forensics testing. "We are hoping that the forensics testing will definitely be a significant factor in solving this case," she indicated.
Burglary theory.
In 1982, police said Cathleen Krauseneck may have been killed during a burglary. Silverware as well as a silver tea service and tray were found strewn on the dining room floor, but nothing appeared to be missing from the home.
The axe and a maul, used for splitting wood, were found inside the home. The axe, which had a 2½-foot handle, the maul, and another axe, were kept in the garage, which had been left unlocked. A window was shattered from the outside; the maul was apparently used to break the glass, police said. Investigators also found a sock the killer may have used when holding the maul. This, along with the axe and maul and other evidence in the home, can be tested for DNA, Doorley said. "I went through every single piece of evidence with Mark (Liberatore)," she added.
In the weeks following the homicide, the Krausenecks were described as a loving couple and James a doting and caring husband and father. The day after his wife was found dead, James went to Michigan, surprising police who hoped to continue an interview they had started. He later hired a Rochester-based attorney, Michael Wolford, who no longer represents Krauseneck. However, he has retained an attorney in Washington, Henderson said.
Question over qualifications.
Shortly before the killing, issues arose concerning Krauseneck's employment at Kodak, according to police and Schlosser. He had previously taught at Lynchburg College in Lynchburg, Va., where he was an assistant professor of economics. He had indicated to the college that he had a doctorate, and told Kodak the same thing when interviewing in Rochester for a job that paid significantly more than his collegiate teaching. However, apparently, early in 1982, Kodak learned that Krauseneck had not completed his doctoral work. Whether he was at risk of losing his job is unclear, but Cathleen did become aware of her husband's workplace issue, advised Annett Schlosser, who said she learned this from investigators well after her sister's murder.
Several times in the past 34 years, police have taken a hard look at the homicide, hoping for clues or leads that were not found in 1982. Schlosser said she sees a seriousness on the part of investigators that, coupled with forensics advancements, could finally identify the person who killed her sister. "My mom prays every night for this case to be solved and justice to be served," she said.
Anyone with information concerning the murder of Cathleen Krauseneck should call the Brighton Police Department at (585) 428-7033.
Sources:
Gary Craig,
The Democrat & Chronicle
, May 7, 2016; Citizens Against Homicide; and
The Finger Lakes Times
, February 22, 1982.